As a digital marketing company that tailors services specifically to heating and cooling contractors, HVAC Webmasters understands the nuance that the industry presents. Concepts used in an e-commerce marketing campaigns won't translate to HVAC, and generalized marketing companies have a tendency to operate from a one-size-fits-all perspective. For this reason, many a contractor suffers collateral damage at the hands of seemingly well-meaning marketers. When companies come to us, they often question why their website lacks conversions and why they are failing to generate leads online. The good news is that we can help them.

HVAC Webmasters is driven by trend and innovation. We don't look back, we look forward. This is a necessary mantra by which to operate, seeing that Google itself is constantly evolving. While our services run parallel to Google's progression, we aim to simplify digital marketing to a more relatable discipline. There's plenty of misinformation available on the internet, along with a percentage of marketers who prey on small business owners. Promises are made and not delivered, and money is wasted. HVAC Webmasters pushes back against such ethics by providing an affordable and reliable marketing service, designed specifically for HVAC contractors. Consider these 20 digital marketing tips:
1. Anticipate Trends
Marketing is driven by trends. The concepts applied 10 years ago are obsolete in today's marketplace. Contractors must constantly adapt and adjust to Google's evolution. Because HVAC companies are largely dependent on Google for lead generation and brand awareness, anticipating their ethos is critical. For example, Google's most pronounced trends in 2018 are:
Natural Links: Organically produced links that are not at all manipulative
User Intent: Keywords still matter, but user intent is now most important
Voice Search: The emergence of Google Assistant has pushed voice search SEO to the forefront
Aside from Google Assistant, Amazon Echo has also emerged as a viable voice assistant, and one that fundamentally changes how users consume information. While trends can never be projected with 100% accuracy, early indications project voice search to account for 50% of all searches within the next 5 years. For this reason, it's imperative to prepare your heating and cooling business for this possibility.
2. Brand Social Profiles
Many are aware of Facebook's departure from branded content's organic reach. While some social media has weakened its organic impact (Facebook, Twitter), others have enhanced it (Instagram, YouTube). What's consensus however, is that social profiles should be branded, much like citation sources. At the least, social profiles represent a secondary website, and should include:
Company Logo: High-quality company logo
NAP: Name, address, and phone number
Website URL: Link to primary website
3. Craft Engaging Calls To Action (CTAs)
Directing internet traffic to your website is great, but its impact will be minimal without an engaging call to action (CTA). A CTA is directive to users, imploring them to complete some sort of digital action. For HVAC companies, the objective of a website is to generate leads online, and there are ways to influence visitors to take action. Some ideas include:
Attention Grabbing Headlines: Providing incentive for the user to call now, perhaps with a seasonal discount
Contextual Urgency: Embed urgency within the CTA by suggesting a limited-time-offer or something similar
Phone Number Links: Clickable phone numbers so mobile users can call directly from the site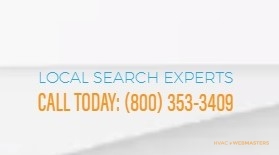 4. Delegate Responsibilities
Many contractors believe that handling digital marketing on their own is the best, and least expensive, course of action. In reality, neither is true. It's not best because handling it manually hinders efforts, within and outside of, internet marketing. Also, it's not least expensive, since there's a high probability the money saved is being lost in other areas. Here's what to delegate:
Business Listings: Ensuring listings accuracy is a major project that takes time and precision
Social Media: Remembering to post on social media is a challenge when running a full-time company
Website Design: A custom website beats a do-it-yourself one, and can reach more consumers
5. Enhance Logo
Does your current HVAC company logo look like it was created on MS Paint? If so, it's time to enhance it to fit with modern graphic design expectations. Research has been conducted to measure the importance of a high-quality, engaging, company logo. After all, a logo is present not only on your truck and business cards, but on your website, social profiles, and business listings. A strong logo exhibits the following:
Color Scheme: Appeals to consumers with aesthetically pleasing color combinations
Graphic Detail: Utilizes the best graphic design software for the most modern enhancements
Web Ready: Compressed as PNG files to be uploaded on the web

6. Ensure Mobile-Friendliness
A desktop-only website in 2018 is a plea for bankruptcy. To generate online leads, a website must be designed for mobile, first and foremost. In fact, desktop is so far removed from relevance, that it should be a secondary consideration. Priority #1 should be designing a mobile-friendly website that users can access on-the-go, and engage with as needed. Elements of a strong mobile site include:
Display: Presents optimally on mobile devices, meaning info is easy to read and process
Navigation: Easily navigable on a mobile device, with the use of thumb and index finger
Speed: Mobile users have limited patience, and a mobile-site that takes more than 3 seconds to load will suffer a high bounce rate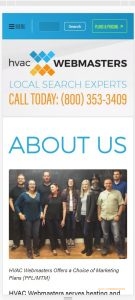 7. Generate / Respond To Reviews
For HVAC companies in particular, online reviews play a vital role in success. When a prospective customer is deciding between multiple local contractors, they often make their decision based on the quantity and quality of online reviews. For this reason, generating reviews ethically, and responding to those published, is critical to online lead generation. Focus on the following platforms:
Facebook: While known primarily as a social network, Facebook has become a prominent review destination
Google: Google My Business reviews are easily accessible to the average searcher
Yelp: When the average consumer thinks of reviews, Yelp immediately springs to mind
8. Map Your Company Locally
With mobile usage so prominent, users can search for companies near their current location. To appear on local results, your HVAC business must be mapped digitally. What that means is, your business location must appear on Google Maps, Google My Business, and be easily accessible via GPS. Taking these steps encourages appearance on Google's Local 3-Pack and Knowledge Graph. Mapping enhances:
Accessibility: Consumers can locate your business quickly
Credibility: Verified business locations encourage consumer trust
Visibility: Mobile users within your service area will be shown your result more regularly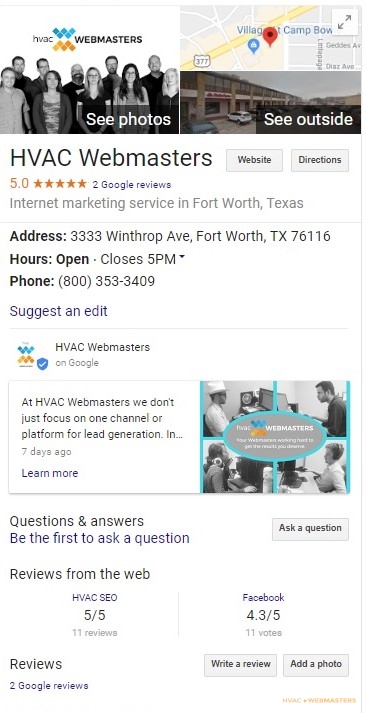 9. Monitor Inbound Links
On-page SEO is important, but it is only as effective as your link profile. Inbound links serve as indications of trust to Google and other search engines. If authoritative websites link back to your own, you receive credibility by association. The opposite is also true, as spam websites linking to your site will work against its credibility. A strong backlink is:
Authoritative: From a website with a high domain authority
Helpful: Published as a way to assist users in finding HVAC services, rather than to shamelessly promote them
Relevant: From a page, and anchor text, that is relevant to your website
10. Network With Influencers
Like celebrity endorsements, marketing influencers shape the public's perception of a business, and its content or services. Networking with relevant influencers within your industry is a great way to promote your services organically. Many of these influencers will link to your website once a relationship is established, and valid reasons to link to your URL emerge. Influencers can impact:
Conversion Rate: The ratio by which users become customers
SEO: The ranking position of your website on Google search results
Website Traffic: The amount of users navigating to your website
11. Optimize NAP Listings
Data aggregators pull business information from public records, and disseminate it to a variety of business directories. That's why your company info might appear on a directory, even if you yourself never provided that information. Because of this ecosystem, inaccuracies are common, as are duplicates, and other complications. NAP optimization helps the following:
Branding: Consistency helps brand your HVAC business
Conversions: Accurate contact information prevents unsuccessful communication
Local SEO: Citation signals are considered a local ranking factor
12. Personalize Your Brand
Consumers want to feel connected to your HVAC business on a personal level. With greater access to companies than ever before, it is incumbent on businesses to foster an appealing presentation of their services. If properly implemented, brand personalization should increase conversions, build authority, and advance your heating and cooling business exponentially. Areas to focus on include:
Blogging; Using relatable language in blog posts
Reviews: Generating and responding to reviews (more on that later)
Social Media: Instagram and YouTube specifically
13. Prioritize Site Speed
We touched on the importance of mobile site speed earlier, but this element cannot be stressed enough. The modern consumer expects answers to their questions fast, and it's because that precedent has been set by forward-thinking digital marketers. If a local consumer can't find the information they seek from your company, they will find it somewhere else, more quickly. Ways to ensure fast site speed include:
Compress Images: Only upload compressed and web-ready images to your website
HTML Code: Refrain from the usage of obtrusive code (JavaScript, Flash, etc.)
Test Your Speed: Utilize Google's free tools like PageSpeed Insights, and Test My Site
14. Produce Original Content
Many HVAC websites use scraped content, taken from other websites, and published on their own. Not only is this unethical, but it's frowned upon by Google, as evidenced by their tendency to lower the ranking of websites who engage in such behavior. Instead of copy / pasting pre-existing text, produce original content. If you don't have the resources to do so yourself, hire an SEO company to write content that is:
Engaging: Holds the average readers' attention
Unique: Does not resemble content on other websites
Valuable: Provides the reader with desired information
15. Research Competition
For those who don't know, SEO is a relative concept. Your HVAC company website must be more effectively optimized than the next best one, and if it is, you will outrank them. But to know if your website is, or is not, better optimized than competitors, you first must conduct research. Several tools exist to track and analyze competitors' websites, and to identify ways they are superior or inferior to your own. Factors to consider include:
Keywords: Which terms they are ranking for
Links: What sites link back to them, and do those same sites also link back to you?
Optimization: Is their on-page SEO superior or inferior to your own?
16. Shift Focus To User Intent
While keywords are still important, the intention of their usage is more so. Conventional wisdom states that HVAC keywords are the driving factor in SEO, but Google's own words have challenged that to some degree. Exact match domains for example, are mostly frowned upon by Google. In other words; cheaphvac.net is not an ideal domain name, and the focus should shift instead to writing a high quality homepage which describes affordable HVAC services. User intent includes:
Context: The nuance of the search query, rather than the verbatim text
Objective: What the user hopes to gain from the search query
Relevance: The association between the query and the desired result

17. Start an Internal Blog
It's no secret that blogging can engage consumers throughout the internet. But a factor that is often under-discussed is the concept of internal blogging. Internal blogs are part of your website's root domain. In other words: yourwebsite.com/blog would represent your blog's URL. External blogs, in contrast, are hosted away from your primary website and therefore do not generate direct website traffic. Advantages to internal blogging include:
Freshness: Continue adding new content to Google's index
Linking: A great way to earn inbound links and to link internally to helpful pages
SEO: Counts as SEO for your primary website
It's not that external blogs are worthless — they can serve as doorways to your website, much like a social media page does. Still, their presence on an external server limits how impactful posts can be. Furthermore, if for some reason your blog started to generate more traffic than your actual website, that traffic would be partially awarded to the blogging platform on which your blog is hosted (WordPress.com, Blogger, etc.), rather than your domain.
18. Strategize PPC Campaigns
Pay Per Click (PPC) advertising is a great way to supplement web traffic while waiting for SEO to take shape, and even after it does. The great separator of successful PPC campaigns, and those that are failures, is strategy. Ensuring your PPC campaign maximizes opportunity, while minimizing risk, is a balance worth striking. Here are some of the areas to focus on when strategizing a PPC campaign:
Geo-Targeting: Narrowing targets to specific locations
Preparation: Having a defined and researched plan of action before launching the campaign
Real-Time Analysis: Assessing the reach of your campaign as it's moving, and adjusting it as needed
19. Upload Branded Video Content
YouTube and Instagram have the most influence over consumers in 2018. Uploading branded video content to both platforms is an ideal part of every internet marketing strategy. As we noted earlier, consumers want to feel personally connected to the brands they do business with, and if you want to separate your company from competitors, branding video content is a great way to do so. Branded videos exhibit the following:
Business Logo: A watermarked company logo
Contact Information: Company name, address, and phone number
CTA: Incentive for the viewer to take an action (phone call, sign up, etc.)
20. Write a Mission Statement
Part of branding your company online is publishing a consistent mission statement. With so many about-us sections throughout the web, there's going to be places to insert such a statement at every turn. From social media profiles like Facebook, Twitter, and Instagram, to business directories like Google My Business and HomeAdvisor, there will be plenty of opportunity to incorporate your statement. A good mission statement is:
Concise: Short and to the point, while keeping the reader engaged
Declarative: Declares what your company hopes to accomplish
Definitive: Defines what your services does, and can do for consumers
HVAC Digital Marketing Assistance
If you feel any of these tips require extra assistance, HVAC Webmasters is here to help. Our company has served A/C and heating contractors throughout the United States for years. As we said, we focus specifically on your industry and audience, so our services tailor-fit your needs. From search engine optimization to website design, the team at HVAC Webmasters has you covered in every way possible. We look forward to hearing from your company in the near future.
Our services empower clients with flexibility to choose between pay-per-lead and month-to-month agreements. For contractors looking to pay for results only, PPL is the most ideal plan. Conversely, companies that prefer a fixed payment schedule at an affordable rate will be drawn to MTM plans. Our goal is to cater our services to fit your company's needs and preferences. Call (800) 353-3409 to learn more about digital marketing for HVAC contractors.