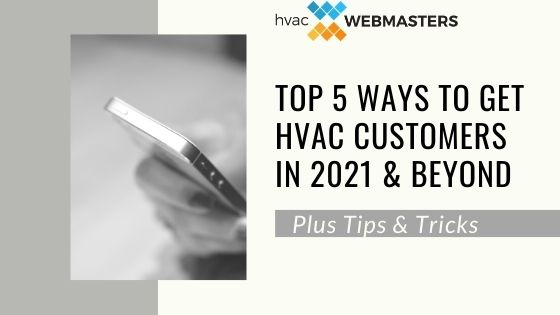 People often ask us, "how do I get customers for my HVAC business?" The most relevant answer to everyone who asks us is this question is strong SEO. Not every HVAC business is the same. And most regional markets come with their own unique set of challenges. As such, there is no one correct way to market your HVAC business. But SEO is the backbone of modern marketing, and that's where every company needs to start. 
You need to have a strong online presence. You need to research keywords relevant to searches that real people are conducting for HVAC services and include them in your content. Not only that, but you need to have a website that is easily navigable on mobile devices. Likewise, you need reputation management and a stable flow of customer reviews. All of these things are more or less covered by SEO. And while SEO is certainly necessary for getting customers in the first place, there are other methods you should be looking into if you really want your business to be successful.
Here at HVAC Webmasters, we offer every SEO and digital marketing service your business could ever need. And better yet; our services are tailored for the unique HVAC industry. We are all about providing our clients with the tools and knowledge they will need to thrive in this space. And to that end, we want to share with you some proven methods to get HVAC customers. Every day, we work closely with HVAC contractors all around the country and these are the methods that we have seen work time and time again. Take a look.
1) Google Business Profile
Getting customers is all about being visible. Google Business Profile is a simple and effective way to make your HVAC business more visible to your customers. Surveys show that 64% of consumers use Google My Business to find basic information on local businesses. That's half of your local market that you can't afford to go unnoticed by. Claiming your business on Google Business Profile is simple too. Just fill out some basic information and you will be all set. But it's important to make sure the information you submit is accurate, that you update the information as needed, and include plenty of high-quality photos in your listing.
2) Interact With Customers
It isn't enough to get online customer reviews and have a Facebook page for your business. You have to engage your customers. While this may seem like a tactic more geared towards retaining existing customers (which it most certainly is), engaging your customers is actually a method for gaining new ones too. Not only do nearly all consumers go out of their way to read businesses' responses to reviews, many consumers feel that these responses signify trustworthiness. When a potential customer sees that you respond to reviews (whether they be good or bad) they will be more inclined to trust you with their HVAC needs.
Interacting with customers also means replying to their Facebook, Instagram, and Twitter comments. Spur conversation on your social media pages with questions like "what's your favorite way to stay cool in the summer?" or "what is the best thermostat app you have tried?" This engagement draws new customers who may already be warm leads.
3) Post Blog Content
Blogs are an asset for many kinds of companies. That's because, with a blog, you have a unique opportunity to attract people who may have never heard of your business. High-quality blog content can have a huge impact on your organic search engine rankings. Good blog content can also generate extremely valuable off-site links that will lead to more searches and queries on your website. Say, for example, someone wants to know what a certain sound that their AC is making means.
They turn to an internet search, and you just so happen to have a blog post specifically about strange HVAC noises. Your blog helps answer their question. They are therefore more likely to trust you with their HVAC needs because you have already demonstrated value. And even if your post didn't fully answer their question, you may have come off as knowledgeable enough to answer further questions your post may have spurred. The consumer is now intrigued and primed to contact you for your services.
4) Certifications
Being a member of your local chamber of commerce or other industry-specific organizations can help more people find and trust your business. Be sure to post any industry certifications you may possess on your website so that you show up in certain specific searches. For instance, if you have been certified to use a certain type of eco-friendly refrigerant, be sure to make mention of that on your site. That way people searching for "certified refrigerant installers" will see your business listing.
5) Attend Trade Shows
Attending HVAC industry trade shows is a great way to meet and get HVAC customers. HVAC industry trade shows are especially necessary if your business focuses on commercial work. Trade shows are a great way to drum up B2B revenue as many companies large and small attend them to find a contractor to grant a long-term commercial contract. Still, HVAC trade shows are a great way to meet customers face to face and get your name out there.
Let us help you get HVAC Customers
Getting more HVAC customers for your business is something that we specialize in here at HVAC Webmasters. There is a lot more that goes into digital marketing and customer acquisition and most HVAC contractors don't have the time to handle it all themselves. We put our full team behind your business plus all of our resources to help increase your online presence, manage your online reputation, and launch a marketing campaign that generates new customers. For more information on how we can help you get HVAC customers, call (800) 353-3409.