Search engines like Google aim to ensure that users can get the best information available for their search queries. The algorithms continue to tighten up to provide the best user experience possible, and the concept of user intent is right along those lines. User Intent — sometimes also called search intent — considers keywords and the intent behind them.
HVAC websites need to offer up lots of quality content with user intent to serve their customer base best and perform well in Google search rankings. Let's take a look at the main types of user intent for HVAC Google searches, and HVAC Webmasters will share some practical tips for ensuring that your internet marketing strategy is poised to optimize well.
User Intent Types for HVAC Content
It's essential to get a sense of the various user intent types to determine if you have good content for each class or if you need to generate some new content for your HVAC website. For example, if your Google ranking suddenly dropped, taking a survey of the web pages you're offering search engines to the index is a wise move to capitalize on organic SEO. (You may still need to employ some other strategies to make sure your overall HVAC SEO game is strong and your web design is solid, but this is a logical start that will immediately benefit new customers too.)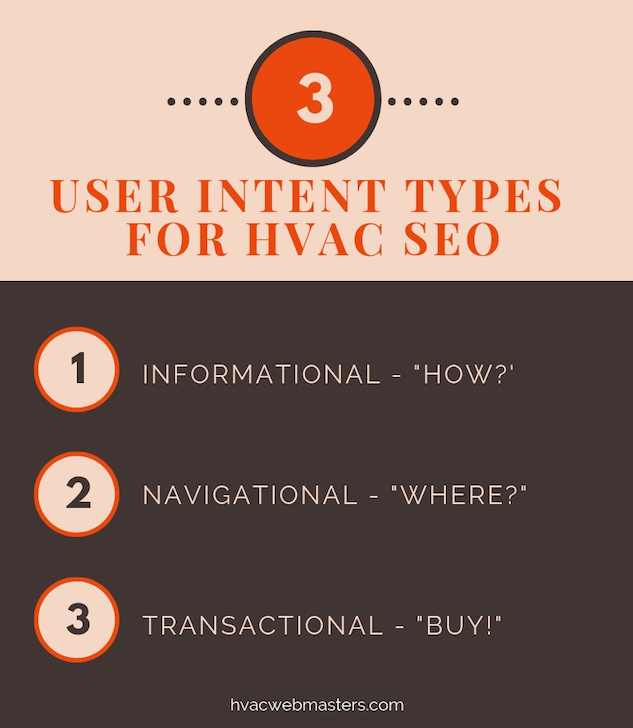 Type #1: Informational – "How?"
Informational is a prime user intent type when you (or the content writers you've hired, in most cases) are developing copy for your website and dovetails beautifully with Content Marketing for heating and cooling services. Content marketing is copy that is written to inform your customer about a product or service without pitching your specific company per se. It's delivering value via content without explicitly advertising your brand. Answering common user questions is a great way to anticipate folks looking for the services you offer and help you rank better in the Google SERPs.
Think about the types of questions you get calls about (or your receptionist/office manager hears). Then, write specific web pages or blog posts to address those questions. They're needs, after all, and you're uniquely positioned as a subject-matter expert to address them as a service to your customers. The key here is to utilize proper on-page SEO like optimized Title Tags and Header Tags so that search engines are aware of the great content you're publishing and can ensure you get prominent placement to get your phone ringing.
Consider This Post As An Example Of Informational User Intent
This very post is an example of addressing a need for potential customers (that's You) by publishing content (a blog post) that answers a common question that HVAC business owners ask of us (as SEO specialists). It's not about whether or not you hire us to redesign your website and manage your content (although we'd love that, of course). Still, I want to provide value to YOU simply by sharing information to help you better navigate your buying decision on the SEO and Internet Marketing front.
Type #2: Navigational – "Where?"
Let's say this post piqued your interest, and you like the content you see on our website and blog. Your next step may be to research other Web Marketing companies or to specifically research our firm to determine if you're ready to make a call for more information. You would be the Navigational User Type at this point because you're beyond the research phase and now considering a particular "brand," or at least trying to find that for your next move.
Here's another example: think about trying to locate a particular webpage for a company you're ready to hire. You may not want to take the time to search for their homepage and then navigate within site to find the desired page. Instead, standard user behavior is to simply Google the company name and what information you're explicitly trying to find. A brand search lets Google (or whatever search engine you're utilizing) do the work for you, so you can click on the link from the SERPs to get to the exact page you need to move forward in the process. That's how navigational intent works in 2021.
How Do I Create HVAC Content For Navigational Searches?
Assume that the viewer has already decided to call an HVAC professional. So they're beyond determining if they can DIY a fix and know they need help. They will search for a particular service or company name (if known, but rare) and generally include the location. They're still trying to hone in on who will get the call, so while a buying decision is imminent (we'll talk more about this transactional stage in a moment), they're still discovering information to help that decision along.
Because it is unlikely that a potential customer will initially search for your business name, the best way to appeal to this user type is to ensure you have content on your website and social media pages targeted for your service area.
For example, a high-traffic blog post won't help your company if you don't get any calls. However, by making sure to use your service cities (and county, depending on the population) as part of the HVAC keywords throughout your content writing, will help the right customers stay engaged with your information and on the right track to booking your services.
Type #3: Transactional – "Buy!"
It's important not to treat one user type as more valuable than all the others, as any potential HVAC lead could result in an excellent long-term relationship. Transactional searches will focus on moving forward to book a service in heating and cooling repairs. You can (and should) cater to these queries, and offering content to differentiate you from local competitors is a great way to do so.
HVAC Brand Pages To Facilitate Lead Conversion To Sales
A great way to appeal to the transactional user intent is to offer brand pages on your website. For example, if a homeowner has a busted Trane air conditioner, they may be searching for repairs or replacement by brand name. Having an optimized service page for Trane ACs in your area may get you the best placement possible to catch that call and get their business, which could potentially be a total system replacement.
Leverage Service Pages And HVAC Blogs
Because there is potential business tied to each of the user intent types we just covered, it's vital to ensure that your HVAC internet marketing — from your primary website to social media and citation listing content — appeals to each user. Of course, it's terrific to market more heavily to one or some of the search intents, but making sure to have something available for everyone is a great way to ensure you're not leaving potential business on the table.
Service pages, which delve into in-depth content about a particular heating or cooling service, optimized for the service area and with user intent in mind, will help you get solid traffic and stand out from the pack. Especially in competitive markets, the key to succeeding online is offering specific web pages and blog posts that allow you to show up well in Google rankings and dominate early page SERPs.
For best on-page SEO, use a specific search query as the H1 for blog posts (which typically serve as the post title) or H2s for service pages. For example, write a blog post titled, "How Do I Know If My Furnace Can Be Repaired Or Needs To Be Replaced?" The title is also a logical search intent — Informational User Intent, to be precise — and will provide a great entry point for your website via this blog post (assuming it's structured as an internal blog versus a different platform).
You can use the Suggestion feature of Google to find additional topics for an admirable breadth for content, all of which helps search engines see your site as relevant, valuable, and therefore deserving of top spots.
Google suggestion feature as a rich source of content ideas (sample query for furnace replacement)
In the example above, Google seems to like the keyword phrase "furnace filter needs to be replaced/changed," which is an excellent idea for another post! If I proceed with the post title I just suggested (trying to determine repair or replacement), I may add the suggestion of a specific post or page about furnace filters to a list for future topics. Thanks, Google!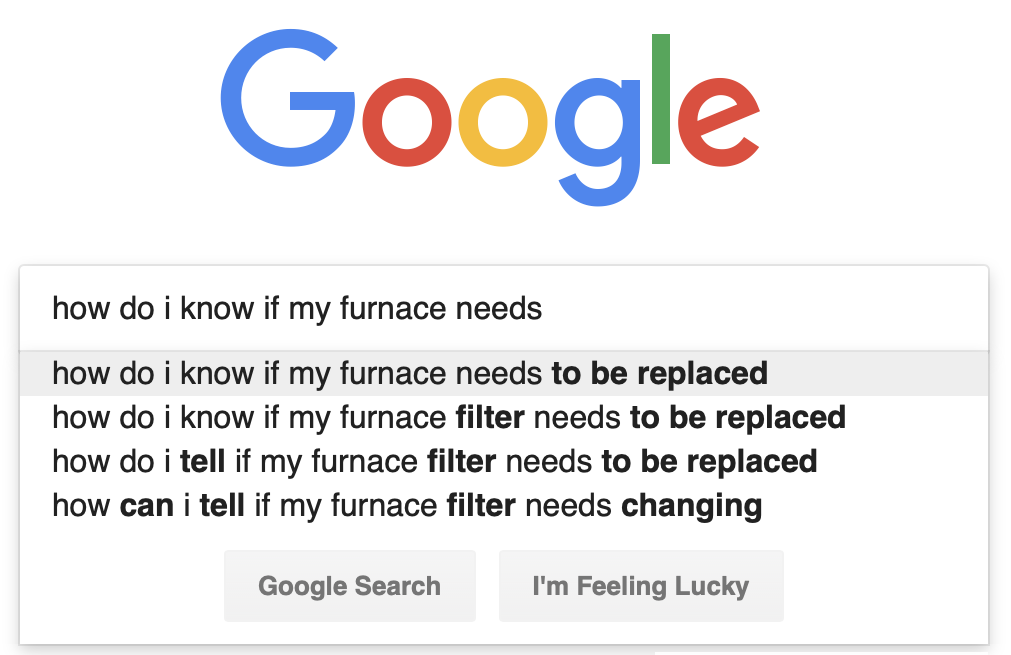 What Would My Customer Want To Know?
You're creating content for potential customers. Make sure you're thinking like customers and using the feedback from Google reviews to serve clients before they even pick up the phone. Your content marketing strategy directly impacts your sales funnel, so producing the right kinds of content can improve your bottom line in 2021. Understand user intent by researching what your customers want is a great way to succeed online in the modern era.