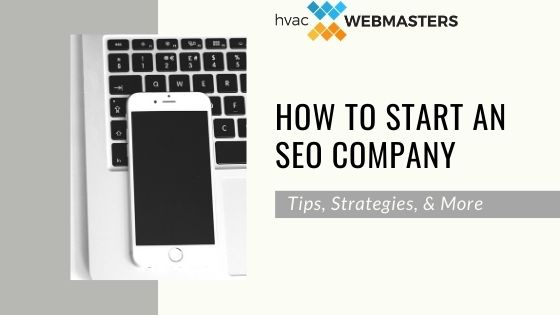 Starting an SEO company can be profitable, but it takes the right approach. Many people are very interested in getting into the SEO business because of the relatively low overhead costs of starting and operating this kind of business.
But many people don't take the right approach when starting their business. There are many things to consider and many things to avoid if you want to create an SEO company that makes money. Our agency started back in 2009, so we know what it takes to launch and maintain a successful SEO company.
In the following post, HVAC Webmasters will provide you with a comprehensive guide on starting an SEO company of your own. First, let's take a minute to answer some of the most commonly asked questions about how to start an SEO company in 2023.
Getting your SEO Company Started
The first thing you have to do is pick a niche for your SEO company. If you already have a category in mind (maybe you are already an HVAC expert and want to focus on that niche), you have things settled more or less.
But if you are unsure what niche you want to corner, some guiding principles would be helpful to follow:
Customer Value – Ideally, you want to choose an industry that makes a lot of money. Companies in high-value industries will pay more for SEO services. Legal, healthcare, and consultation services tend to be high-value. The problem is you need a proven track record to capture these clients, which, if you're starting, you probably don't have. But you can still go after lower-value industries with many volumes to compensate for the scanter contracts.
Location – Next up is location. Local SEO is in huge demand for smaller businesses working at local market levels but who want to expand. Knowing your desired niche location is an excellent place to start. But if you're going to follow the money, you can target wealthy cities like Los Angeles, New York, Dallas, and Miami. The problem with that approach is the dense competition in these markets. Another way to go is to target smaller cities around these metropolises where contention is lighter.
Specialize – To start an SEO company, you don't necessarily have to be a jack of all trades. Many people beginning in SEO offer only one or two SEO services but specialize in them to target companies with specific needs. For example, a reported 34% of companies who utilized a digital marketing strategy in 2020 spent $1,000 a month just for SEO link-building services.
Getting SEO Clients
Now that you have your niche and location, it's time to focus your efforts on getting clients. Starting, though, you won't have too many options. That's why it's a good idea for neophyte SEO companies to target low-competition keywords for yourself and your clients.
Using tools like Google Trends and Google Correlate will help you find low-competition keywords. Target these keywords to quickly and easily pad your portfolio and get results for new clients. Building websites and creating content for clients who utilize longtail keywords is an excellent strategy for new SEO companies because it is relatively easy and can show results very quickly.
And if you target a specific geographical market, be sure to use longtail keywords that include the name of the city you are targeting. A location-based approach is the easiest way to garner actual results, and you will need to show people something for them to hire you. But remember, when acquiring new clients, you only need to prove that you can improve their rankings more than they are.
Hiring or Outsourcing SEO Work
Don't outsource your work, although that is a viable option as your company grows. We mean to offer your services to other companies that want to outsource their work. Outsourcing may not be what you had in mind when you first started thinking about getting into the SEO game, but it's a great way to start building your portfolio.
And for companies that are focusing on just a small handful of SEO services, it's an excellent opportunity to demonstrate your value to prospective long-term clients and hone your skills. For this, you will need to target other SEO companies.
A simple Google search of marketing agencies, digital marketing agencies, web design, graphic design, and SEO companies in your area will give you a good list of companies to start targeting.
Converting Leads Into Sales
Inbound marketing for your SEO company is the best option because once you get a system up and running, it will run itself more or less. Inbound marketing techniques will allow leads and prospective clients to come to you rather than the other way around.
There are two practical strategies for SEO companies that want to run a successful inbound marketing campaign that creates leads and drives new sales. The first is an email campaign. Mailchimp and Aweber are excellent services to use and allow for a fair amount of customization for your specific sales pitch.
The next tool to use is an application form. You can embed an application form in your email directly or on your website. We recommend your website. There are a lot of free application form plugins you can use if you have a WordPress site. But if you don't use WordPress, Contact Form 7 and TypeForm work just as well.
Ranking Your SEO Company Site
A big mistake many new SEO companies make is neglecting their website. Lack of ranking for your website is a massive pitfall for two reasons:
Like your clients, your website should be your main inbound marketing lead generator. If people who need your services can't find your company, you are losing out on money.
It doesn't instill confidence in your prospective clients. Even if they are hiring you, they will likely perform a search for your company, and if you can't rank your website, how are they supposed to trust you with theirs?
The main thing to do in this situation is to practice what you preach. Target lower-competition keywords to help you get ranked and implement the strategies you are selling to clients to have something demonstrable to show them right out of the gate.
Utilizing Software as a Service (SAAS)
In 2023, most digital marketing is automated. Software tools like DataPins allow HVAC companies to rank for any local keyword automatically. The software itself creates the content (based on the contractor's check-in), and Google crawls and indexes each one.
A tool like DataPins sends relevant check-ins to their corresponding page. For example, when a contractor repairs a furnace in Atlanta, GA, the check-in gets published automatically on both the furnace repair service page and the Atlanta, GA, location page.
Imagine ranking for any keyword while competitors write content pages only to rank on page 2. It's insane. You can also utilize other automated software and even white-label software so that your clients believe you made the tools on your own.
Is The SEO Business Profitable?
There have been some strange rumblings in the marketing community over the last couple of years to the effect that SEO is an antiquated system. But the data doesn't support this unfounded assertion.
Consider the following statistic: 82% of people who employed an SEO strategy for their company in 2020 report that it was useful for them. The numbers go on like this. The fact is that SEO is an indelible appendage of digital marketing now, and it isn't going anywhere any time soon. 
Modern businesses that use digital marketing strategies allocate nearly half their marketing budget toward SEO. So how profitable is SEO now, and how beneficial will it be in the new year?
It's hard to put an exact number on how much SEO companies make because there are many factors. One is the type of niche they specialize in, and another is the type of clients they take on. Yet another is the type of pricing model the company uses. SEO companies are operating at pretty much every market level. Some make six figures a year; some make significantly more.
To give you a general idea, the average monthly fee for a company to keep an SEO agency on retainer in the United States is over $2,000. And for companies that offer hourly pricing models, the average hourly rate is $100 to $150.
If you only have 4-5 clients and are charging a monthly retainer fee of around $2,000, you can do the math. So is the SEO business profitable? We would say that the answer to that question is a resounding 'yes!'
Help with SEO
Last but not least, it never hurts to enlist the help of professionals. No matter what niche you target, sometimes you need guidance. Once you have a decent list of recurring clients, you may find yourself overwhelmed because, at first, you will most likely be handling most or all of the work yourself.
Don't be afraid to reach out to freelancers or other SEO companies to outsource your work and lighten the load. Be mindful of SAAS tools that lessen your workload and empower your marketing agency to grow without requiring constant manual labor.
And if you are working specifically in the HVAC niche, we can be of excellent service. We are HVAC Webmasters and offer SEO services that specifically focus on the HVAC niche. Whether you own an SEO or HVAC company, we can help you and your clients rank higher through custom content marketing, link building, PPC strategies, and more.