There is still very much a sense of dread when service professionals think about social media marketing as part of their overall internet marketing strategy. It can seem frivolous, and may very well contribute to the inattention and waning interpersonal skills of younger generations, given their dependence on these platforms. But when you're trying to reach modern consumers, your potential HVAC clients are online, and they're using social media. In fact, Facebook (as the social network Goliath) has 204,000,000 users as of October 2018, according to Statista.
You'd be in denial to imagine that there are no customers in that user base for you.
So How Do I Best Approach Social Media Marketing To Get More HVAC Business?
Great question! If you're going to dive into social media marketing, you might as well do it strategically. We are still very much in an age where throwing up a slew of superficial business pages across all platforms is going to amount to a lot of work, yet won't yield the results for which you're hoping. (Self-fulfilling prophecies aren't as fun when they simply confirm wasted time.)
Go with the big guys. Facebook, Instagram, and YouTube have significant market share when it comes to user base. Across most age groups (those 65+ notwithstanding), US adults are on at least one social media platform, and honing in on this reality can make a huge difference on not only your Google search rankings, but also how often your phone rings.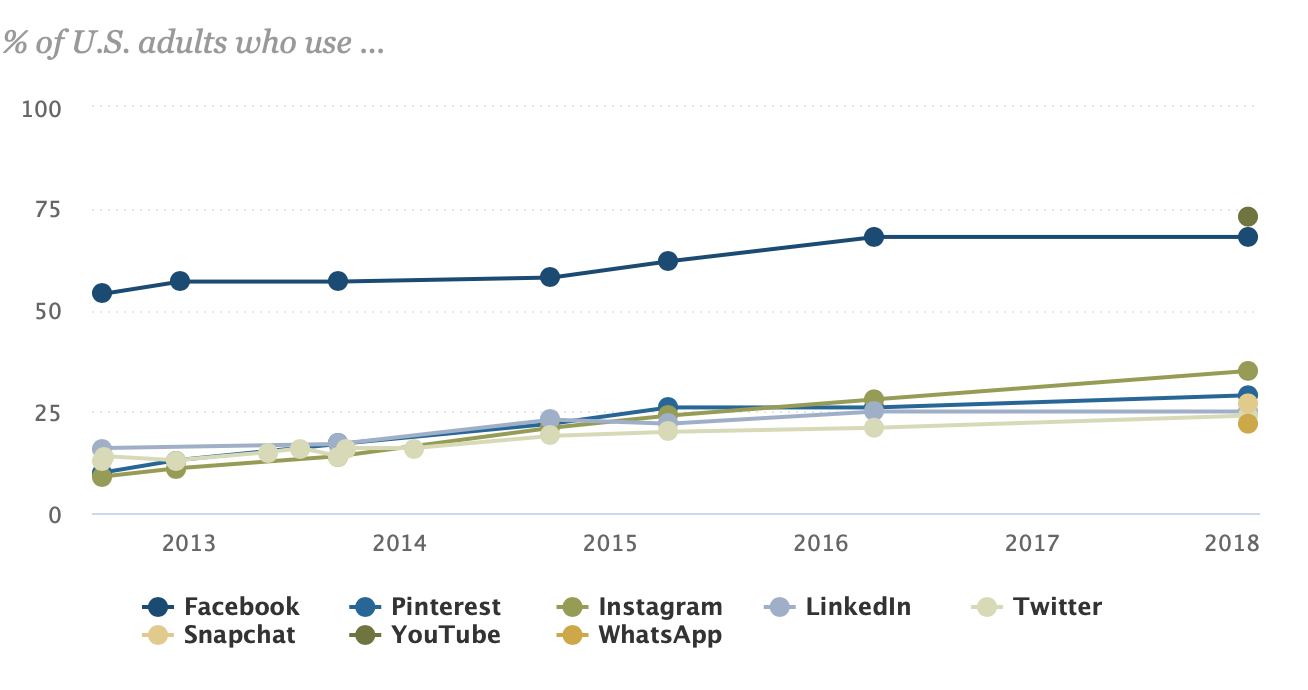 Social Media Platform Use by US Adults (%) – Source: Pew Research Center
The Value of Facebook Ads for HVAC Social Media Marketing
Here's one fact that is important to take home: You don't have to spend hours a day on Facebook for an effective social media campaign. The need to be present online doesn't mean you have to stay glued to your smartphone screen all day. You don't have time for that, and we know that.
The reality, however, is that average users check their Facebook pages fourteen times a day. When your potential client base is in need of heating and air conditioning repairs, it's a no-brainer that you need to show up on Facebook to capture their attention where it is. But this doesn't mean posting five times a day; it doesn't even mean posting every single day.
How Do I Set Up A Facebook Page for My HVAC Business?
Create a Business Page – This should be obvious, but given the need to leverage Facebook ads, which I'll discuss more in a minute, you want to have the right kind of account. Don't expect your personal Facebook account to double for your business.
Fill in the blanks – When creating a Facebook page for your HVAC company, you'll be prompted to enter all the relevant information, such as: physical address, email address, phone number, etc. Don't skip any of this information! This is critical for establishing a cohesive internet marketing presence, and having consistent business information across the web will improve your Google search rankings.
Hand over the login – If you hate Facebook, it's going to show. Delegate the management of your Facebook Business Page to someone who can give it the love it deserves. There may be someone on your admin team who can run with this, quickly and efficiently to get you up and running. And if you don't want to oversee this in-house, you can always hire a web marketing team to do that for you.
Now that you're page is set up, it's time to start scheduling your ads!
Facebook Ads For HVAC Services Are Your Friend
Here's the thing: there's no need to feel yucky about placing ads. Sure, they can be kind of annoying from the user experience perspective, but they're far less offensive than you'd imagine (especially for a free user platform like Facebook). And realistically, they're the digital version of advertisements you used to see in magazines and newspapers without thinking much of it. There was no shame in utilizing traditional forms of marketing to get your name out there, so we shouldn't saddle modern techniques with undeserved distaste.
As important as it is to have a nice, branded Facebook Page for your HVAC business, that alone is not going to get your phone to ring. This is a commodity: you just have to have it. But having a page is the first step to driving an ad campaign that actually can gain you new business from the millions of users that we established are already using Facebook every day. Because the Facebook algorithm is heavily weighted toward connecting people to people — it is a social network, after all — it's vital that service providers who intend to leverage Facebook ads. You won't get in front of new business by just having great content on your business page, although that is a great way to establish your brand! (We'll talk more about branding in the next segment…)
The great thing about Facebook advertising for HVAC services — versus some of the traditional marketing mediums I mentioned earlier — is that you can target your audience by demographic. In other words, your internet marketing dollars are spent strategically, and you can choose how much you want to invest of your advertising budget. The metrics that Facebook gives you in response to an ad's performance are a goldmine for pivoting as needed to get greater reach and maximizing your social media marketing budget.
Sponsored Instagram Posts and Branded Feed for Your HVAC Business
Instagram is going to be more visually based than is Facebook, which means that your page, or "Feed," is going to rely on a rotation of images. You can find lots of tips online for getting great photos for your HVAC business, but the key is to keep it simple. You don't have to hire a photographer to keep up weekly posts on Instagram, which would be a great minimum engagement.
Similar to the point I made about Facebook, the goal here isn't to engage socially and chase comments all the livelong day. You need a decent feed so that there is some context for the ads you place; on Instagram, these are called sponsored posts. The beauty of Instagram marketing for HVAC companies is that the content blends right in with viewers' feed, so it is more likely to get their attention in an organic way. The user experience is positive, especially if your ad features an high quality photo or, even better, a relevant video ad. (Video ads tend to have better engagement and CTR, or "click through rate.")
Because Instagram is owned by Facebook, this is a great compliment to Facebook advertising, and you get similar tools and feedback for the ads you place. Your business pages on both platforms serve to provide the basics and establish you in that space, and should be developed as secondary websites. This is a great opportunity to hone your brand, or business identity, and reinforce it via the content you post, images used, color scheme invoked, etc.
Create An HVAC YouTube Channel For SEO Domination
YouTube may not be the first platform that comes to mind when it comes to establishing your business on the internet, but it has become an incredibly powerful tool as a search engine in its own right. Google still dominates, no question, but have you ever noticed how prominent are the video results (from YouTube) on SERPs (Search Engine Results Pages)?
Given the ever increasing preference for visual media, these video hits are gaining traction and can inspire huge leaps in the search rankings for associated pages, such as your primary website and social media pages.
This doesn't mean you need to become a part-time videographer or have a production company on speed dial. But it is worth considering how you can implement a YouTube marketing strategy for your HVAC company. Because many visitors treat the site as a regular stop — 45% of YouTube users check in every single day — it's worth treating the site as a veritable new source; and studies confirm this: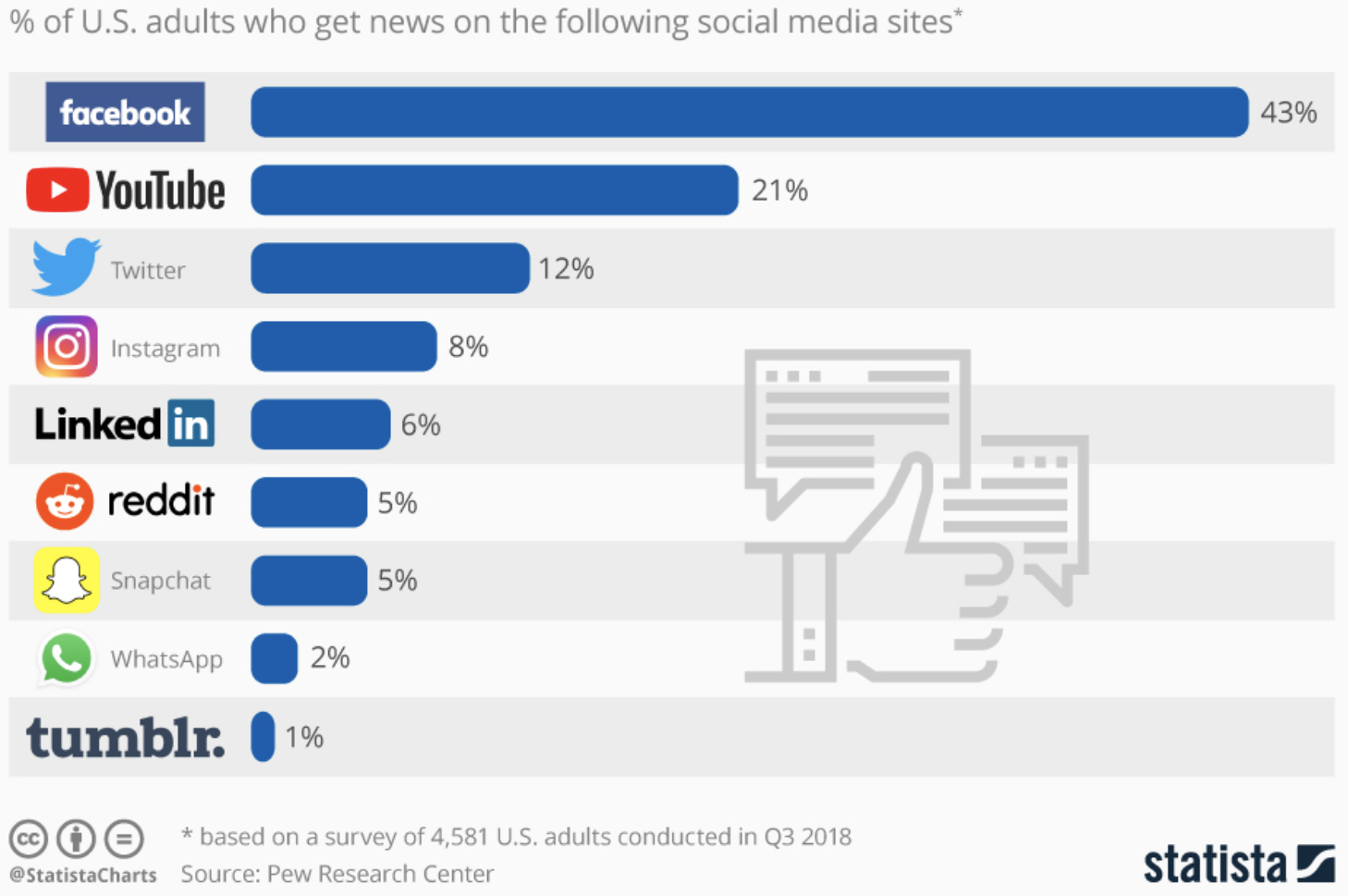 This is great news because it means you don't need to put together a compilation of the funniest cats from house calls to be successful. (Although, I'm not going to lie, those are always a hit.) YouTube is a legit site for people to find information, even the serious, relevant stuff. And this is why focusing on How-To topics and addressing commonly asked questions or issues regarding heating and cooling is a natural fit for professionals like yourself. You're adding to the body of knowledge that exists on the internet for your field, which is fantastic from an authoritative perspective, legitimizing you and your HVAC technicians for potential clients who reside in you service area. (If you have broad service area and/or multiple locations for your business, even better!)
Imagine a potential client is searching Google for furnace repairs in [your area]. Because you did some fantastic work developing your social media marketing plan, you are all over the SERP. You website is closer to the top than ever for organic results, due in part to your optimized social media pages, and your Facebook and Instagram pages themselves are prominent in the rankings too. (A cohesive social media marketing approach looks really nice to Google and helps legitimize your business, including all associated pages!) And then BAM! There's a video from your company with a simple checklist of home maintenance reminders for the season. With all that great information available so prominently in the search results, I know who I'm calling!
Play The Long Game with Social Media Marketing
The scenario I just presented is ideal, no doubt. I'd be remiss if I didn't advise that it can take up to a year for newly established domains to perform well in search rankings. That can be frustrating, of course, but the goal with a good internet marketing plan is to keep your business growing and the phone ringing long term.
This means you need to plant some seeds and plant some bulbs, so to speak. The bulbs, or paid ads, will help you get immediate attention, whether we're talking Facebook ads for HVAC services or PPC. And the seeds, that's all your organic content, growing deep and wide to help your website and social media pages stay relevant and well-liked by Google far beyond when they were created.
A balanced approach with realistic expectations can help set you up for long-term success. Knowing the platforms on which to focus for social media marketing can go a long way in helping you lay a firm foundation that will provide an excellent user experience for potential customers, as well as attract search engines for stellar rankings.