Before we discuss how to maximize your HVAC social media presence, we have to establish a very important fact: social media is a must have for your HVAC business. It's not simply a matter of trying to check a box for a nice breadth of coverage on the web for your company; it's vital that you leverage the power and impact of social media to find potential customers!
There are homeowners and business owners in your area, searching for the services that you provide. If you're nowhere to be found on the social media platforms that they're using (and they are using them), then your HVAC business will never truly thrive.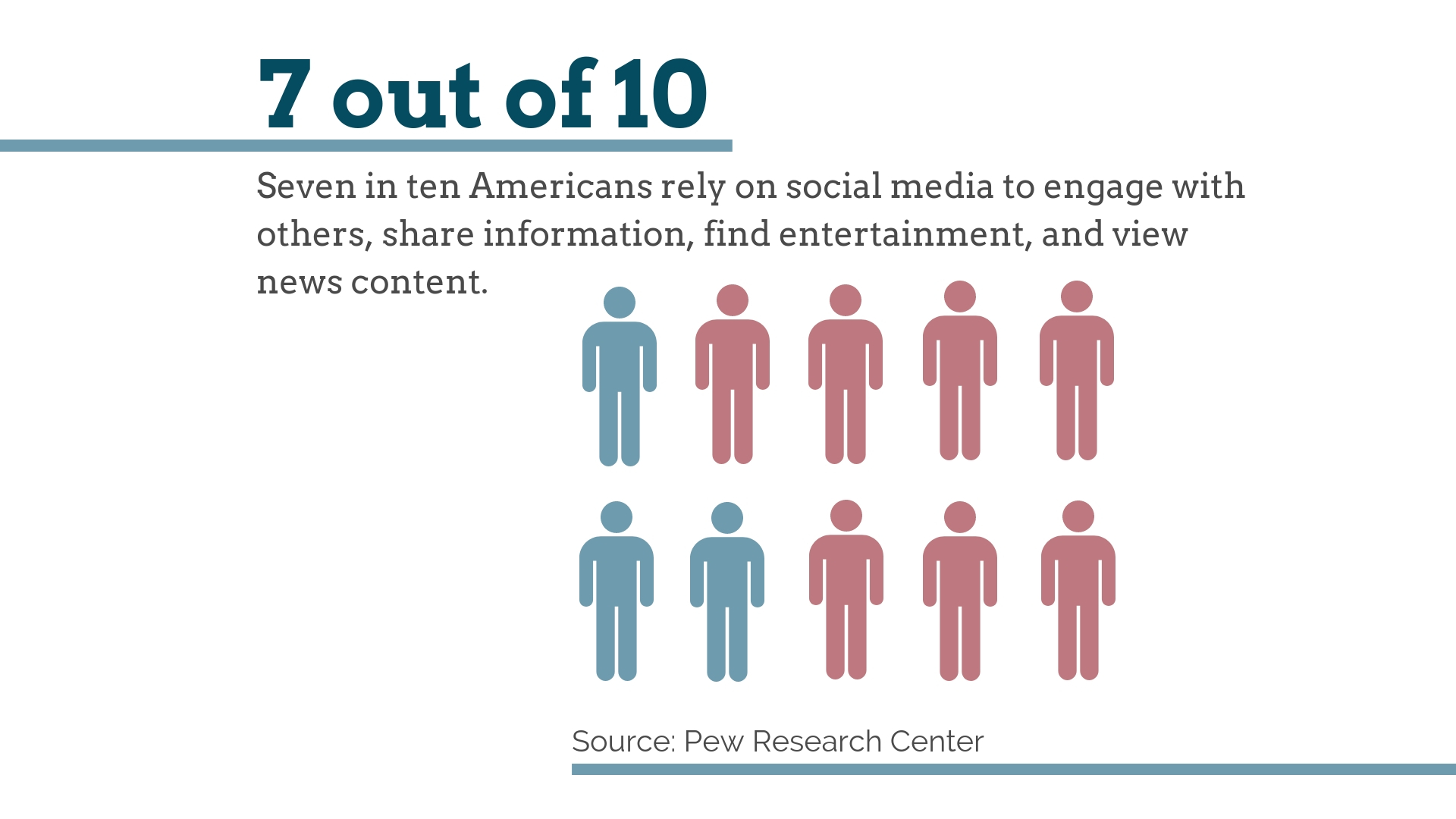 The Reality of Social Media for HVAC Companies
Here's the reality of social media: like it or not, it's not going anywhere! The more users that rely regularly on social media — for everything from recipes and shopping ideas to world news and "life hacks" (or How-Tos for everyday life), the more value that these users (i.e. your potential customers!) place on social media presence. This is a trend that will continue to gain traction, and it is therefore vital to embrace social media marketing for your HVAC business.
Now that we have a firm grasp on just how impactful social media for HVAC companies truly is, let's dive into how to show up well in this arena.
I won't go into detail on the foundational requirements to establish your HVAC business for SEO (search engine optimization) and internet marketing success, but it should go without saying that all of those aspects are hugely important. We are simply building on top of your strong web presence for HVAC services with a fully-realized and intentional facebook advertising strategy.
Tip #1: When It Comes to Social Media Marketing, Show Up and Make It Personal
The modern consumer and homeowner is most likely to turn to the internet when they're in need of a service provider. To this end, Facebook incorporated a few years back a recommendations feature which supports users asking for (what appears to be) feedback on everything from a great dentist to a good place for tacos on a Tuesday night. Because word of mouth is rarely literally relayed by mouth anymore, you should view the recommendation request for an awesome air conditioning technician as a prime opportunity to show up and meet the need. In other words, you can intercept this request…but only if you're already on Facebook and proactively using it to grow your business.
So how do you do this in a way that doesn't appear desperate? No one wants to be that guy, responding to every single request with the exact same plea to "Call me!" Today's social media user is savvy, and anything that even remotely appears as spam is likely to result in not only ignoring, but in many cases, blocking entirely. An attractive HVAC social media account, on the other hand, will go far in wooing users to reach out when they need help, and this starts long before a recommendation is solicited.
Authenticity Matters When It Comes to Social Media for HVAC
Authenticity is the name of the game for today's consumers. You simply cannot use the dated techniques of stock imagery, well-worn phrasing or gimmicks to grab the viewer's attention (it doesn't), or simply throwing up a website and calling it done. Your HVAC clients want to see what makes your company different. Who are you? What do you value? As much as it pains many home service companies to consider, modern home and business owners want to see a brand.
And this means, you've got to show your face.
Consider this service provider search scenario…
My air conditioner is making a weird humming noise every time it kicks on. This is annoying but I am far from capable of any DIY HVAC attempts, despite all the "easy" YouTube tutorials out there. I need a professional. So I log into my Facebook account, and quickly type into my status box, "Does anyone know a good HVAC company?"
Now, if you as a service provider don't have a Facebook presence (or even an account, perish the thought!), you are already behind. Not only are you unaware of this question being thrown out into the interwebs, just waiting for a pro like yourself to swoop in to save the day, but you are also missing out on the opportunity for other people to do the work for you.
Here's how that works…
When a Friend sees that plea for help, they will type in the name of their trusty HVAC company. Given the interconnectedness of Facebook as a social network (think of it as a powerful, social Wiki), the Friend's entry will populate a link to that HVAC company's Facebook page with some high-level stats (such as reviews, address, etc.). This makes it exceedingly easy for me, seeking relief from my air conditioning woes ASAP, to click on a few profiles, quickly determine who I am going to call, and be on my way to a solution.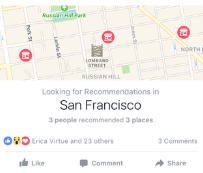 It happens in a matter of minutes. Seconds, even. So if you're not ready to serve up an optimized Facebook page, ripe for the tagging, you're not even on the radar. And probably won't ever be.
OK, back to our scenario…
I have received several responses to my search for HVAC service providers in my area. Hooray! Thanks, Facebook. Now I've got to quickly weed through them and make a call (or two, max). Any recommendations that don't include Facebook links will be last on my list to vet. I click on a few links to see the pages that have good reviews (so if you don't have any Facebook reviews, you don't make it to the next round).
I consider two pages…
HVAC Company Page #1: Nothing special to see. Stock images, boring captions, basic information is there with a website link, but I'm simply not enticed to think this company is offering anything worth my call.
HVAC Company Page #2: Interesting. Lots of tips and content, including a checklist of possible reasons for why my air conditioner may be making noise. ("How did they know?!") I also see a few photos of actual service technicians. They look like real people, and I see several positive reviews (but not a ton).
So who did I call? Yup, you guessed it. I called HVAC Company #2. Even without a ton of reviews, I feel like I already have an "in" with this company based on what I saw online. Because I am unlikely to waste much time (we're all so busy these days, after all), I will book this company for a service call as soon as possible. If all goes well, my days of looking for a heating and air conditioning expert online are over.
Show Off What Makes Your HVAC Company Special
What made HVAC Company #2 attractive to me as a consumer is that it seemed real and legit. I saw reviews from actual customers, helpful content that reflected authority for the services provided, and photos that made me feel more connected.
How can you accomplish this for your own social media pages? Don't be afraid to get personal!
Here are some ideas for personalizing (or "branding") your company's social media pages:
Holiday gatherings are an awesome chance to bring attention to the family vibe of your company, reminding viewers that you're real people with homes and families of your own. This makes you more relatable and attractive, versus a faceless phone number to call.
Honor your roots: Did you start your HVAC career to help put food on the table for your single mother, or work your way up to starting your own business? Tell that story. People like context and character, not just a list of services.
If you have an employee or technician of the month in your business, grab a photo of them and sing their praises. This shows potential clients that you have staff worth celebrating!
Show off your work by featuring a list of noteworthy clients (with their permission, of course) and even posting photos of repair work. Before and afters are always of interest, and can highlight your competence for HVAC repairs.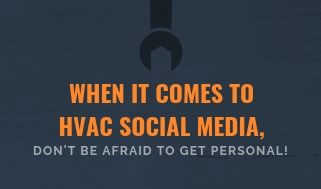 Tip #2: The Importance of Engagement for HVAC Social Media Done Right
Now that you're getting lots of attention on social media because of your authentic, personalized content, it's important that you're available to field the outreach that may come from some unexpected sources. To an extent, you can manage with any given social media platform (be it Facebook, Instagram, etc.) whether or not you're able to receive private messages (or "DMs"). But turning off those communication channels (or simply ignoring them) could be detrimental to your ability to increase your call volume for HVAC services.
If you are not staffed to chase multiple lead channels, then focus on those that tend to drive the most traffic. Facebook and YouTube are leading the pack in terms of adults who use social media, with 73% and 68% respectively representing a large population of potential clients. However, Facebook and Instagram are going to be most popular with homeowner-aged users, so planning for your target customer is going to be vital in ensuring that you're prepared to meet them wherever they are. (More on that in a minute!)
The most important aspects of engagement: Make sure it's clear who will respond to inquiries, and that it's done in a timely manner.

If you're busy fielding calls and scheduling your team for jobs, then delegate this very important task to someone who is able to competently and quickly get back to potential clients from social media. Remember, they're reaching out because they need you. Don't miss this opportunity because you're trying to do too much!
There are chat widgets that can be added to home service websites, such as your optimized HVAC website, but don't even go there if you aren't prepared to "man" that communication channel. Because of the fast pace in which so many of us operate these days, a dead end or unreturned outreach attempt is usually worse than not having ever reached out to your company. It's perceived as wasted time, and you definitely don't want that to be the takeaway from all your hard work on optimizing social media for your HVAC business.
Tip #3: Know Your HVAC Client Base and Find Them on Social Media
I mentioned it before, but it's worth repeating: Know where your clients are searching. Google is far an away the preferred search engine, but you have to acknowledge that many social media platforms are social networks and function as mini (albeit robust) search engines as well.
Both men and women head to Facebook for the majority of their social media use, but if you are finding that most of your calls are from women looking to repair their heating and cooling systems, then you should consider bolstering your Instagram account. 39% of women are using Instagram, compared to 25% of both men and women on LinkedIn. Perhaps the user experience of LinkedIn is more your taste, but if your goal with social media advertising is to grow your HVAC company, then it's critical you pivot as needed to embrace your logical client base.
Why Social Media Matters for Your HVAC Business To Thrive
Why does this matter? If we circle back on the point that one of the most powerful messages that you can send with a well-executed social media advertising strategy for your company is an authentic and trustworthy brand, then putting effort in this area is going to provide a positive return for your "sweat equity."
You're a busy business owner, and you're in a unique position to best steer the rudder for your company. Don't try to do everything. Don't overburden yourself and waste your energy trying to manage it all. Delegation is one of the keys to success, and that may mean outsourcing the management of your internet marketing strategy so that you can focus on the heating and cooling services to your customers. But without that critical step, you won't have any customers in your queue.