Your website is a virtual property and should be maintained as such. Much like a car, a website needs regular maintenance to sustain elite performance. Driving a car off the sales lot is like an initial website launch. If you haven't been swindled, it works great. But as time goes on, failure to perform tune-up's will cause problems to manifest. It is much easier to prevent problems than to fix them. HVAC Webmasters offers website maintenance services to contractors throughout the United States.
Our regular maintenance includes:
Browser / Device Compatibility: Ensuring web pages are compatible with the latest browsers and devices
Content Updates: Adding, subtracting, and altering content based on a variety of factors
CMS Updates: Performing content management system updates
SEO Analysis / Improvement: Analyzing and improving search optimization based on algorithm changes and other variables
The internet is a fluid entity. Changes, updates, and modifications are taking place at all times. HVAC contractors must ensure their website maintains compatibility with the most popular web browsers like Chrome, FireFox, Safari, etc. and does the same with devices like IPhone, IPad, Macbook, etc. HVAC Webmasters is a full service internet marketing company that looks forward to partnering with your company in 2018. Our team of web designers and SEO experts ensure that each website evolves along with new technology. Call (800) 353-3409 for HVAC website maintenance services.
WordPress Website Maintenance
At HVAC Webmasters, we design each client website using WordPress. This Content Management System allows us to integrate SEO-friendly content, seamlessly into your pages. While WordPress offers many advantages for web developers, it also requires its fair share of maintenance. Aside from software updates, which are introduced regularly by WordPress, the CMS should be tuned up every 3-6 months. Our team of web designers are ready, willing, and able to perform WordPress website maintenance services for HVAC contractors. WordPress maintenance includes:
Complete Backups: Your website is regularly backed up (copied and stored) in case of emergency
Comment Moderation: We monitor blog comment sections to prevent spam or inappropriate language
Link Monitoring: We locate and fix broken links and 404 errors
Plugin Updates: We ensure each WP plugin is updated to its newest version
Just as companies make copies of important documents, the same should be true of their website. In fact, your website might be the most important document of all. Critical errors are rare, but in severe cases, they can wipe your website completely off of the web. Backing up your files ensures that if this were to ever take place, a swift and effective solution is available. HVAC Webmasters is the industry leader in online marketing for heating and cooling companies. Our team of web designers and SEO experts will ensure optimal performance for your WordPress website.
Web Maintenance Services for Site Speed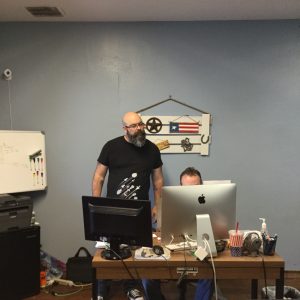 Research suggests 73% of mobile users have encountered a website that was too slow to load. To make sure your HVAC company site is not one of those, regular monitoring of your site speed is strongly recommended. At HVAC Webmasters, site speed optimization is part of our ongoing maintenance services. We utilize tools like Google's Test Your Mobile Speed, along with other resources to keep your website running at its optimal speed and performance.
Large images can bog down site speed, which is why we offer photo optimization services to all of our clients. Compressing images to a smaller size can increase loading times and subsequently enhance user experience. Regular monitoring of site speed is important because a site can slow down at any time. If it goes unnoticed, conversion rates can dropoff for weeks and even months at a time, without HVAC companies realizing the root cause. To prevent ongoing speed problems, call (800) 353-3409 for HVAC website maintenance services.