A website is a major business asset for HVAC companies. To sustain peak performance, a website requires regular maintenance. With professional web design, the initial launch is only the beginning. Failure to perform regular site maintenance can result in nagging problems like slow downloads, optimization changes, and more. Because site re-optimization takes time, it's easier to prevent problems than to fix them.
HVAC Webmasters offers website maintenance services that cover every aspect of your site so you can rest assured that your HVAC website optimizes at its best, all the time. Our experts perform:
Browser and Device Compatibility Inspection: Ensuring web pages are compatible with the latest browsers and devices
Content and Keyword Updates: Adding, subtracting, and altering content based on a variety of factors
CMS WordPress Updates: Performing content management system updates
SEO Analysis and Improvement: Improving search optimization based on algorithm changes and other variables
Maintenance is included in each of our marketing plans for your convenience and success. All of our plans offer great value to plumbers and include website design, SEO, content marketing, and citation sources. Part of web maintenance is ensuring your site's compatibility with major web browsers like Chrome, FireFox, Safari, etc. as well as the devices through which they are accessed like iPhone, iPad, Macbook, Desktop, etc. HVAC Webmasters is eager to discuss your options in greater detail. Call (800) 353-3409 for website maintenance services for HVAC companies.
WordPress Website Maintenance
HVAC Webmasters designs custom websites for plumbers using the popular content management system; WordPress. This digital software facilitates the publication of SEO-friendly content, along with the development of seamless navigation. Despite its benefits, WordPress requires its share of maintenance. Aside from software updates, introduced regularly by WordPress, the software necessitates tune-up every 3-6 months. Our web design team is qualified to perform WordPress maintenance, which includes:
Complete Backups: Your website is regularly backed up (copied and stored) in case of emergency
Comment Moderation: We monitor blog comment sections to prevent spam or inappropriate language
Link Monitoring: We locate and fix broken links and 404 errors
Plugin Updates: We ensure each WP plugin is updated to its newest version
Website backups are a security measure for HVAC companies. Although critical errors are rare, the threat of irretrievable website deletion is too dangerous to ignore. Backing up files ensures that websites are, in fact, retrievable, and can be efficiently re-launched if a fatal problem were to occur. Our experience designing custom websites for heating and cooling companies gives us unique insights into your industry, and how to best market your services to a defined audience. We optimize websites for mobile devices so that local users can easily connect with your company.
Web Maintenance Services for Site Speed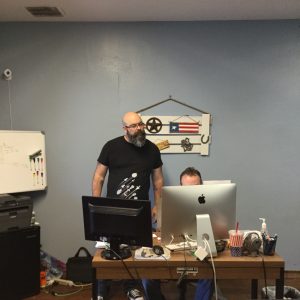 Website maintenance is critical to sustaining site speed, as slow loading pages can cost your customers, quickly. Studies show that 73% of mobile users have encountered a website too slow to load. This illustrates a decrease in user attention span, and an increased need to present fast loading pages. HVAC Webmasters offers site speed optimization as part of our ongoing maintenance services. Utilizing tools like Google's Test Your Mobile Speed, we can identify problems and develop solutions.
One source of slowed loading times is large image files. HVAC Webmasters performs photo optimization on each website image to maximize site speed while integrating visual elements. Regularly monitoring site speed is important, because long stretches of ignored issues can increase bounce rate and compromise lead generation. Contractors choose between PPL and MTM marketing plans, each of which include web maintenance services. Call (800) 353-3409 to learn more about the process.