Successful web development ultimately depends on two objectives: pleasing potential customers and satisfying Google. That's a fine line to balance, especially when it comes to graphic design. While the community college art student in all of us wants to create a breathtaking custom style, our team at HVAC Webmasters has witnessed too many gorgeous sites languish in obscure page rankings.
That's why we tell HVAC contractors to aim for pretty and practical.
Our team explores the world of graphic design and HVAC SEO (search engine optimization) to find what works for getting long-term results. If your site isn't getting the conversion rates you've been hoping for, it may be time to take a closer look at your user experience! Here's why…
Graphic Design Makes a Difference
Did you know that search engine users actually help Google know how to rank websites? While brand-new sites earn their placement through keyword optimization, high crawlability, and engaging content, those initial rankings only last for so long. That's why it takes time for new HVAC contractors to start showing up in search results.
Long-term rankings depend upon both ongoing content creation and user interaction. When a potential customer lands on a website from a SERP (search engine results page), their subsequent experience will ultimately determine whether they stay or leave.
User Experience
Design Sways Potential Customers (for Good or Bad)
The human brain processes visual information with incredible speed. It takes the average person only 0.05 seconds to form an initial opinion about a website (SWEOR). Have you ever found yourself on a website that looked like it just won an ugly sweater competition? Even sites with impeccable on-page keyword optimization and compelling content lose out on customers if they don't have that professional graphic design.
Potential customers aren't looking for award-winning graphic design. They just expect companies to take the necessary time to make their pages appear professional and organized. That includes logos, navigation, and other visual elements. Poor design creates feelings of distrust, and almost inevitably results in higher bounce rates. However, clean design makes for a streamlined user experience, which builds confidence and increases the likelihood of conversion!
Search Rankings
Graphic Design Influences Search Rankings
Now you may be wondering, "How on earth do graphics affect search results?" It's actually very simple.
Step #1: Bad graphic design leads to poor user experience.
Step #2: Poor user experience leads to a higher bounce rate.
Step #3: A higher bounce rate leads to Google ranking your site poorly.
Of course, there is a positive side to this relationship between graphic design, user experience, and Google rankings. Let's examine how a professional website design may influence rankings for the better!
Step #1: Crisp graphic design encourages user confidence.
Step #2: Higher confidence sparks deeper interaction and more leads.
Step #3: Deeper interaction shows Google your site can be trusted.
Step #4: Google reappraises your site and ranks it higher.
Step #5: Higher rankings lead to more clicks, leads, and reviews.
Step #6: These lead to even better rankings. And so on…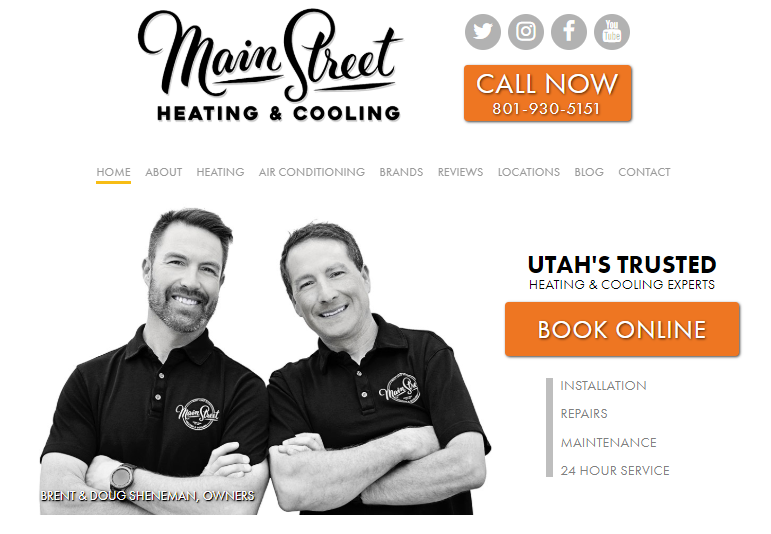 How We Help at HVAC Webmasters
We've walked that fine line between practical design and alluring user experience. Our skilled (and friendly) graphic design professionals work with each of our clients to craft an eye-catching style. Combined with the other crucial elements of HVAC SEO, our work enables our clients to dominate local search listings.
So how do we do it?
Our Design Team Focuses On…
Color Schemes: Our team creates a vivid color scheme to enhance engagement and encourage longer site visits.
Careful Spacing: We preserve the essential spacing between text and visual elements.
Natural Flow: Our experts direct the flow of on screen elements so that readers naturally flow to the calls to action.
Rich Texture: Navigational elements we create clearly stand out from the background for better reading and user experience.
What to Expect from Our Team
We know that a new website represents a significant investment on your part, which is why our team works closely with your design and content requirements. Here's what you can expect when you choose our trusted HVAC SEO experts:
Step #1: We talk with you about your design and functional goals for the site.
Step #2: An expert walks through the development process with you.
Step #3: We custom-build the site, craft the content, and complete multiple editing sweeps.
Step #4: You review your brand new, optimized website. Changes can be made as necessary.
Step #5: We launch!
The end result is not only a visual appealing feat of graphic design, but also a fully-functional site built for incredible HVAC SEO!
Graphic Design at HVAC Webmasters
Have you been looking to enhance your site visually and generate more leads in the process? Our team at the HVAC Webmasters works with countless HVAC contractors across the United States. Clients dominate their local search listings, earning more clicks and better leads than ever before. If you'd like to start growing your heating and cooling business, talk with one of our search engine marketing specialists!
Call (800) 353-3409 for HVAC Company Graphic Design!