HVAC companies with any experience in digital marketing know that Google Analytics is an important aspect of measurement and future performance. One tool that companies might be less familiar with is one that can work in concert with Analytics; Google Tag Manager. To summarize, Google Tag Manager does the following:
Tagging: Google Tag Manager adds snippets of JavaScript to your website code
Triggering: It also defines when the aforementioned tags are executed
Storing: Google Tag Manager easily stores information that can be used by tags and triggers
So what is the point of Google Tag Manager for HVAC companies? Basically, it makes it simpler to add JavaScript to your website, which opens up more opportunities for engagement. JavaScript adds dynamic visual elements to your website that are shown to have a positive impact on how users interact with your content. To incorporate Google Tag Manager on your HVAC website, call us at (800) 353-3409.
Using Analytics With Tag Manager
Google Tag Manager and Google Analytics work in concert to help HVAC websites reach their full potential. Blocks of code that would have otherwise had to have been designed from scratch (contact forms, autoplay videos, etc.) can now be placed efficiently throughout your website using Google's Tag Manager.
Google Analytics can then track user behavior in their interactions with these elements. Events your website may want to track include:
Actions: Say for example you have an autoplay video on your homepage, Google Analytics can track how many times a user clicks the "stop" button on the embedded video
Categories: By breaking down your content into categories (video, links, advertisements, etc.) you can measure which form of media your visitors are most frequently interacting with
Values: Track the dates, times, and other quantifiable values, in which your visitors interact with certain elements
It's easy to see why combining Google Tag Manager and Google Analytics can yield great results for HVAC contractors. With that said, setting up these tools, merging them, and analyzing the data they produce can be a tall task for contractors not experienced with website design.
These programs require skill and experience to be used effectively. Luckily, the HVAC Webmasters team can handle this entire process for you. We will consult with you to create the best measurable goals for your company moving forward.
Google Tag Manager Containers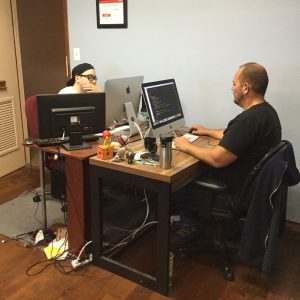 Google makes the process fairly simple by allowing website owners to assign containers to each of their websites. Your container is where you can store each set of macros, rules, and tags, at which point a single block of embedded code will, account for, and recall from, each snippet within the container. Again, this might seem complicated to contractors unfamiliar with website design, but it actually makes the process much easier for your web designer and allows a multitude of elements to be added to your website.
If you are in the market for a new, more effective HVAC website, HVAC Webmasters is the company you have been waiting for. Our group of professional web designers utilizes Google Tag Manager to help your website reach its fullest potential. Our goal is to increase user engagement on your website so that you can convert more leads and make more money. If you would like to further discuss Google Tag Manager and how it can help your HVAC website, give us a call at (800) 353-3409.