Most HVAC contractors have heard of Facebook and understand how it can help their business, but fewer are aware of Instagram and its marketing potential. While owned by Facebook, it is a stand-alone social media platform that focuses exclusively on images and short videos. Instagram is the fastest growing social platform on the web, growing from 600-800 million over the last two years. HVAC companies can leverage this fast-growing social platform in the following ways:
Engagement: Reply to comments on your photos to further engage with new customers
Hashtags: Posting company photos with hashtags like #HVAC #FurnaceRepair #ACRepair can attract interested users
IG Stories: Utilize Instagram's story feature so users can follow your activity throughout the day
Tagging: Instagram captions also support tagging which allows you to tag brand name profiles in relevant images. For example, you may choose to tag the air conditioner brand used in the image.
There are seemingly limitless possibilities for HVAC companies and Instagram, as long as you're willing to adapt to the advertising differences of the platform's social media marketing. Though Instagram is known to appeal to a younger demographic, it is becoming increasingly popular among homeowners. With ever growing opportunity to connect to new clients, this visual-rich platform is the perfect place to showcase your services. Call (800) 353-3409 to get superior Instagram marketing for your HVAC company.
How to Create Instagram an Account
Setting up your Instagram account is simple and can be completed in a matter of minutes. In order to receive all the analytics tools and other benefits of Instagram business, your account must be correctly set up. First, create a typical Instagram account, using the company email for verification. Once you have your account set up, you can convert it to a business account in three simple steps.
Under the main Instagram menu, choose "settings" which located at the bottom of the navigation bar.
Choose the "Account" option.
Choose "Switch to Business Account".
Step 1
Step 2
Step 3
Once your account is set up as a business, you can begin sharing content and running PPC campaigns to help grow your audience and expand your customer base. The HVAC Webmasters team can create and manage your Instagram advertising campaigns to create a new source of growth for your company! Call us today at (800) 353-3409 to learn more about the benefits of Instagram marketing.
Visual Concepts for HVAC Contractors
Instagram is a visual medium, and your content must fit the criteria. One common question asked by HVAC contractors about social media in general is "What types of content should be shared?" For Instagram, consider the following concepts when crafting new content:
Before and After: Posting before and after pictures upon completion of a successful repair.
Group Photos: Planned group photos help personalize your content and connect with customers.
Promotional Images: Employ a graphic design team to create promotional material for Instagram.
Short Videos: Take advantage of IG Stories by posting short videos of your work in action.
Don't worry too much about what hashtags to build into your posts. The HVAC keyword strategy from your website can help, and you can easily research to professionals to see what tags their showing up for. Of course, you can always ask your younger customers what sort of hashtags they use when searching for heating and cooling solutions.
Get the Most From Your Images By Using These Dimensions.
Correctly Formatting Your Video means More Visibility.
2020 promises to be a competitive year in social media marketing, and getting out in front of the competition is a great place to start. By incorporating these concepts in your HVAC service marketing, you can present content on the fastest growing social platform and engaging with a valuable demographic. Speak with the HVAC Webmasters team to find out how we can help your HVAC company get the most out of Instagram marketing.
The HVAC Webmasters Advantage
HVAC Webmasters offers social media marketing services to contractors across the country. Not only will we market your services on Instagram, we also make it exceptionally easy to distribute your popular content from Facebook too. We are a one-stop shop for all your social marketing needs.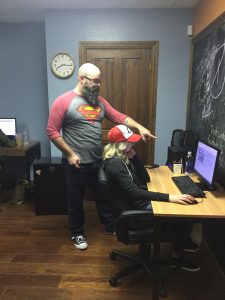 In today's marketing landscape, Instagram is almost a necessity. Whether you're a seasoned social media pro or you have never been on social media, the HVAC Webmasters experts can help you get the most out of your account. We have the knowledge and know-how to get your HVAC company seen throughout multiple platforms for increased website traffic. To learn more about HVAC Instagram marketing or other forms of advertising, give us a call at (800) 353-3409.