Facebook has long been the most popular social media platform available. 2.3 billion people use Facebook every month. With so many users, this social network can drastically increase your growth potential by expanding your audience reach, increasing click-through rates, and maximizing website traffic. The HVAC Webmasters social media experts can help you develop a Facebook marketing plan with compelling ad campaigns that drive engagement and leads.
Thanks to Facebook's latest algorithm update, which sparks their initiative of Bringing People Closer Together, business pages will see a significant decrease in organic reach. HVAC contractors are probably wondering how this impacts their social media presence, and HVAC Webmasters has the answers. We've adapted our Facebook marketing strategies to emphasize
Focused Advertising Budgets: With organic reach decreasing, ad space has become more valuable. Ensure you spend money correctly.
Content Quality over Quantity: With Google prioritizing "meaningful interactions," content standards are more important than ever. We create informative, engaging content that's more clickable than other ads.
Calls to Action: A compelling call to action can improve your marketing efforts exponentially. Our experts understand how to produce more compelling (CTAs).
Incorporating Facebook Live: Live video is the freshest and most effective form of customer engagement on the new Facebook.
Any HVAC company not adjusting to the latest Facebook algorithms will be wasting resources with antiquated techniques. As is the case with search engine optimization, the way we interact with social media platforms will continuously evolve. Facebook's decision to return its focus to the concept of friends and family is not something businesses can counteract organically. Smart companies will re-allocate their resources towards paid ads to compensate for this shift.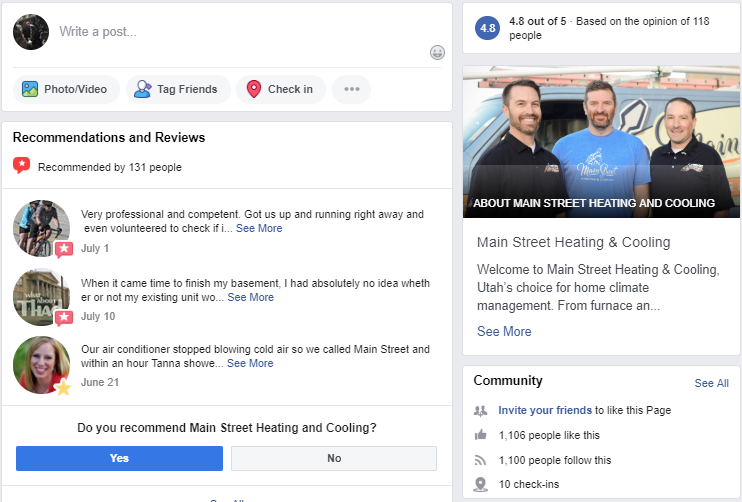 Facebook remains a powerful marketing tool for HVACR contractors
The Benefits of Facebook for HVAC Contractors
Facebook offers multiple benefits for almost every type of business, including HVAC companies. Your business page provides pertinent information about your company and provides a platform for all-important reviews that boost your SERP rankings. A Facebook business page can also help enhance your Google Homepage by registering with additional media; you create more digital assets. While there is some debate on exactly how social media fits into SERP visibility for your company, a useful business page does create more online authority, which is a crucial SEO factor. In 2021, HVAC contractors can use Facebook to:
Become More Authoritative Online: Facebook is a trusted citation source for business listings
Increase Review Counts: Local business reviews are still very much a part of Facebook
Network With Potential Customers: This platform is a great way to expand your audience and customer base
With the platform now focused on meaningful interactions, our priority at HVAC Webmasters is to promote our clients' businesses. We refrain from spammy ads, clickbait, and other manipulative tactics that the latest algorithm strongly discourages. Instead, we share engaging, valuable content that draws legitimate interest in your campaigns. We also contentiously monitor PPC engagement trends in user behavior using Facebook Insights so that we can make informed decisions on how to promote your brand best.
How HVAC Companies Should Optimize Their Facebook Page
Even with the drop off in organic reach for business pages, Facebook will still serve as a significant "direct match" landing page. In other words, when local customers search for your business name on Google, your optimized Facebook page should be one of the higher results. Facebook has a Moz domain authority of 100, making it one of the most trusted domains on the internet. With that in mind, optimizing your business page for these "direct match" searches is highly recommended. We optimize pages through the following:
About (Story): Optimize the "story" section on your "About" page with keywords you wish to rank for
Contact Info: Like other citation sources, your Facebook contact information must be 100% accurate
Header / Logo: Keep your header image and logo updated with high-resolution photos that meet the standard dimensions
URL: Don't use Facebook's default URL for your business page; create a custom one containing your HVAC company name
Despite the loss in organic reach, Facebook, like most social platforms, contributes heavily to your online presence and SERP ranking. But, keeping track of multiple ad campaigns can be overwhelming, especially when you're running a full-time HVAC company. The HVAC Webmasters team has got you covered. We provide marketing and management services for just about every social media platform to ensure your HVAC business's visibility.