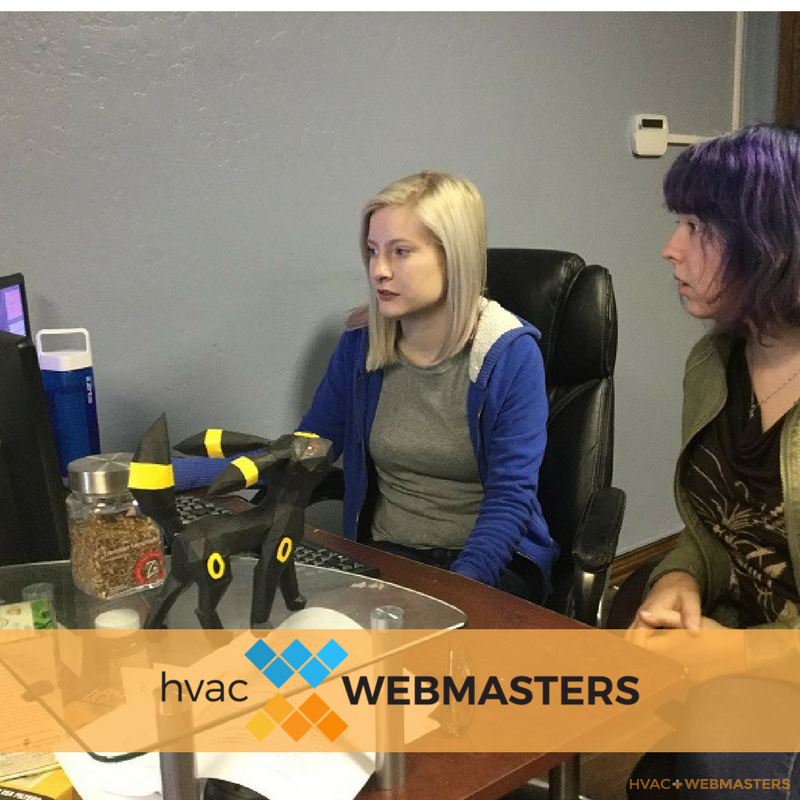 Since its inception, social media has played a big role in how we communicate with one another. Whether it's to stay in touch with friends or family or to get news updates, social media is used by nearly everyone and continues to become more popular with each passing year. While social media has been used as a way to connect with people we know, it's also a great tool for HVAC contractors and companies. It's an invaluable marketing device that helps businesses interact with existing customers and grow relationships with prospective customers. Communicating and connecting with customers through Facebook, Twitter, Instagram, and other social media platforms can bring significant success to your business and also grow a devoted client base that can boost sales and get you in the top search results. But how exactly can a business shift the relationship from a social media follower into a real life customer? With the help from the team at HVAC Webmasters, we are able to create a social media marketing strategy that will maximize your brand and help boost your sales, gain client traffic, and reach the top of the search engine results. We are here to not only convert clicks into calls but to ensure you get long-lasting results with professional social media marketing services. Are you ready to boost your HVAC online marketing with social media? Give us a call today at (800) 353-3409 for social media marketing from the experts at HVAC Webmasters.
Why Social Media Is Important for Contractor Home Service Businesses
Although social media is a successful way to connect with consumers, a lot of businesses remain unconvinced. Some see social media as a phase that will eventually fade, while others feel they can pass social media marketing onto a summer internet; but the truth is, social media is here to stay and it is a powerful method to reach your target audience. Gone are the days where potential customers would flip through the yellow pages to find their local HVAC contractor; they are now using the internet to research what company is best for them and this includes scooping out their social media presence.
Besides social media marketing is a great way to reach a particular clientele, it is a great way to develop your online reputation. Social media is an excellent approach to developing trust and personal relationships with customers. More often than not, customers will always go with a brand or company that they trust, and social media is an essential tool to connect with customers and build your credibility online.
Not only can you increase your online presence and gain more clients, social media marketing also helps you rank better in search engines. SEO and social media marketing work hand in hand to grow an image that appeals to customers. There are a couple of ways that social media can help your HVAC business rank higher in search engines like Google and Yahoo.
Increase visibility on social media platforms: When you have more of a following on social media platforms like Twitter or Facebook, search engines consider how many people are following you. They see you as an authority in your field and will rank you higher.
Optimizing content: When you optimize content that you share on your social media accounts, it can reach more people and search engines will think of you as a credible source.
Be an active user: Another way to rank high in search results is to share content and engage with your followers regularly.
The collaboration with SEO and social media is important and can improve your search engine ratings with active engagement and regular updates. At HVAC Webmasters, we want to create a social media marketing strategy that will increase your online reputation, build long-lasting client relationships, and rank higher on search engines, with the help of our professional social media team. With our social media marketing service, we are able to boost your online success and turn social media followers into devoted clients. Let us help your SEO and online marketing today by calling us today at (800) 353-3409 for exceptional social media marketing service for your HVAC company.
Social Media Strategy for HVAC Contractors
When it comes to effective social media marketing, it needs the proper planning, research, and implementation in order for it to be successful. Because of this, social media marketing shouldn't be done by an inexperienced intern. Investing in an SEO company that knows the trends and proper marketing strategies, will not only increase your conversions but also improve revenue. That's where the HVAC Webmasters social media team comes in. Our team will create a social media marketing campaign that will build a strong online reputation, drive more traffic to your HVAC website, and increase sales.
Before our professional social media team starts developing your social media marketing strategy, they will want to get to know you a little better. The point of this is to find out what your HVAC company's goals are, what you want to accomplish through social media, and what kind of impression do you want to leave on current and future clients. Once we have this information, we are able to get started on your social media marketing strategy right away. Our social media marketing strategy includes figuring out how to achieve your business goals, like increasing website traffic, creating your brand visibility, and strengthening connections with your customers.
After we have set up your social media accounts, we don't stop working. We manage your social media platforms so we can grow your presence online and get your name out there to customers. Our social media team does this in a number of ways.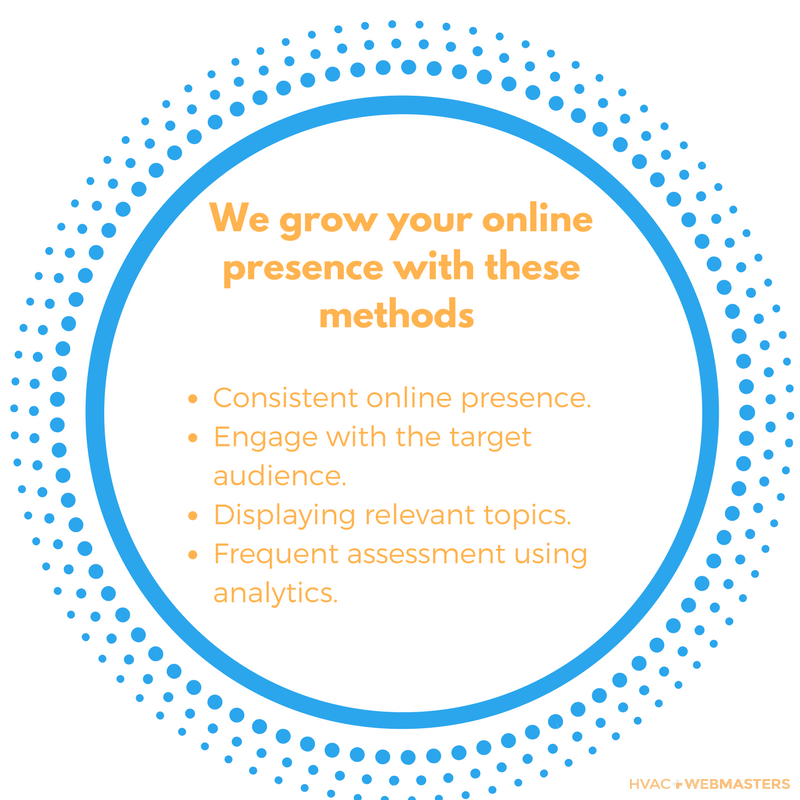 Consistent online presence: From displaying valuable and helpful content on your social media sites, to getting your HVAC company's brand recognized, we provide consist updates to all of your social media platforms. Without methodical content posted online, customers and even search engines will lose interest.
Engage with the target audience: Our team will not only post content that draws the attention of current and future customers, but we will also communicate with them. Regular communication can legitimize your web influence and make your company's brand more relatable.
Displaying relevant topics: Posting non-HVAC related content can humanize your brand, but it's important to advertise and publish content that is relevant to your HVAC business and brand. Doing this will lend credibility and authority to your website and brand.
Frequent assessment using analytics: In order to determine how your social media marketing campaign is succeeding, we use analytics to track data. We will be able to see what social media strategies work and which ones we can improve upon.
With these techniques, the HVAC webmasters social media marketing team is able to take your company's web presence to the top. In addition to ranking higher on search engines, this will help increase your customer base and improve sales. These services are ongoing and we will never stop working on them even when they reach the top; our services will bring long-term results with continual attention, detail, and research to ensure your social media presence promotes and creates relationships within your community.
Talk to us today about our social media marketing by contacting us at (800) 353-3409. Attract customers, rank higher, and boost sales with the help of HVAC webmasters social media marketing for your HVAC company.