Schema markup refers to a semantic vocabulary of microdata tags in which web developers can implement within HTML. The purpose of this implementation is to more effectively communicate the subject matter of websites to search engines like Google. In fact, Google, Yahoo, and Bing partnered to create schema.org, an initiative to help websites implement schema markup within their HTML. Advantages to using schema markup for your HVAC site include:
Branding: Define and market your HVAC company brand
Organization: Segment HVAC services and promotions
Rich Snippets: Display enhanced search results on SERP's
SEO: Rank higher on SERP's
As Google works to improve user experience, it is the job of HVAC website creators to meet them halfway. For HVAC companies, making the best impression on your consumer base should be priority #1. If Google is instructing websites on how to accomplish this impression, following their advice is a no-brainer. The good news is that HVAC Webmasters can help you communicate your website to Google and other search engines, in the best and most complete way possible. Call (800) 353-3409 for HVAC service schema.
The Importance of Schema for HVAC Companies
Google is the unchallenged number one search engine in the world, and when they give advice, it makes sense to take it. Schema.org implementation is critical to internet marketing campaigns and helps companies reach their full online potential.
Communicating effectively with search engines leads to an increase in relevant traffic, along with conversion rates. In addition, Google prioritizes websites with schema markup because they appear more to search engine users. More benefits include:
Adaptability: As your HVAC company develops new service types, schema.org allows you to explicitly inform Google and quickly market them to the public
Content in Context: Before schema markup was available, your website's content was interpreted as verbatim text, often lacking the context to properly market your services
Lower Bounce Rate: Because schema markup puts your content in context, users are much less likely to exit your website immediately upon entering, making your website a candidate to climb the rankings
Relevant Traffic: HVAC companies don't need users who are looking for auto repair services, schema markup helps your website attract potential customers rather than empty traffic
There's a long and growing list of content types that can be "marked up" with schema.org. Data classification helps websites move one step closer to a more optimal internet presentation, and search engines to a more efficient service. With the help of HVAC Webmasters, you can separate your company from competitors by generating more appealing search results and attracting the most relevant consumers. Our staff has years of experience adding schema markup to HVAC sites.
Implementing Schema Markup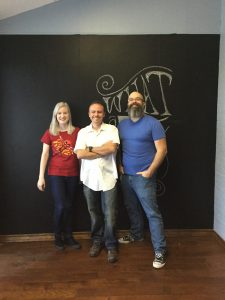 Any website can generate schema using Google's Structured Data Markup Helper. With that said, implementing structured data does require some knowledge of HTML and web development, and using a professional is highly recommended. Whenever you are altering website code, you run the risk of causing internal errors that are irreversible. HVAC Webmasters has professional web designers on staff, ready to handle all of your coding needs.
The implementation process is 3 steps long. First, the schema data is generated based on the type of content you want "marked up". After that, the microdata is inserted within the HTML code, allowing web crawlers to interpret it during scans. Finally, the testing phase ensures the absence of errors and promotes the overall health of your HVAC company website. Call (800) 353-3409 for HVAC schema markup services.