Last year, 97 percent of consumers read online reviews. In 2020, that number is even closer to 100%. For HVAC contractors, review management is critical to online marketing success. One of the most popular destinations for customer reviews is Yelp. So much so that Yelp is sometimes referred to as "the review site." Prospective HVAC customers from across the nation are very likely to consult with Yelp via App or mobile browser, before making a purchase decision. The presence of reviews and their corresponding responses can provide the final nudge necessary to convert a sale. The Yelp process should include:
Step 1: Claim / Set Up Your Page: If you haven't already, visit Yelp and click the claim your business button.
Step 2

:

Optimize Your Page

: Ensure consistent and accurate NAP information along with update versions of your logo and business categories.

Step 3

:

Generate Reviews

: Encourage customers to leave reviews by linking your Yelp profile on your website footer and email signature

Step 4

:

Respond to Reviews

: Monitor your reviews and respond professionally to negative ones.
Regardless of which of tour marketing plans you opt for, you'll have the option to invest in the BrandREVU supplemental plugin. This add-on creates an aggregate star rating of all your reviews from various platforms and displays them prominently on your website, as well as its SERP preview. Call (800) 353-3409 for Yelp reviews management services.
Handling Negative Yelp Reviews for HVAC Contractors
Part of being in business for a number of years, or longer, is dealing with occasional negative feedback. Expecting a 100% approval rating sounds ideal, but is not realistic for most companies. It's important to keep critical reviews in perspective. Oftentimes, distressed customers will embellish negative aspects of your performance and discourage others from using your services. While you might be tempted to respond in a similarly disparaging tone, that will only further damage your reputation. Instead, HVAC contractors should abide by the following principles:
Be Customer-Centric: Put the customer first, even when they are wrong.
Be Proactive: After responding to the review publicly, attempt to further resolve it in private.
Be Professional: Refrain from foul language or insults and use professional ethics.
Be Solution-Oriented: Offer discounts or other solutions that can diffuse the situation.
Some reviews are so vulgar that they violate Yelp's content guidelines. In cases like these, companies can report the review to Yelp, and petition to have it removed from their company profile by "flagging" it. Successfully removing the review in that context is rare, as the majority of entries do not violate Yelp's guidelines. For feedback that is denigrating but not obscene, the best course of action is to follow the principles listed above. If you reframe bad reviews as PR opportunities rather than a detriment to your business, you can turn a would-be stressful situation, into a step towards a more prosperous online presence. The HVAC Webmasters team is eager to help you get started today.
HVAC Yelp Review Management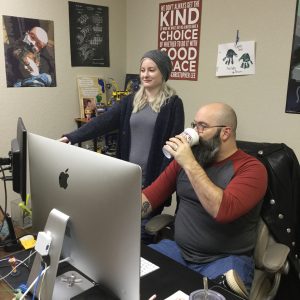 If the idea of managing Yelp reviews, or feedback on other platforms like Google My Business and Better Business Bureau is overwhelming, reputation management from HVAC Webmasters is the perfect solution for you. With years of experience marketing heating and cooling services online, we understand the nuances of your consumer base, what they look for in an HVAC company, and how they are best dealt with when distressed. Generalized marketing firms deal with a wide range of industries, and cannot possibly focus as precisely as us on your specific industry.
An add on service to both our MTM and PPL plans, we offer a WordPress plugin; BrandREVU. This website reviews integration widget displays testimonials from various review platforms right on your website. Furthermore, it adds an aggregate star rating of your reviews on the corresponding Google SERP preview. The best part, however, is that it encourages visitors who have not yet left a review, to leave a new one on a platform of their choice. This is a great way to leverage customer reviews for SEO and generate more of them in the process.
Call (800) 353-3409 for Yelp reviews management services.