Your HVAC company's reputation is largely dependent on online reviews. An estimated 90% of consumers consult online reviews before making a decision. This insightful statistic illustrates two things. First, you need reviews. A lack of reviews makes your company seem amateur, and unknown. Second, contractors must respond to negative reviews in a positive manner. Since consumers will be checking your reviews before investing in your services, you have to craft each review response for an audience of many, rather than just for the person who left the review. Ways to generate reviews include:
After Service: Ask the customer in person, after completing your service
Email Links: Linking your review profiles in your email signature
Website Links: Linking your review profiles in your website footer
Without online reviews, your HVAC company appears disreputable, and with unresolved negative reviews, your company looks unprofessional. While SEO influences search visibility, review management maximizes the value of that visibility. The best way to generate reviews is simply to ask for them. This can be done through digital means, or personal means, as mentioned above. You should never offer financial incentives for reviews, as this is discouraged by Google, who will crack down on perpetrators. Call (800) 353-3409 to get more HVAC online reviews!
How Should HVAC Contractors Handle Bad Reviews?
Negative reviews are part of doing business. The goal should be to resolve the complaint in a professional manner, which has a two pronged affect. First, it creates an opportunity to get the distressed customer back into your good graces. Second, it shows to everyone else who audits your review profile that you are solution-oriented, and put the customer first. If you are wondering about how specifically you should respond to bad review, consider the following:
Apologize for Inconvenience
Exchange Contact Information
Offer Discount (Optional)
Resolve Dispute
By following the above advice, your reputation should remain in tact. Remember, one or two bad reviews are unlikely to cause damage to your business. What can cause damage however, is responding to those reviews unprofessionally which paints your company in a bad light. Furthermore, generating a large amount of reviews makes the positive ones drown out the negative ones, as long as you're doing good business.
How Many Online Reviews Do HVAC Contractors Need?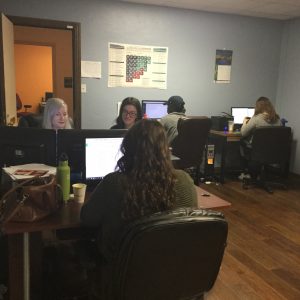 An estimated 85% of customers read up to 10 online reviews before they make a decision. Online reviews should be in the double digits. Having less than 10 reviews not only allows one bad review to water down your ranking, but it indicates a lack of presence in the community. The goal is to become as visible as possible to boost your online reputation.
At HVAC Webmasters, we understand that online reviews are an important part of online reputation. We also understand that generating and managing all these reviews can be exhausting. That's why we offer online reviews management for your HVAC company. To learn more about HVAC online reviews management, give us a call at (800) 353-3409.