There is a misnomer that PPC success depends on financial resources. While money always helps, there are far more important factors that go into a PPC campaign. One of those is campaign analysis. It turns out that advertisers burn money year after year by not analyzing their campaigns regularly. HVAC contractors can take advantage with campaign analysis. Here are some of the benefits:
Data: Analyzing a campaign provides valuable data about competitors and CPC
Efficiency: Analysis optimizes every aspect of your campaign, making each of them more efficient
Relevance: Ongoing analysis ensures advertising relevance which contributes to quality score
PPC Campaigns should be an ongoing venture. It is not as simple as placing the ad and waiting for clicks. Instead, reports should be generated so that advertisers can evaluate the process and consistently improve it. HVAC Webmasters does this work for you, so that you can focus on your day to day contractor jobs and be free of internet marketing stress. Call (800) 353-3409 for HVAC PPC campaign analysis.
What PPC Components Should HVAC Contractors Analyze?
We know analysis helps, but what exactly are we analyzing? In the case of Pay Per Click campaigns, analysis can take on a number of different forms. Among the most prominent, include;
Click Through Rate: How many users are clicking on your ad
Conversion Rate: The percentage of clicks that are converted into sales
Competition: How competitors are faring on specific keywords
Quality Score: Google's measurement of your ad quality, keyword relevance, and landing page optimization
Every successful campaign measures these 4 areas, at least. The goal is to find the root cause of either failure or success. It will often be different things for different advertisements. In one case, it can be the ad copy itself that is turning off users — this will lower your CTR. In another case, it can be an issue with your landing page — this will lower your conversion rate. Both problems can be corrected and lead to future success.
What PPC Service Should HVAC Companies Use?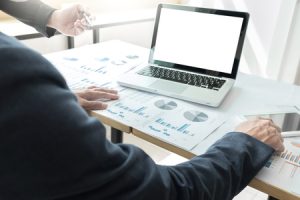 HVAC Webmasters specializes in heating and cooling company marketing. Allowing us to manage your paid advertising campaigns puts your trust in the right hands. We have been successfully marketing HVAC companies just like yours for years, and have the resume to prove it. We will ensure your paid advertisement reaches its full potential. In addition, we spread your brand across social media platforms like Facebook and Twitter.
If you are deciding between multiple management services, you should compare and contrast their best qualities. For example, we offer monthly agreements so that you don't have to deal with long-term contracts. Can you say the same about your other options? To further discuss HVAC PPC campaign analysis and why we are the right fit for your company, call us at (800) 353-3409.