Just as mobile search emerged over its more traditional predecessor, so to will voice search in the modern era. SEO for voice assistants will be a critical part of HVAC internet marketing in 2018 and beyond. The rise in voice assistants, most notably Amazon Echo and Google Assistant, has increased the number of voice searches exponentially. To meet this growing demand, heating and cooling companies will have to optimize their websites to respond to these voice queries. Techniques to accomplish this include:
Contextual Keywords: Voice queries will naturally different than ones typed into a search box, and optimizing for the context in which queries will be posed, helps increase visibility
Featured Snippets: Earning snippets increases the probability of being pulled by voice assistants
Local Optimization: Accurate and consistent NAP information, along with a completed My Business profile will be extra important
It's important to note that voice keyword research is still in its infantile stages. Google has not yet made available the search queries that are exclusive to voice search. Because of this, a certain amount of guesswork will be required to optimize for voice search. With HVAC Webmasters, you will have access to years of marketing knowledge relating to the heating and cooling industry, making theose guesses more of estimations. Call (800) 353-3409 to further discuss SEO for voice assistants.
Conversational Search Queries
We noted that contextual keywords would be a factor in voice search. That's because queries will be more conversational in nature now that they are conducted through speech. Just as you or I would ask someone about a topic they knew about, so to will the searcher when speaking to Alexa or Google Voice. We've all heard the commercial; "Alexa find me a ……" and it can appropriately applied to whichever industry you work in — HVAC in this case. Conversational keywords are:
Long Tail: Possess transitional or "stop" words such as "the"
Q & A: Posing a question in the header, and answering it in the subsequent text
Implementing the qualities above into your optimization process is the best current advice for voice search SEO. As Google reveals more data from these searches, we'll be able to more precisely target measurable queries. Still, there is not time to wait, and the process must start now. Just as people were late on the trend of desktop to mobile, many will be late to the voice recognition revolution. HVAC Webmasters can prevent you from becoming one of those who lags behind.
Structured Data For Voice Search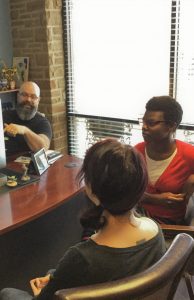 Although featured snippets cannot be "marked up", other elements of your content can be, and that should help your chances of being pulled by a voice assistant. HVAC Webmasters offers schema markup which breaks down your individual services down, and communicates their segmentation to Google. Since Google will be feeding this information to voice assistants, rich snippets can increase visibility, or in this case; discernibility. Any action that increases the likelihood of leads, is worth pursuing.
It's always better to be early on a trend than late. HVAC Webmasters can help you start the transition to SEO for voice search and give you a leg up on competitors in your industry. We have years of data resulting from our work with heating and cooling contractors, and look forward to this next exciting change in the digital marketing landscape. By partnering with us, you ensure your website evolves with the latest digital trends. Call (800) 353-3409 to learn more about SEO for voice assistants.