Pay Per Lead For Exclusive HVAC Leads
HVAC Webmasters provides exclusive HVAC leads to contractors throughout the United States by offering PPL which is a payment lead that requires payment only AFTER an exclusive lead is generated. Unlike other marketing agreements, PPL is based 100% on results. If our SEO services fail to produce exclusive leads on behalf of your heating and cooling service, you never pay a dime. Some of the main advantages to Pay Per Lead for HVAC companies include:
Convenience: No upfront payment means you don't have to be well established to start using our plan
Exclusivity: Leads are exclusive to your company, meaning you won't be competing with other contractors for the same lead
Risk Avoidance: You're off the hook for negative ROI, since you only pay for results
For contractors tired of being screwed by over-promising marketing firms, Pay Per Lead from HVAC Webmasters is an ideal solution. There's no risk. And we still perform all the necessary marketing services that a typical agreement would entail. That means SEO, social media, and website design are all included in your plan. But you don't have to pay for any of them, until after the prove to be worthwhile by generating leads. Call (800) 353-3409 for exclusive HVAC leads. 
How SEO Influences Lead Generation
SEO has evolved quite a bit over the last decade. What was once a market inefficiency, utilized only by a relatively small percentage of HVAC contractors and their web design teams, has now become a part of almost every marketing department. With a more evolved Google algorithm, and a massive increase in competition, generating leads from search engine optimization requires consistent and detailed actions. The good news is that HVAC Webmasters can ensure these actions are being completed with precision and regularity. SEO for lead generation relies upon:
Content Marketing
Keyword Research
Link Building
URL Structure
It's important to note that the qualities above are moot without a well designed website, and one that presents optimally across mobile devices. But with the presumption that design is competent, focusing on SEO for lead generation is an important next step. After all, the heating and cooling industry is a bottom line business, and nothing drives your bottom line more than lead generation and sales conversions. To further discuss search optimization for lead generation, give us a call today at (800) 353-3409.
SEO + CRO = HVAC Leads
For internet marketing, step one is solid website design and structure. Step two is implementing SEO elements for lead generation. The third step is something known as conversion rate optimization. CRO and SEO work together to produce the valuable leads that every contractor covets. Conversion rates are optimized through the following:
Calls to Action: Placing phone number links within your search optimized content, promotes conversions
Content Engagement: Users won't stick around for the call to action unless they are engaged by the content that leads them there
Funnel Measurement: Using Google Analytics, web managers should breakdown every point of the conversion funnel process, to improve areas of high dropout rates
Information Relevance: Your SEO should focus on relevant keywords so that visitors will have already shown interest in your services before they enter the website
For optimal lead generation, CRO and SEO cannot be excluded from one another. Each component requires maximum investment to produce HVAC leads. After leads are generated, it is the job of your office to close the deal, and convert that lead into a customer. This will be easier than it is with so called "lead generation websites". Why? Because leads produced as a result of HVAC Webmasters services, are exclusive to your company, and are relevant to your services and service area.
How SEO Creates Quality HVAC Leads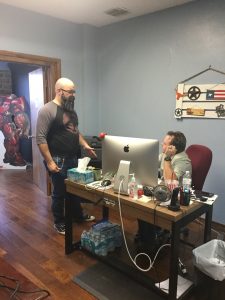 SEO produces one of the best ROI's for lead generation. Sure, you could invest in paid advertising using Google AdWords, but those clicks are going to cost you big time. With SEO, you can generate leads organically, without paying a pre-determined fee for each click. SEO is also a strategy that sustains itself for the long haul. This is especially true when you have a marketing company that regularly performs blog posts, content updates, and website maintenance services.
If you are a contractor tired of low-quality HVAC leads, now is the time to invest in a service that can help you produce superior ones. After all, leads drive your business and without them, your service can't survive. HVAC Webmasters devotes all of our resources to the goal of generating high-quality leads for your marketing company. SEO is the best long-term strategy, but we also offer PPC and social media marketing services. Call (800) 353-3409 for HVAC SEO for lead generation.