What is a Search Query?
A search query is the verbatim term or phrase a user types into Google. When enough users search for the same query it becomes known as a keyword. This occurs when at least 10 users per month type the same query. Don't mistake keyword terms for queries however since queries refer to a singular search whether it contains keywords or not. Contractors can review some of their website's most common search queries through Google Search Console.
Here are some query examples for HVAC companies:
1) ac repair near me
2) gas furnace repair in leander tx
3) my ac is not working
4) air duct cleaning services
5) jim bob heating & cooling new mexico
As you can see a search query comes in many forms. Some of the examples above are keywords and others are not. Common queries like ac repair near me are going to be keywords since they average thousands of searches per months (12.1k in this case). Others like gas furnace repair in leander tx are unlikely to be registered as keywords since the city's population is low and the phrasing is somewhat uncommon. Still, the goal of your website is to satisfy the intent of all relevant searches. For example, the user looking for AC repair in their area should be able to find your business easily.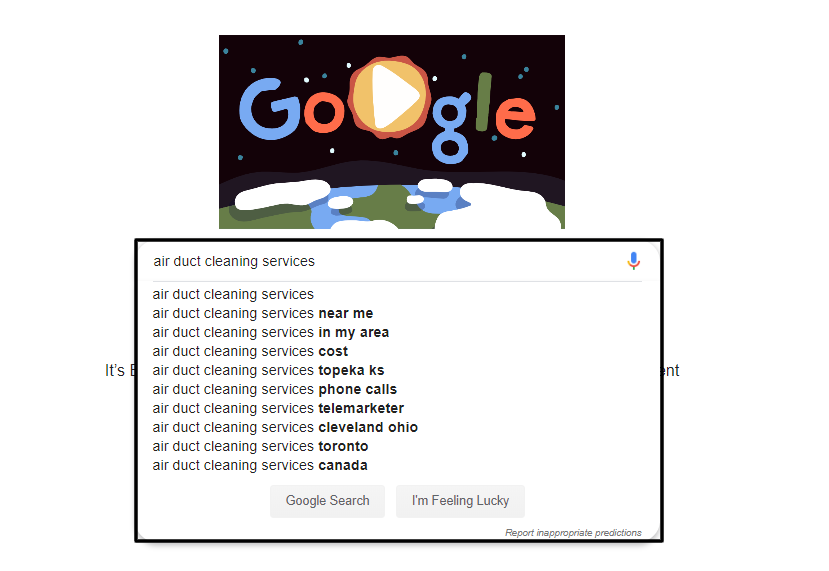 How to Analyze Search Queries
In order to analyze your search queries you need Google Search Console. GSC is a free tool by Google not to be confused with Google Analytics. Within GSC, a reporting option exists called Search Analytics. This report reveals a small percentage of the search queries from your website. The data shown can be valuable when analyzed correctly and can inform contractors which searches are most commonly leading to relevant traffic. Some metrics to consider while using Search Console include:
Clicks Per Query: The number of clicks which lead to your website per search query
Click Through Rate: Number of query impressions divided by the number of clicks
Position for Query: Where your website is ranked for a particular search query
Using data from GSC, you can begin to find innovative ways to improve your SEO strategy in 2020. Sometimes long-tail phrases like affordable furnace repair in dallas generate significant clicks to your website. Knowing this you can adjust your SEO strategy to include that phrasing as a long-tail keyword within your content. This is a great way to drive more relevant traffic to your site and generate leads that convert to sales.

Why Choose HVAC Webmasters?
There are several options on the internet for search engine optimization But how many of those focus specifically on the heating and cooling industry? At HVAC Webmasters we know how to analyze data in the context of your industry. We know what ranks well for websites and we have years of experience and data to assist us in improving your online marketing campaign.
2020 will be another competitive year for HVAC websites across the nation. HVAC Webmasters is here to serve your company. We are a one stop shop for internet marketing services. Not only will we analyze your search query data but we will utilize the information to improve your overall marketing strategy. In addition to search optimization we provide website design, content marketing, and local mapping.