Ranking #1 on Google takes more than on-page optimization. Many of the most important SEO factors exist away from your heating & cooling website. You may have heard phrases like "content is king" used to emphasize on page factors but the reality of search ranking is that off-page signals play a major role. Expanding your web presence through various off-site methods helps HVAC companies earn the trust of Google and rank higher for relevant search queries. Examples of off-site SEO include:
Backlink Generation: Having your website linked from 3rd party authority websites
Directory Listings: Google My Business, Better Business Bureau, and other business listings
Review Platforms: Yelp, Facebook, and other customer review destinations
Social Media Pages: Facebook, Twitter, Instagram and other social profiles
The internet is massive and continues to grow every day. How can Google know which HVAC websites belong at the top of search rankings? It's not enough to simply optimize your website with keywords, URL structure, and quality content. To really establish your brand online you must make your presence known throughout all corners of the web. This includes social media networks like Facebook and Instagram to review platforms like Google My Business and Yelp.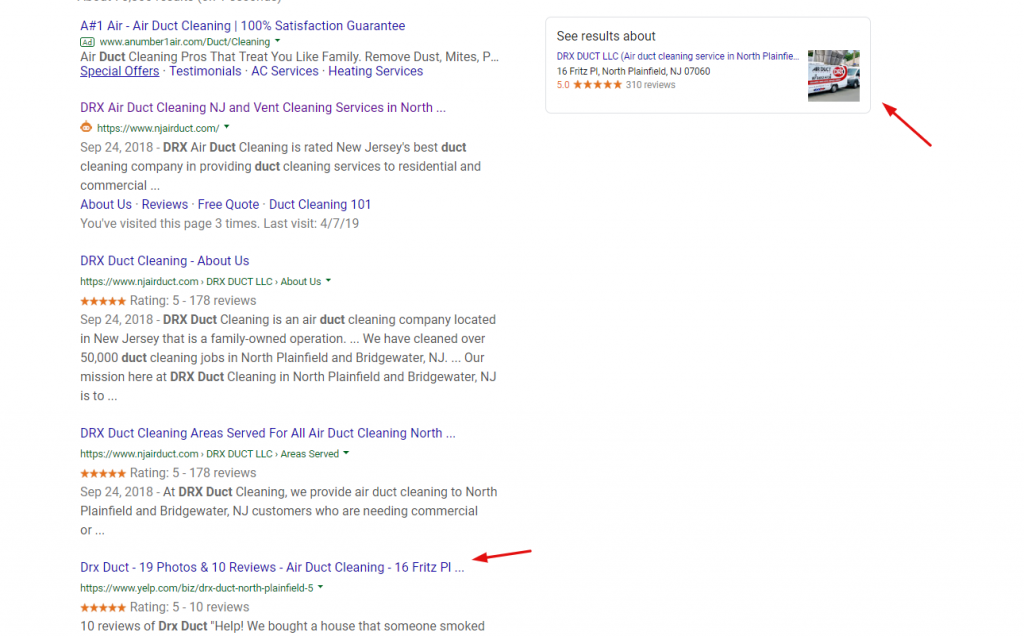 How Links Influence Off-Site SEO
Links are an important part of ranking on Google search results. When one website links to another it signals a vote of confidence that is recognized and rewarded through Google's algorithm. But securing any old link is not always a good thing. Only links from high quality domains who have content relevant to your own are valuable for SEO. Any kind of manipulation involving links can result in a manual penalty from Google. You can find out if your website has been penalized by viewing manual actions in your Google Search Console dashboard. Review the different types of backlinks below:
Manual Links: Backlinks acquired through link building methods, such as directory listings, forums, reddit, etc. (be careful not to violate Google standards)
Natural Links: Backlinks that are generated organically through 3rd party domains
Solicited Links: Backlinks generated via request from your company to a 3rd party
Link solicitation can be a bit of a gray area for contractors. Strategies like guest blogging are considered mostly white hat while buying links is considered intentionally black hat. Any involvement in link schemes or link wheels is a clear violation of Google's Webmaster Guidelines and can result in manual action. Recovering from a link penalty is a long and tiresome road that is often not worth the time and effort. A penalty from Google can literally destroy your business so beware of participating in spammy link building practices. If links are pointing to your site without consent you can always disavow these links through Google's disavow tool.
Applying Off Site SEO
Establishing an off-site SEO presence is not something that happens overnight. Companies that have earned notoriety on Google have done so through consistent and deliberate execution of off-page SEO strategies. It starts with creating a Google My Business account and generating reviews from your loyal customers. It can then graduate to the creation of social media profiles on Facebook and Instagram and later to white hat link building. These actions combined with a strong on page effort should combine to boost your site's rankings in 2020.
As a local contractor you have two choices for digital marketing. Do it yourself or hire an agency. Some SEO firms are not worth the time or money invested in them while others can literally change the course of your business. Finding a competent SEO team is not as simple as it should be but it is possible if you know where to look. Consider a company that focuses on your industry and understands how to rank for keywords in your local service area. Having someone handle your off-site optimization can save you a lot of time and further your online presence quickly.