A uniform resource locator (URL) represents a web page's location, commonly referred to as a web address. URL's were designed to portray numeric-based IP addresses as a way to enhance user experience. Computers interpret web addresses as numbers and are able to communicate with one another through numeric values. If not for URL's, human's would be easily confused by web addresses, and seldom, if ever, recall which pages they visited. A URL consists of three major components:
Domain Name: https://www.hvacwebmasters.com/organic-seo
Path: https://www.hvacwebmasters.com/organic-seo
Protocol: https://www.hvacwebmasters.com/organic-seo
It's reasonable to say that without the help of uniform resource locators, most internet users would get lost online. The domain name portion of the address represents the root website, while the protocol instructs the browser in what manner to retrieve the information. The path, which is the final piece of a URL, displays the subfolder or subcategory of the primary site. To optimize your HVAC website's URL's for SEO, call HVAC Webmasters at (800) 353-3409.
URL's and SEO
HVAC companies should keep their website's URL's clean and organized to best support overall SEO. Because URL's are a user experience (UX) enhancer, their founding principle should be applied through every step of development. A good question to ask yourself when constructing a web address is "Would a user be able to identify this page without a title tag?" If the answer is yes, the address should contribute to SEO. If the answer is no, it might very well work against search optimization. For search engine optimization, URL's should be:
Concise: As short as possible without compromising UX
Hyphenated: Use hyphens "-" to separate words
Lowercase: Display lowercase letters
Relevant: Relate to the page's topic
When Google crawls and indexes websites, it can do so much faster with concise URL's. But search engines are not the only beneficiary of simplicity. Users also strongly prefer shorter addresses because not only are they easy to remember, but they are more aesthetically pleasing from a visual perspective. Properly depicting a page's content in as few words as possible should be the objective of address structuring for heating and cooling websites. HVAC Webmasters has the design team on staff, ready to take your online presence to the next level.
Internet Marketing Campaigns For HVAC Companies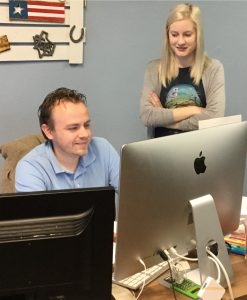 A web address is an important part of internet marketing, but it is one of many elements that comprise a complete online presence. HVAC Webmasters offers two basic marketing plans for contractors across the nation, as well as several add on services to enhance your presence even more. Companies choose between month to month (MTM) and pay per lead (PPL) agreements. Each plan offers superior value to companies, and which one you choose will depend on business goals along with personal preference. HVAC Webmasters is happy to walk you through the specifics of each plan.
Our add on services include PPC management, Facebook advertising, Righteous Reviews (WordPress plugin) and virtual office spaces. Each service works to enhance your company's online marketing campaign. Google AdWords and Facebook Advertising quickly generate traffic to your website while Righteous Reviews and virtual office spaces improve your local visibility and intrigue. To get started with PPL or MTM services, or any of the aforementioned add on services, call HVAC Webmasters today at (800) 353-3409.