Conversion Rate Optimization (CRO) is the process of refining your website to increase conversions. A conversion is up to you as an HVAC contractor to define. At the end of the day, most contractors want more clients. So any website visitor who becomes a customer is considered a successful conversion. In a more literal sense, a conversion can be defined by tangible events (measured with Google Analytics) like users clicking on a phone number link or filling out a contact form. Improving aspects of your website that prompt users to more frequently become clients will help your HVAC business thrive in 2020. Here's how:
Organic Ranking: More conversions means more people are talking about your business and website, and leaving reviews, all of which helps organic ranking
Lead Generation: A website that attracts visitors and can convert them into leads is extremely valuable to heating & cooling companies
Return on Investment (ROI): CRO and ROI correlate directly — conversion rate increases precipitate ROI increases
Google Analytics is a free tool that allows anyone to install a tracking device within their website's HTML. This tracker is then showcased through the Google Analytics dashboard from which webmasters and the contractors they represent can analyze and organize data — including through custom reports. Having access to user behavior can help identify problems with your website's conversion cycle and pinpoint areas which require improvement. Understanding where the issues lie is the key for consistent improvement and is what separates the best HVAC websites from their competitors.

Enhancing User Experience For CRO
Most conversions are facilitated through positive user experience. When someone searching for HVAC repair within your service area finds your website and enjoys their time spent on it, the chances of them making a phone call or filling out a contact form increase exponentially. But contrary to popular belief, user experience is not only about web design. While an attractive website is always good for conversions, it is not the only factor. To create the ideal user experience, every component of the site must function well including navigation, loading speed, and mobile display. Here are some of the principles of a good user experience:
Convenience: Sites that clearly explain who they are and what they offer along with how to reach them lead to a good experience
Navigation: Sites that are easily navigable (especially on mobile) make the experience pleasant
Speed: Sites that load quickly are far more likely to appeal to the user
Trust: Sites in which the user feels safe from viruses and also from scams are always going to be more popular
HVAC companies might wonder how to establish trust on their website. It starts with site security. Having an SSL certificate with HTTPS encryption is the standard for modern websites. This prevents browsers from flagging your site as a potential threat for viruses, malware, or phishing. Aside from the technical component of trust, images of your actual employees and equipment can also help earn the trust of visitors. These are far superior visual elements than stock photos which do nothing to make the user feel more comfortable with your business. With this in mind, make sure you have original photos of your team that can be published on your webpages.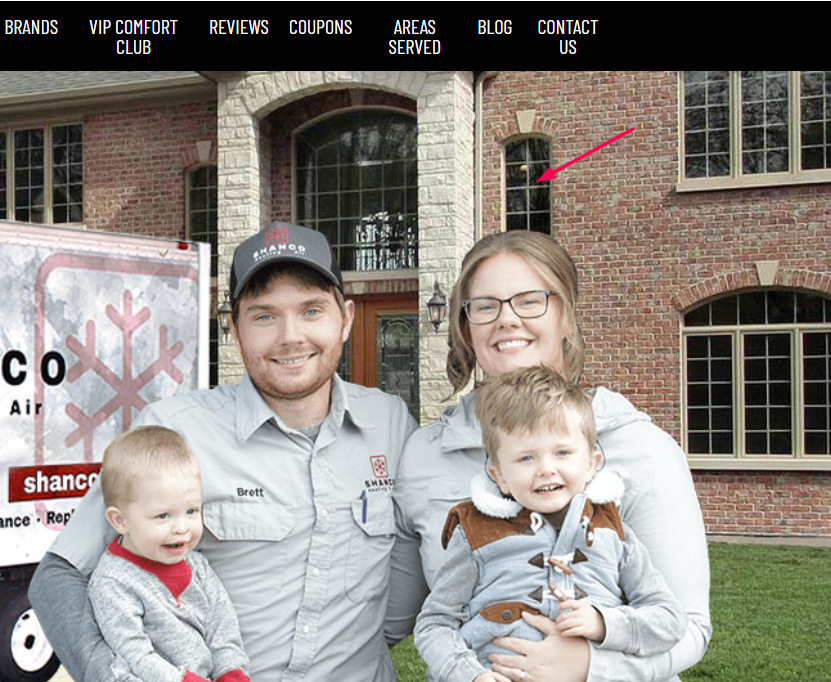 Decreasing Bounce Rates on Your HVAC Company Website
Enhancing user experience can lead to more conversions. The same is true for the reduction of bounce rates. Using Google Analytics, companies can measure the precise point at which users are "bouncing" from their page. Bounces take place when someone exits the site immediately by hitting the back button, closing the window or changing the web address. Analytics provides great information about the points of your website prompting users to exit.
A high bounce rate doesn't always mean the worst for your HVAC company as long as you're getting conversions. If your website has a clear call to action it could be that visitors are calling the number immediately. While Google Analytics might show that they bounced from your website, it still lead to a sale on your end. For this reason, HVAC websites can't be compared to e-commerce pages for example, since the goals of each site are different.