HVAC websites failing to rank towards the top of Google search results for relevant keywords should invest in SEO consultation from HVAC Webmasters. Unbeknownst to some, sustained online success requires consistent effort rather than a one time action. The experts at HVAC Webmasters can consult your company through every step of the search engine optimization process. Furthermore, we have the skills and personnel necessary to perform the corrections suggested in our consultation report. SEO consultations for HVAC contractors includes:
Content Review: A review of your on page content and how it is influencing search results
Competitive Analysis: An analysis of main competitors in your industry and service area
Link Analysis: An analysis of link quality, both internal, outbound, and backlinks
Keyword Research: A review of your on page keywords, their density, and relevance
We offer two basic payment plans. Our month to month (MTM) plan entails fixed payments at the conclusion of each calendar month. Our pay per lead (PPL) plan requires payments only once an exclusive lead is generated. The advantages to PPL plans is their results-driven proposition. If leads are never produced, your company never pays. In contrast, MTM plans demand less expensive payments, but they are required each month. We offer SEO consultation services with each of our basic plans. Call (800) 353-3409 to learn more about HVAC Webmasters' consulting service.
Common Problems With HVAC SEO
Once we audit a company's search engine optimization, we detail areas in which improvement should be strongly considered. Through marketing and analytical reports, we document each problem along with its suggested solution. In our years working on digital marketing for heating and cooling companies, we've come to expect common difficulties shared among companies in the industry. As is the case with many service companies, HVAC contractors are not always at the forefront of the digital revolution. Common SEO problems include:
Keyword Stuffing: Fitting an unnatural amount of keywords into your content with the intention of ranking for them
Link Spamming: Embedding unnatural links to create an illusion of domain authority
Meta Descriptions: Failing to properly fill out your meta descriptions
Tag Mishandling: Putting the wrong words in your title and header tags, as well as your image tags
In the worst cases, websites are penalized for manipulative SEO tactics and have been removed from search engines entirely. The good news is that HVAC Webmasters can get you back on track and help turn your SEO tactics from troublesome to ideal with a few routine changes. To extend your optimization improvement past an initial correction, you can choose from our variety of add on services. Going about the task of enhance your online presence can seem overwhelming on your own. With HVAC Webmasters by your site, you're sure to enjoy years of promotional ascendance.
The #1 HVAC SEO Consultants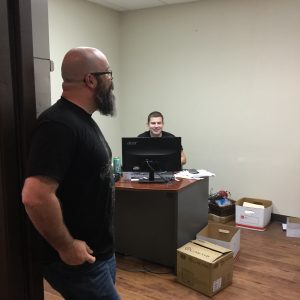 It seems as if everyone is an "SEO consultant" today. Because of the rise in online marketing, it's implications, and subsequent market, there's never been more options available to HVAC contractors. What makes HVAC Webmasters unique is our focus on the heating and cooling industry, along with our diverse payment plans. With years of experience marketing on behalf of HVAC companies, we have unique insights not replicated by other companies. Our multiple payment options gives the consumer flexibility and prevents long-term commitment.
Generating HVAC leads is the goal for most companies. The team to help you achieve it resides at HVAC Webmasters. With either our MTM or PPL plan, you'll receive SEO consultation services, in which we will not only diagnose the areas that need improvement, but we will perform the actions to implement the suggested changes. As a contractor in a competitive business, it is critical to have consultations you can trust and rely on to provide honest and ethical diagnosis, as well as sustainable solutions. To learn more about SEO consultation for HVAC companies, give us a call at (800) 353-3409.