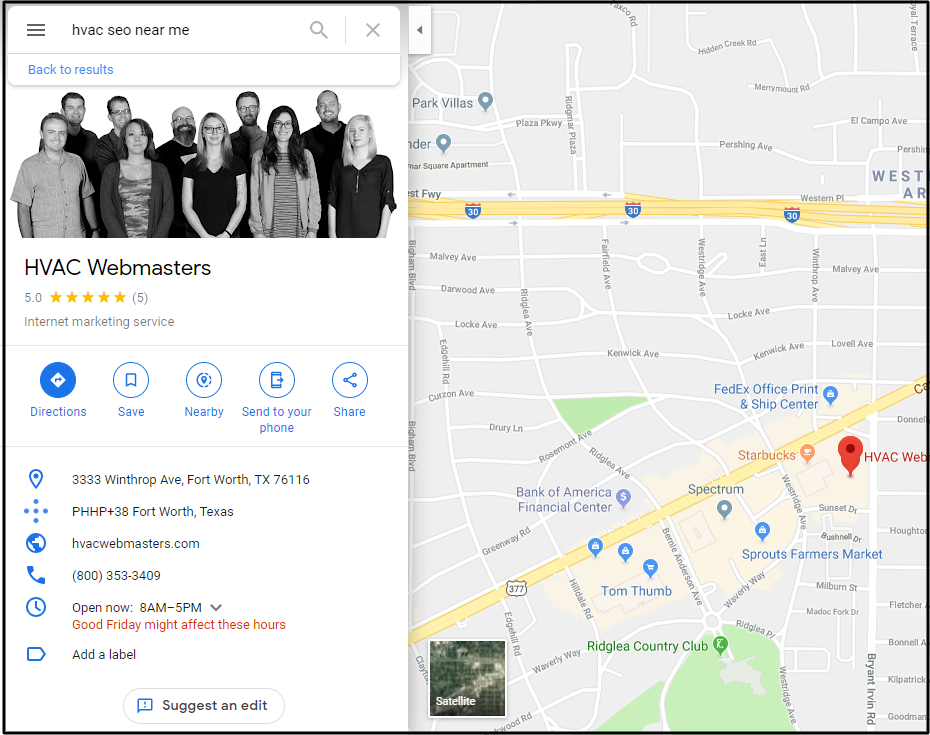 Optimizing your local map listing is an essential element to online presence. Most users who visit your website will be doing so on a mobile device, and optimizing your location data will help you rank better in mobile searches around your area.
While a company website aims to attract customers and increase revenue through content marketing and SEO, it can not be successful without local mapping. There are tons of local HVAC companies in your area, and without proper mapping, your chances of being found online by potential customers are narrow.
Elements of superior mapping include:
Google Maps
Mobile Optimization
Location Data
Local SEO
HVAC Webmasters offers local mapping as part of our ongoing SEO services. Because consumers are accessing information via smartphones and tablets, location data can match your services with prospective customers within your service area. At HVAC Webmasters, our goal is for your company to dominate search results in your location. Take the example of a homeowner with a damaged AC unit.
On their lunch break at work, they browse safari on their iPhone for an "HVAC contractor near me". Because your website is optimized with location data and clear and accurate contact information, your result pops up as the top result! You just gained a customer. Call us today at (800) 353-3409 for HVAC local mapping services.
HVAC Local Mapping Optimization
At HVAC Webmasters, it is our job to produce the best possible results for your HVAC website. We accomplish this task, not only by optimizing content but other SEO elements as well. In order to rank higher on Google SERPs for local and mobile searches, HVAC companies must ensure that each mention of their HVAC business throughout the internet is beneficial.
Citation Sources: We will use both partial citations (name and phone number) and full citations (name, address, and phone number) in appropriate places throughout your website
HVAC Business Listings: Claiming and optimizing listings on Google My Business, Better Business Bureau, Facebook, and other business directories
NAP Consistency: Ensuring the consistency and accuracy of your NAP information (name, address, and phone number) both on your website and business listings
We do additional local mapping services like embed google maps onto your contact page, manage customers reviews, and monitor rankings to ensure your local mapping marketing campaign is giving you the top results in search engines and enhanced customer traffic. Let us help you optimize better online today by calling us at (800) 353-3409 for local mapping for your HVAC website.
Local Mapping Services For HVAC Contractors and Companies
At HVAC Webmasters, we like to go above and beyond for our clients. Although optimizing business listings is important, it is not the only element that determines local search rankings. In fact, MOZ performed a 2017 study of Local Ranking Factors and found that a multitude of sources contributes to local rankings. With this in mind, after we set up business listings, solidify NAP information, and optimize your website citations, we continue on to other elements that can improve your local ranking. Some of them include:
Link Building: Establishing quality backlinks from local authorities can improve your local search visibility
Review Management: One major component to local reputation is online reviews from platforms like Yelp
Social Media Advertising: Social media visibility helps build greater trust among search engines and local consumers
Structured Data Markup – We are able to expand online visibility through schema.org and structured data markup
Every local business should now have a functional mobile website that is optimized for local keywords. If you aren't receiving the number of local leads you require to run a profitable business, now could be the time to change marketing services. 2020 can be a fresh start for your HVAC company. The experts at HVAC Webmasters have years of experience researching and implementing this SEO component for local HVAC contractors and companies. We perform mapping services to earn trust with Google and other search engines, as well as to boost customer traffic and encourage more sales conversions.
Don't wait! Call us today at (800) 353-3409 to take your local SEO campaign to the next level with the HVAC Webmasters local mapping for your HVAC website.