In 2012, Google released its Penguin algorithm update to combat the rampant use of manipulative link building tactics. Websites that made use of these common practices saw their search rankings plummet considerably.
Sites that followed Google Quality Guidelines ascended to take over the vacancies and have been prospering ever since. If your website fails to rank high on Google SERPs, it might be harboring link spam. Examples include:
Comment Backlinks: Inbound links coming from the comment sections of blogs or forums
"Guest" Blogging: Writing thin content as a guest poster for a 3rd party blog, to generate a backlink
Purchased Links. Inbound links originating from "for-pay" link networks
Reciprocal Links: Excessive exchanges of backlinks between your site and another one
Penguin was crafted to reward websites that utilized ethical link building practices. The resulting criteria sent many web developers into a panic, as the manipulative tactics they used had become commonplace. Google audits backlink quality to gauge reputation and authority, as well as credibility. In somewhat rare cases, competitors will sabotage your website by creating low-quality link connections between another site and your own. For this reason, backlink monitoring is crucial to maintaining high standing on Google and other search engines.
Call (800) 353-3409 for link spam removal services.
The Dangers of Link Spam for HVAC Contractors
Manipulative tactics of any kind can impact your ranking on Google search results. With that said, the formation of poor quality backlinks originating from spammy websites is not always within your control. Once you identify links of this nature, the first option is to contact the webmaster of the linked website and ask for the backlink to be removed. If that doesn't work, Google's Backlink Disavow Tool is the next best option.
For HVAC companies concerned about link spam on their website, take the following steps:
An online reputation is something established over time. One positive action won't earn you impenetrable credibility, and one negative backlink won't dismantle your standing with Google. It's the body of work that defines your website's authority and reputation. By taking the steps to remove link spam from your website, you are taking steps to improve your website's credibility and improve its overall appeal to search engines. Producing high-quality content, optimized for the right consumers, will help your website earn quality links rather than spam.
How HVAC Companies Should Build Links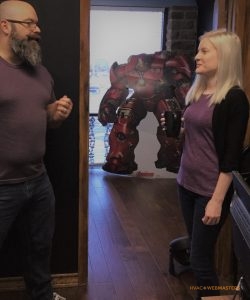 By now you know what spam is, and why it is bad, but what type of link is good? Earning quality links happens organically through the creation and optimization of high-quality content. Generating relevant traffic through keyword placement and regular blogging can help facilitate the creation of high-quality inbound links. There are 3 types of links that exist on a prototypical website:
Internal Links: Links to other pages on your site — Make sure the pages are relevant to the anchor text from which they are linked
External Links: Outbound links to 3rd party websites — Make sure they're reputable websites that are relevant to the anchor text
Backlinks: Backlinks are inbound links from third party websites — The goal is to earn backlinks from authority websites which will help your SEO exponentially
HVAC companies look to alter their internet marketing strategy in 2018 should partner with HVAC Webmasters. Not only do we protect your website from spam, but we optimize it for search. We offer organic SEO, PPC advertising, website design, content marketing, and much more. The most intriguing aspect of our company, however, is its familiarity with the heating and cooling industry. We've worked with contractors in your field for years and years, and know what it takes to reach your target audience in an impactful and sustainable manner.
Call (800) 353-3409 for link spam removal and prevention.