Most HVAC contractors understand that ranking higher on Google search results will lead to more sales conversions. But many of them want to know exactly how to make that happen. Google algorithm updates continue to be tailored for user experience. Google's primary objective is to match user search queries with websites that will be relevant and informative to the user. If you are having a hard time ranking well on HVAC related keywords, it could be time to invest in a new marketing strategy.
So what do HVAC Google algorithm updates really change? With each update, Google finds better ways to enhance the user experience. Remember, Google is not making the algorithms with your website in mind, as much as with the user in mind. Crafting your content and page structure to suit the needs of potential visitors is what your objective should be. By having the same goal as Google; enhanced user experience, you are positioning yourself to rank well on Google searches.
Keeping Track of Google Algorithms for HVAC Contractors
If you've met with marketing agencies in the past, they have probably thrown out terms like Panda and Hummingbird. Knowing the names of Google algorithm updates does not make you an expert on how they affect your search engine optimization (SEO). Below you can find a more detailed explanation of the algorithm updates, and what they mean for you as an HVAC contractor:
Panda (2011)
One of the most significant updates in the history of the internet. Google began to distinguish websites with useful and valuable content from keyword stuffing websites with low quality and duplicate content. A win for users and ethical web designers.
Penguin (2012)
The 2012 update put an end to unnatural and manipulative link building. Many websites pre 2012 were using link schemes to ascend up the search result rankings.
Hummingbird (2013)
This 2013 update was a comprehensive shift in Google's search mechanisms. Instead of Google simply being a keyword search engine, it became a more sophisticated tool that began to better understand user intentions.
Pigeon (2014)
As Google Maps became more popular, Google began to take location data into consideration when determining which websites would rank in specific geographical areas.
Mobile Friendly (2015)
By 2015, mobile searches had skyrocketed. Google began to act on the trend and prioritize websites that provided a pleasant mobile experience.
Possum (2016)
Building on 2013's Hummingbird update, Google began to decipher the phrasing of individual search queries. This update also placed an increased importance on the accuracy of business locations.
How Google Algorithms Affect HVAC Companies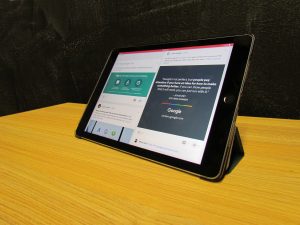 HVAC companies who maintain a website with solid page structure, quality content, image optimization, and regular blog posts shouldn't worry too much about their ability to rank on Google searches. Still, the amount of websites that lack one or more of these qualities is startling. Too many HVAC company websites lack regular maintenance, or are run by unreliable third party services.
If you are concerned about Google algorithms affecting your HVAC company, you should consider investing in a reputable marketing service. At HVAC Webmasters, our experience working with HVAC contractors and our expertise with Google algorithms, makes us the perfect match for your company. To discuss HVAC Google algorithms, call us at (800) 353-3409