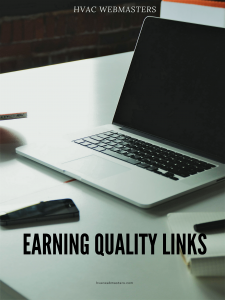 Links have historically been one of the primary indicators of website authority. Before Google's initiative to discourage manipulative link generation, websites would do just about anything to create an inbound link. This hindered user experience and forced Google to address the problem head-on. In 2020, establishing website authority is less about link building and more about link earning. HVAC Webmasters offers internet marketing services that will help you earn high-quality backlinks. This is accomplished through:
Brand Development: Establishing a consistent identity and image
Content Marketing: The creation of quality content
Social Sharing: The syndication of content through social media
Web Optimization: Developing your website to be visible to relevant users
Each of the activities above requires effort and consistency. The days of buying or trading for links have long since passed us. Google has demanded that links are built organically and ethically, and HVAC companies would be wise to take note. You will find that earning quality links aligns directly with search engine optimization. The same tasks that encourage search visibility also promote link building. Call (800) 353-3409 to earn quality backlinks for your HVAC website.
Link-Worthy HVAC Content
Creating great content is the best way to earn backlinks, but it cannot be just any content. In addition to link schemes, Google has cracked down on thin content, content farms, and otherwise low-quality content. To earn quality inbound links, your content must be engaging, informative, and unique. But how can HVAC contractors produce such material, and on a consistent basis?
Consider the following:
Blog Posts: Regularly scheduled blog posts keep content circulating on your website
Infographics: Visually appealing graphics that contain relevant information (usually statistics)
Videos: Introductory videos, or job "inside looks" can encourage inbound links
Web Pages: Informative and engaging service pages like "AC Repair" can earn links
As an HVAC company, the thought of producing the above material, let alone on a consistent basis can be daunting. It's not something you have to do alone, nor should you try. HVAC Webmasters offers internet marketing services to contractors throughout the United States. We will handle your monthly blog posts, create your service pages, and integrate video and infographics. The end result will be a website worth linking to, and you will reap the benefits of increased search visibility as a result.
The Demise Of Link Schemes
We've detailed how Google has evolved its algorithm to crack down on manipulative link building, but some in the industry have failed to comply. For this reason, HVAC companies should exercise the "buyer beware" mantra when investing in services that promise to build tons of links in a short period of time. Link schemes are disallowed by Google, but that doesn't stop certain web developers from trying anyway. They can even get away with it temporarily. In the end, however, they will get caught, and the consequences will far outweigh the benefit of trying in the first place.
Link scheming can show itself in many forms. There are link networks in which you can purchase links for the sole purpose of tricking search engines. Similarly, there are link agreements between two websites, when they essentially exchange backlinks in an effort to mutually benefit both parties. The resulting connections are known are reciprocal links, and they hold far less value than non-reciprocal links, as the latter occurs more organically than the former. Call (800) 353-3409 to learn how to earn quality links for your HVAC website.