HVAC contractors have probably heard the term backlink when discussing internet marketing. But what exactly is a backlink? A backlink, or an "inbound link" is a link created when a separate website links to your website. The reputation of the websites that link back to yours, will play a vital role in your off page SEO. HVAC backlink monitoring is crucial to your online reputation because Google views backlinks as an expression of approval from the linking website. If you are being linked to by well regarded websites, your reputation will increase.
Backlinks from reputable entities are something you have to earn. Google warns against manipulative backlink transactions between websites. Instead, by building your online presence with on page SEO, citation sources, and high quality content, you will begin to build a good reputation online. A great way to start building good backlinks is to become BBB accredited. BBB provides backlinks to all accredited websites. Eventually you should start to build quality backlinks organically, especially from authority websites in the HVAC industry.
The Importance of Backlinks for HVAC Contractors
Backlinks are vital to your search engine optimization (SEO). Being linked to from authority websites lets Google know that your content is valuable enough to be referenced by trusted authorities. If you accumulate a number of backlinks, all from good websites, Google will conclude that you deserve to be more visible on search results. Here are some things you can do to earn backlinks:
Ask for Them: Generating a quality backlink can be as simple as asking for one. Contacting the webmasters of relevant websites in the HVAC industry can yield positive results.
Blogging: Blog posts keep fresh content circulating on your website. They are also a great opportunity to earn backlinks, as websites might want to share your blog posts on their website or social media platforms.
Citation Sources: BBB accreditation grants you a quality backlink. Other citation sources like Angie's List and HomeAdvisor also provide good backlink opportunities.
Networking: Talk to your contacts and build new ones. The more people you know, the better chance you have to earn quality backlinks.
Backlinks have to be earned, but they should also be monitored. Consider using a backlink checker like the one from Moz, and get a better idea of where your inbound links are coming from. You also have access to Google's free analytics tool; Google Analytics with which you can generate backlink reports.
How HVAC Companies Can Avoid Problematic Backlinks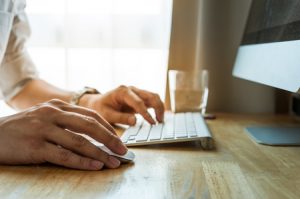 If many of your backlinks are coming from low quality sources like website comment sections, you should take action and contact the webmaster of those sites. Send them a non confrontational email asking if they can kindly remove links to your website form their own. If that doesn't work you have the option of asking Google to disavow the links. You can find more details about disavowing backlinks on Google Search Console.
If your HVAC company website lacks high quality backlinks, it may be time to invest in a new internet marketing strategy. At HVAC Webmasters, we pride ourselves in optimizing your website to rank well on Google searches. For HVAC backlink monitoring, give us a call at (800) 353-3409