HVAC contractors need leads to stay in business and the best way to generate them in 2020 is through internet marketing. An online marketing strategy has many components, most notably search engine optimization (SEO), and pay per click advertising (PPC). In either case, it is important to distinguish general or national marketing, from local marketing. Most HVAC companies are local, and their internet marketing strategy should cater to specific service areas. Whether you are using SEO or PPC, your goal should be to increase visibility on search results for local keywords. As a result, local keyword research should focus on:
Local Competition: Monitor the usage of keywords on local competitor websites
Long Tail Keywords: Target phrases that include location-specific qualifiers, such as "hvac service in city, st"
Regional Interest: Gauge region-based interest using Google Trends
A good way to evaluate local keywords is to check competitor websites and look over their main menu. For heating and cooling service websites, you might find that the menu displays pages like "central heating system repair" or "energy efficient hvac systems". From there you'll want to further evaluate these keywords using tools like SEMRush, Moz Keyword Explorer, and Google Trends. Developing a list of potential keywords is a major component of the local SEO planning stage. HVAC Webmasters has local keyword experts, on staff, ready to assist you in every phase of the process.
Optimizing For Local Keywords
Local keyword optimization is not unlike traditional SEO, but it places a greater focus on local terms and phrases. Company websites will still want to follow standard optimization protocol, as the best practices remain valid when crafting a local keyword strategy. HVAC Webmasters is a leader in online marketing for heating and cooling companies. We've been working with contractors in this industry for decades, and know what it takes to effectively market to their core audience. Local keyword optimization consists of:
Body Content: Distribution of local terms throughout body text
Meta Descriptions: Inclusion of local phrases within web page meta descriptions
Title / Header Tags: Placement of local keywords within title and header tags
URL Slugs: Disposal of local terms within URL slugs
Using WordPress content management system, optimizing for local terms is straightforward and intuitive. With WordPress, title and header tags can be easily managed along with body content and URL slugs. Another great way to optimize locally is to include NAP information in your website's footer. This requires some knowledge of HTML coding, something HVAC Webmasters has in bunches. Our web design team works closely with our optimization experts to form the ultimate local SEO strategy for HVAC contractors.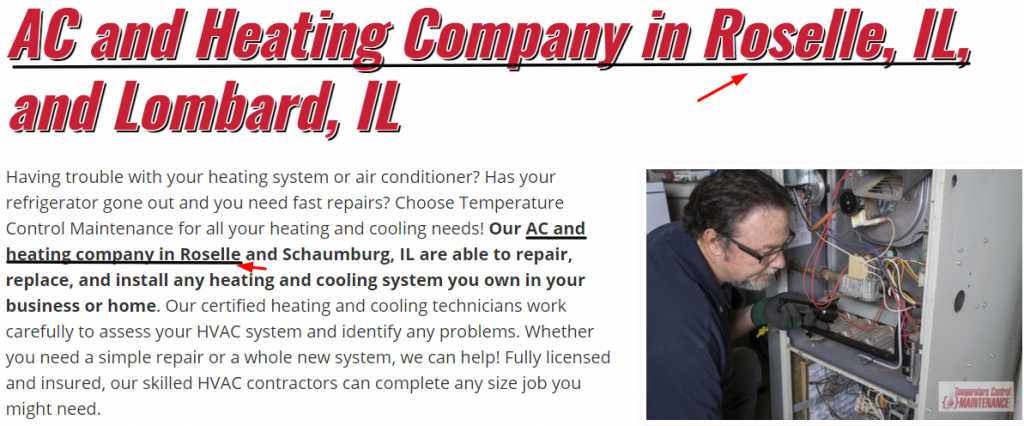 The #1 HVAC Local Marketing Company
If you are a heating and cooling contractor and looking to rank higher on local search results, you have come to the right place. HVAC Webmasters has been working with HVAC companies for decades, helping market their services throughout their local communities. Our staff consists of web designers, SEO consultants, PPC experts, and more. Partnering with our company provides you with a full range of internet marketing services. In addition to local keyword optimization, we offer custom website design, pay per click advertising, and social media advertising.

In 2020, the vast majority of local searches occur on mobile devices. For this reason, your HVAC website must display optimally on smartphones. HVAC Webmasters designs each client website with a mobile-first mindset, but also utilize responsive design, so that the pages display well on all devices. Local optimization is not limited to your website either. For a full online presence, your SEO must expand off-site, through social media, online directory listings, and inbound link generation. To further discuss HVAC local keyword ranking, or to sign up for our services today, contact us.