For heating and cooling companies looking to expand their market reach to new locations, virtual offices provide a great opportunity. These virtual office spaces secure a real address and phone number listing without the hassle or overhead cost of a physical work space. HVAC Webmasters offers virtual offices as an add on service to our basic internet marketing plans. Advantages of a virtual office space include:
Brand Expansion: Establish your brand in a new location
Geo-Marketing: Market your services as "local" in the area of your virtual office
Local Address: Have a listed address in a service area of your choice
Zero Maintenance: Avoid the cleaning and upkeep of a traditional office
For HVAC companies that are somewhat restricted by their location, virtual offices can deliver the market expansion you've been hoping for. Analytics tell us which markets hold opportunity for businesses of any kind. Areas in frequent need of AC or furnace repair are considered prime locations for your company. With HVAC Webmasters add on service, you can become a local powerhouse in multiple areas. Call (800) 353-3409 for virtual offices for HVAC companies.
Are Virtual Offices Better Than Physical Workplaces?
Much of it depends on your company's business goals, as well as its size, scope, and financial resources. For small to medium sized HVAC companies, virtual offices are an ideal option to expand market reach. You'll still have your main office in your main service area, but you won't have to open a second location in order to reach a bigger market. Going with virtual over physical, impacts the following:
Commute: Save gas mileage otherwise spent driving to multiple offices
Environment: Prevent harmful emissions that come with construction and operation
Rent: Spend less on overhead than you would with a physical office
Staff: Avoid hiring excessive staff members, like additional janitors and office managers
There's not much of a downside to a virtual address, as long as you have enough contractors to serve the areas you plan to market to. Problems only manifest when companies promise more than they can deliver in their marketing campaigns. With this in mind, don't open a virtual office in a location that you cannot possibly service consistently. This will only give your brand a poor reputation.
Virtual Office As An Add On Service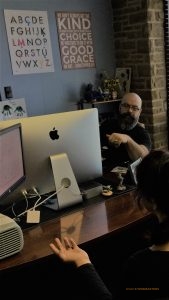 We offer two basic internet marketing plans for HVAC companies. The month to month plan (MTM) requires a fixed payment at the conclusion of each month, while a pay per lead plan (PPL) requires payment only after a lead is generated. Regardless of which plan you choose, you have the option of add on services, which require an additional fee. One of those add on services is virtual office space. It's a great investment for your business, and one that is highly recommended by HVAC Webmasters.
Accountability is important to our business model. With both of our marketing plans, clients have the flexibility to leave any time they want to. While most marketing companies try to get you to sign a long-term contract, we offer our services on a per month or per lead basis. Why do we do this? Because we don't mind being held accountable. In fact, we believe the quality of our services will convince you to keep coming back for more. Call (800) 353-3409 for HVAC virtual office space.