Retargeting is a method of online advertising which keeps your brand visible to website visitors after they exit. Since most first-time website visitors don't become customers, retargeting ads create more chances to convert them once they leave. The concept is advantageous for HVAC contractors, for the following reasons:
Brand Development: By showing up in a user's ordinary web browsing routine, your brand identity is more likely to stick
Conversion Rate: As a general rule, conversion rates go up when marketing to users who have already shown a level of interest in your services (by navigating to your site in the first place)
Context Diversity: Just like the impact of billboards differs by setting, retargeting ads diversify the context through which your brand is presented
Only 2% of website visitors convert into a customer on their first visit. That leaves 98% of users that have shown a level of interest in your services but are not yet customers. Retargeting ads allow your services to stay in their line of vision and gradually appeal to their senses. Call (800) 353-3409 for HVAC ad retargeting services.
How Ad Retargeting Works
Ad retargeting works from a snippet of JavaScript code placed on your website. Visitors of your site are using browsers like Google Chrome, Mozilla Firefox, and Microsoft Edge, which store instructive data called "cookies". The aforementioned JavaScript code drops a cookie into the user's browser, which allows your advertisement to follow them as they continue to browse the web.
The reason that retargeting works so well, is that a relationship with the target customer is already established. Every piece of substantial marketing research indicates that companies are far more likely to convert users already interested in the service, than someone who has never shown interest. For this reason, ad retargeting yields a greater return on investment than other types of advertising.
Google Remarketing
Along with Google PPC campaigns, advertisers can implement remarketing campaigns to readdress previous visitors. When using a remarketing campaign on the Google platform, your ads can be seen in Google searches, YouTube, Gmail, and other Google Partner platforms, depending on your ad type. These efforts are backed by world-class Google Analytics and can be altered much like PPC ads for optimal results.

Facebook Remarketing
Like Google, Facebook offers remarketing campaigns that appear to previous Facebook Ad followers. These efforts can be measured through Facebook Analytics and offer a much higher return than traditional online marketing efforts. With more than 2/3 of the U.S. population using Facebook on a regular basis, retargeting ads can dramatically enhance your online marketing efforts.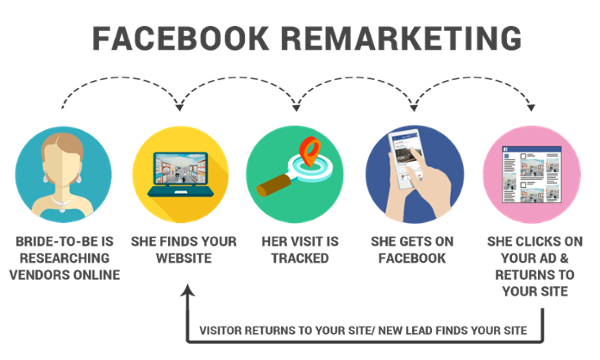 How HVAC Companies Can Start a Retargeting Campaign
Retargeting is not difficult to implement. At HVAC Webmasters, we design our websites with JavaScript snippets that place cookies into the browsers of visitors. From there, the ads display on various sections of their screen while they conduct their normal internet browsing. The advertisement itself should include:
Call to Action: Your ad should have a clear CTA, for example; a phone number to your office
Logo Placement: Your ads should be branded with your company logo, for recollection purposes
Segmentation: Your ads should display dynamically based on the visitor's behavior
Each ad should have a clear objective. In the case of HVAC companies, phone calls are the best call to action, since contractors don't generally sell products online. The goal is to get people in the door, and then convert them to sales based on their obvious interest in your services. Again, this is easier than it normally would be, because interest is pre-established. Call (800) 353-3409 for HVAC ad retargeting services.