When SEO's think of content, they too often condense its meaning to text and images. An increasingly popular form of web content is video. With the rise of YouTube as one of the premier traffic sources on the web, video content is more valuable than it's ever been. HVAC contractors can take advantage of a combination of the right advice and the right help. HVAC Webmasters offers video content optimization services in which we perform the following:
Channel Creation: A creation of a branded YouTube channel
Keyword Placement: Tagging video content with appropriate keywords
Social Sharing: Encourage content sharing via social media platforms
Website Integration: Embedding video content within website HTML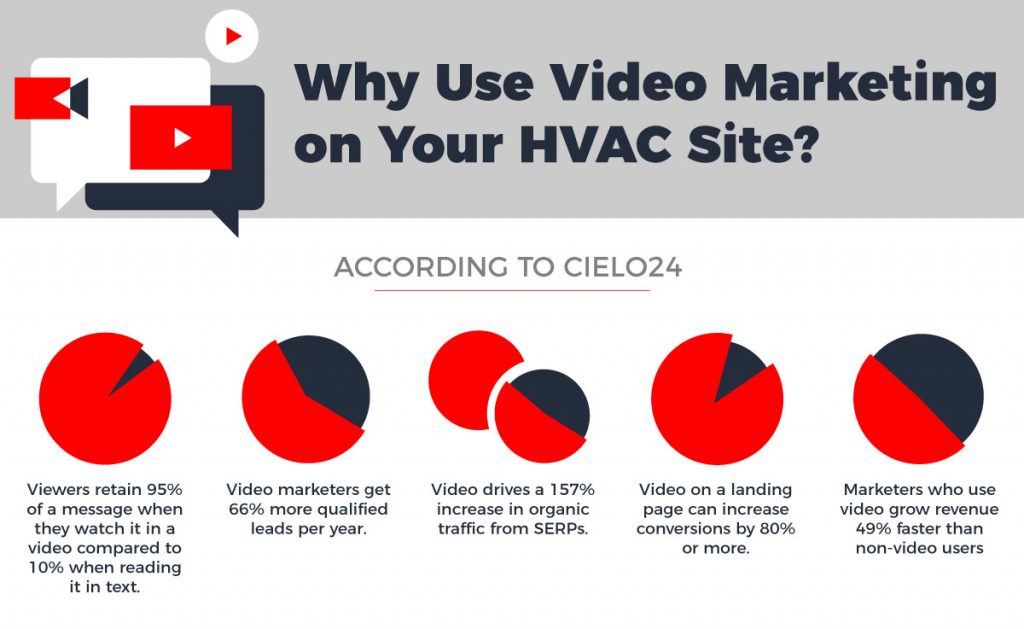 Google and YouTube are business partners and certain search queries generate predominately video-based results. With this in mind, optimizing your website with video content can not only improve your search ranking in a traditional sense but also through video-based results. There is a fine line, however, as many video-prompting queries are "how-to" questions and things of that nature. You don't want to attract visitors with no need for HVAC services. Call (800) 353-3409 for HVAC video content optimization.
Integrating YouTube Videos On HVAC Websites
YouTube and WordPress make video website integration very simple. Of course, you could upload the video natively to your content management system, but it would take up space on your server directory, and possibly slow down your page's loading time. Embedding a YouTube video is simpler and more efficient, and as we mentioned, very easy. Navigating to your YouTube video and clicking the "share" button will prompt a menu in which you can click "embed". The resulting HTML code can be copied and pasted within a custom WordPress widget and placed anywhere on your page.
Google support explains in detail how to embed videos & playlists. If you require assistance with embedding your YouTube video onto your company website, HVAC Webmasters can help you out ASAP. Our web design team has been working with contractors in the heating and cooling industry for a number of years. We know what your target audience looks for in content and the presentation of it. Not only will we incorporate video into your website design, but we will build your custom website from scratch and optimize it for search.
What Types of Videos Should HVAC Contractors Make?
We often get this question, and the answer is not as simple as you might like. Since you are not a celebrity, people aren't going to be flooding over to your YouTube channel to hear you speak. For this reason, your site's video content should "show" rather than "tell". If you are an expert in AC installation, show them the exercise through video content. The visual aspect of this process will keep them engaged rather than someone in front of the camera telling them about it.
Most smartphones today are capable of recording high-quality video content. The difficult part is getting the accompanying audio to match that quality. The solution is investing in a condenser microphone that can connect to your phone. These condenser mics are relatively cheap and can be found on websites like amazon.com. The editing process does require some minor skill, as matching the audio to the video can be a process in of itself. To further discuss video content for your HVAC website, give us a call at (800) 353-3409.