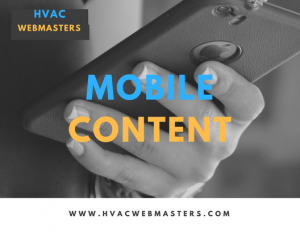 Mobile internet usage is at an all-time high, and that trend will only continue to grow into 2020 and beyond. With this knowledge, HVAC companies should make their websites mobile-friendly, and that includes web content. HVAC Webmasters offers mobile content marketing which puts your website in the best position to succeed both now and into the future. Our mobile web content services provide the following advantages to contractors:
Conversion: increases conversion rate
Engagement: Improves user engagement
Presentation: Enhances mobile presentation
Optimization: Optimizes for Google
If your HVAC company has not yet joined the mobile revolution, the time to do so is now. Failing to accommodate the largest part of your audience is like taking a baseball bat to your air conditioner. This is especially true once you learn exactly how much of your audience uses mobile devices. In the United States, 71% of all digital minutes occur on mobile devices. To get started with mobile content marketing, give us a call today at (800) 353-3409.
Creating Mobile-Friendly Content
Once you know the content should mobile-friendly, you must learn HOW to make it so. At HVAC Webmasters, we understand that contractors don't necessarily have the time or resources to devote to content creation. The good news is that we include mobile content marketing as part of our service agreement. That's in addition to mobile web design, social media advertising, and more. Our methods of crafting mobile-first content are as follows:
Click-To-Call: We include phone number buttons and/or links for seamless connections
Speed: We craft content that loads quickly and facilitates site speed
Urgency: We place important information at the very top to present it ASAP
Viewport: We condense content to fit within the mobile screen dimensions
While the usage of mobile is at an all-time high, the attention span of users is at an all-time low. Knowing this should prompt HVAC companies to distribute information quickly and accurately. Google defines 4 primary moments in a mobile user's online journey. They are known as mobile micro-moments. It is the job of websites to accommodate the user's needs in the most efficient way possible. With services from HVAC Webmasters, you can accomplish that goal or even exceed it.
Why Click-To-Call Functionality Works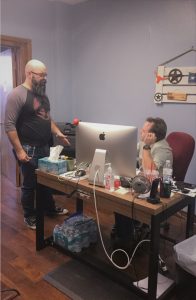 One of the top methods of mobile conversions is click-to-call functionality. Since most users are on mobile, and their attention spans are short, connecting with them ASAP expedited the conversion process. Whether it's in the form of a button or a link, a clickable phone number can work wonders for your conversion rate optimization. This is one of the major advantages of having a mobile market, and companies should take advantage of the opportunity.
Choosing an internet marketing service is not always easy or straightforward. For a company you can trust, HVAC Webmasters is an ideal option. We work specifically with companies in the heating and cooling industry to help them best market their services online. We pride ourselves in staying ahead of the trends, constantly re-evaluating the best ways to generate leads. Call (800) 353-3409 for mobile content marketing services.