Content marketing is an effective and affordable method of generating HVAC leads. But too often, HVAC websites misuse keywords and end up less optimized than they should. Knowing when and where to place keywords within your web content can determine the success or failure of your website, and ultimately, of your internet marketing campaign. HVAC Webmasters offers keyword placement as part of our content marketing services. Keyword placement should be:
Contextual: Enhance readability rather than hinder it
Diversified: Present in multiple places (i.e. paragraphs, titles, headers, images, etc.)
Limited: Avoid keyword stuffing at all costs
Natural: Exist within the flow of the content
Running a full-time heating and cooling company is no easy task. In fact, it probably prevents you from investing the necessary time into online marketing activities like keyword research and placement. HVAC Webmasters is here to help. We offer internet marketing services that include SEO, PPC, social media advertising, content management, and much more. Most of all, we'll ensure your on-page content properly utilizes keywords and provides a superior user experience. Call (800) 353-3409 for keyword placement services.
Where to Place HVAC Keywords
You know the nature in which keywords should be added to the content, but in what areas specifically should they be introduced? There are various components to every webpage you publish. At HVAC Webmasters, we design each of our clients' websites using WordPress, which is considered the most user-friendly content management system available. It allows us to seamlessly integrate terms and phrases in all the page components that matter for SEO. Places to add keywords include:
Header Tags: In your H1's and H2's
Image Alt Text: Within your image alt attribute
Meta Description: In your meta description
Paragraph Text: Within your body content
Title Tags: In your page title
URL Slugs: Within page URL's
With some CMSs, finding all of these places can be difficult and stressful. With WordPress, the process is simple and straightforward. The expert design team at HVAC Webmasters will create the optimal foundation for subsequent content. At that point, our content team will implement your service pages, and add keywords where necessary. Remember, we always refrain from keyword stuffing, and use only ethical SEO practices to rank your pages as high as possible.
Which Keywords Should I Use?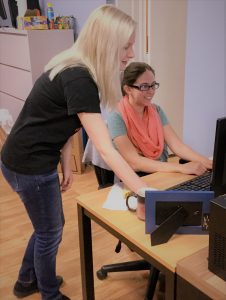 As a local HVAC company, you'll want to read up on local keyword ranking, which should give you a better idea of what keywords to target within your content. You can also take a look at the top 100 HVAC keywords, to give you search volume numbers for some of the more popular heating and cooling terms. It's important to choose words with "buyers intent" meaning words and phrases that indicate a user ready to spend money on your services, rather than someone merely researching information.
Several keyword tools exist to help you research the best industry terms and phrases. Two of the best are SEMRush and Moz Keyword Explorer. Both of these tools offer search volume in quantifiable format and help you determine the competition and opportunity for a given keyword. SEMRush gives more precise search volume numbers, while Moz offers innovative metrics such as "Priority". Both of these tools require payment and are not free. For a free tool, use Google Keyword Planner, but keep in mind you must have an AdWords account to use it. Call (800) 353-3409 for keyword placement services.