A common problem for HVAC websites is duplicate content. Because many websites are rushed, content is sometimes scraped from other sources and ends up hindering the SEO potential of the website. There are also cases in which duplicate content is accidentally published because of URL variations. Although you might think of http://example.com in the same way as www.example.com, search engines actually interpret them as separate websites.
Because of these two problems, the top reasons for duplicate content are:
Scraped Content: Text copied from third party sources
URL Variations: Multiple URL's for the same website
An estimated 25-30 percent of the internet is made up of duplicate content. That's more than a quarter of the entire web. This doesn't always mean fraudulent intentions, however. In fact, most duplicated online content is accidental, stemming from incorrectly linked content or duplicated pages through various URLs. URL variations are the number one cause of duplication and can be easily solved through 301-redirection and/or canonicalization. HVAC Webmasters uses state-of-the-art software to check for identical content on all websites, ensuring that your company is never at risk of a Google penalty.
Call (800) 353-3409 to learn how duplicate content can affect your HVAC site and how we can help.
Identical Content Vs. Similar Content
Though identical content is the most common form of duplication, Google also considers content that is "appreciably similar" to be duplicate content. Cases like these are rarely malicious in nature and are usually accidental. Typically, this occurs when multiple sites cover the same topic in a similar format. Since some topics are very specific and have little variance, similar ideas, formats, and content can sometimes be delivered.
Take a look at the difference between similar and identical content:
Identical Content: A verbatim duplication of large blocks of text, sometimes malicious in nature
Similar Content: Appreciably resembling content that is usually non-malicious in nature
Search engines rarely show multiple variations of the same content, making one or the other most likely to rank on results. Therefore when Google discovers multiple variations of a page, the subsequent pages are direct keyword competitors, making it difficult to rank in SERPs. With this in mind, SEO depends on the maximization of resources, and in this case, the identification of a "master copy" of a page. This can be accomplished through canonicalization, as well as 301-redirection, services both offered by HVAC Webmasters. We will ensure your pages are fully optimized for search and put your company in the best position to rank high for relevant keywords.
Consequences of Duplicate Content For HVAC Contractors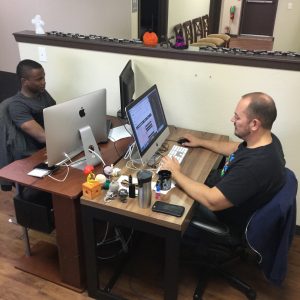 The term Google Penalty is often thrown out by the misinformed. Though duplicate content can impact search rankings, it is rarely due to an official Google Penalty. Instead, it is an algorithmic response that accounts for a variety of other factors not considered to be manipulative in nature. The goal of search engines is to present the most relevant results to its users, and that should instruct the optimization process for HVAC contractors.
Duplicate and similar content can cause your HVAC website multiple problems, from lower SERP rankings to actual Google Penalties. By partnering with HVAC Webmasters, you can ensure that any duplicate content issues you have are immediately diagnosed through our duplication check software, and fixed via canonicalization or 301-redirection. With expert SEO consultants and web designers on staff, we can put your heating and cooling company in its best online standing in years.
Call (800) 353-3409 for HVAC duplicate content check.