Blogs are one of the most popular mediums on which to distribute content. Every business can benefit from regular blogging, whether its a fortune 500 company, or a local HVAC contractor. Our blog writing services cater to the latter. HVAC Webmasters is a full service internet marketing company that works with HVAC companies and contractors to more effectively market their services online. As part of our internet marketing, we provide blog writing services to each of our clients. For a blog to be effective, it must present the following qualities:
Consistency: Our content team writes a new post each month to keep fresh content circulating
Engagement: Posts worth reading are engaging to readers and encourage shares
Optimization: Like webpage, blog posts should be optimized with keywords and links
Relevance: Each post should relate to the HVAC industry
Posts present an informal platform in which HVAC contractors can take more risks, reach niche audiences, and develop a brand voice and style. The home and service pages are the foundation of your internet marketing campaign, but blog posts are like exciting additions on top. Instead of the limitations presented by individual service pages, posts allow writers to expound on certain elements that would otherwise be trivial. We encourage our writers to use posts as an opportunity to link to authority websites with relevant anchor text. For HVAC blog writing services, call us at (800) 353-3409.
Blog Marketing Services for HVAC Contractors
The presence of a blog isn't enough for it to make an impact. To truly see results from blogging, posts must be marketed using search engine optimization techniques. The purpose of posts is to increase search visibility through various outlets. With consistent, informative blog posts, our content team puts your HVAC website in a great position to succeed. Using WordPress CMS allows each post to appear within your main website. This method is known as internal blogging. We market blogs through:
Audience Engagement: Tag your professional and personal audience members in your posts
Infographics: Create visual graphics within posts that can be shared on various channels
SEO: Target specific keywords based on both local and industry research
Social Media: Share posts via Facebook, Twitter, Instagram, and LinkedIn
The best way to market a blog is by writing great posts. Attempting to rank on search results with low-quality posts is a fruitless effort. At the same time, finding time to write high quality posts can be a challenge when running a full time heating and cooling business. The solution is to hire a blog marketing service like HVAC Webmasters. We will write each of your posts and market them through the necessary channels. The end result will be enhanced search visibility, and brand development. Contact our team today!
The SEO Benefits of Blog Writing Services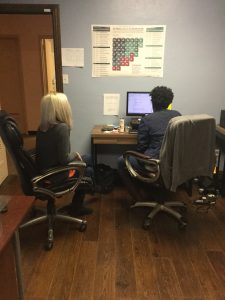 A heating and cooling website can get stagnant. Unless you are constantly adding new and improved services to your repertoire, the majority of the content will remain static. This discourages Google from crawling your website, and re-indexing it. The solution is to incorporate blogging on your website. With HVAC Webmasters, we incorporate internal blog posts on to each of our clients websites. This helps us keep fresh content circulating on your domain, and encourages Google to crawl and index it.
Speaking of indexing, posts represent additional content that can rank on SERPs. By targeting keywords for your blogs, you can take up more organic results for relevant HVAC keywords. The phrase "signs your ac is damaged" would not work as a service page title, but could certainly be a post title. It's long tail keywords like this that can help you tap into a market that will lead to more sales for your company. To further discuss blog writing services for HVAC contractors, give us a call now at (800) 353-3409.