Blogs are a popular content medium for businesses. HVAC contractors can take advantage of their promotional value through scheduled blog posts. HVAC Webmasters offers blogging as part of our content marketing services, which are included in each of our website management packages. All of our plans include monthly blog posts on your HVAC website that are well-researched, include keywords, and provide informative content. Our content team follows best practices for blogging, which include:
Consistency: Our content team writes a new post each month to keep fresh content circulating
Engagement: Posts worth reading are engaging to readers and encourage shares
Optimization: Like webpage, blog posts should be optimized with keywords and links
Relevance: Each post should relate to the HVAC industry
Posts are informal in nature, which HVAC companies can use to their advantage. Taking more risks, reaching out to more niche audiences, and developing a voice and style are all possible with blogging. While traditional service pages come with their set of limitations, blogs require less structure and can reach consumers in a different way. We encourage our writers to use posts as an opportunity to link externally to authority websites, using relevant anchor text. Call (800) 353-3409 for HVAC blog writing services.
Blog Marketing Services for HVAC Contractors
Because blogs are now commonplace for small business websites, the presence of one is not enough to make an impact. To see tangible results from blogging, posts must be marketed with search engine optimization techniques.
The purpose of posts is to increase search visibility through various digital outlets. Consistent and informative blog posts encourage social media sharing which can drive more users to your website. Since we design client websites with WordPress, blogs are considered part of your primary domain. Aspects of blog marketing include:
Audience Engagement: Tag your professional and personal audience members in your posts
Infographics: Create visual graphics within posts that can be shared on various channels
SEO: Target specific keywords based on both local and industry research
Social Media: Promote posts via networks like Facebook and Instagram
Writing great posts is the best marketing technique for blogs. Low-quality writing will not translate to search results, and will only hinder your website's overall performance. Similarly, inconsistency in posts makes it difficult for search engines and their users to rely on your blog. Since most contractors don't have time to write posts consistently, the solution is to hire a professional blog marketing service. Our team creates each post individually and markets them through various channels for optimal return.
The SEO Benefits of Blog Writing Services
It's no secret that HVAC websites can get stagnant. The subject matter creates redundancy and readers become easily bored. Keeping them engaged through blog posts enhances the appeal of your site, and generates valuable traffic. While a reader may not go through the entirety of an individual service page, if they see an engaging blog post on the sidebar, they are fairly likely to click on it. This keeps them on your domain longer, working towards SEO.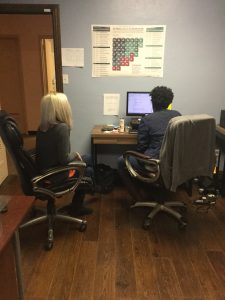 Another SEO benefit of blogging is its additional SERP indexing. Just like individual service pages rank on Google SERP's, so to can blog posts. Since they are part of your primary website, clicks can be directed easily to your site's informative pages which starts the conversion process and promotes lead generation. Researching HVAC keywords can help you cover areas overlooked by your regular web pages. The HVAC Webmasters team works with you to develop quality blog posts as well as offering multiple other web services like content development and design creation. In fact, our experts offer a variety of plans and packages so you are sure to get the services you need for your HVAC company to optimize on SERPs better than ever before.
Call (800) 353-3409 for blog writing services for HVAC contractors.