Are you an HVAC company looking to build up your online reputation? If so, reputable website directories like Angie's List can help you accomplish your goal. Directories such as these offer what are known as citations. Citations are business listings for your HVAC company that display your contact information. In many cases, your company is already listed but unclaimed. It is important that your HVAC Angie's List citation is optimized for Google search ranking. The optimization of citations requires, at the very least, accurate displays of your company name, address, and phone number. You can claim your Angie's List citation for free.
Angie's List is one of the most trusted sources in the HVAC industry. While claiming your online citation is free, HVAC contractors can also pay to advertise on Angie's List. Contractors who are certified by Angie's List are subject to a background test. Those who refuse to take a background check will not be eligible for advertisement or e-commerce promotion on the Angie's List website. If you notice inaccuracies in your Angie's List citation, you should contact HVAC Webmasters for online citation management.
How Can Angie's List Help HVAC Contractors?
HVAC contractors can boost their reputation by claiming and optimizing their Angie's List citation. Angie's List helps HVAC contractors because they are respected as a quality source. The simple act of claiming your citation on Angie's List can work wonders for your HVAC company. Google rewards local establishments who make themselves visible on reputable directories. The more trust you can earn from potential customers, the more sales you will eventually make. Some of the benefits for HVAC Angie's List Citations are as follows:
Data Accuracy
Lead Generation
Quality Link Building
Reputation Increase
Search Optimization
Visibility Increase
You might be thinking to yourself; How does this help HVAC contractors gain customers? It is all part of your overall search engine optimization. Google prioritizes local companies that distinguish themselves as visible, reliable, and trustworthy. Online citations allow you to establish yourself within local communities. While you may not see it now, there is a direct line from your online citations to your HVAC sales.
How HVAC Companies Can Optimize Angie's List Citations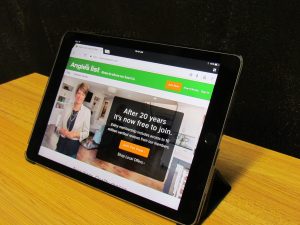 The first step in optimizing your HVAC Angie's List citation is to claim your business. Angie's List allows business owners or associates to claim citations by providing proof of ownership. Once you have claimed your business listing, you can begin to optimize. Ensure that all the information listed on the page is accurate. Company name, address, phone number and website should all be error-free.
At HVAC Webmasters, we understand that service companies don't have the time or resources to optimize their online citations. We can do the work for you and help you build your online reputation. Citation building will assist you in establishing your local company and help you create customer growth and sales. For HVAC Angie's List citation management, give us a call at (800) 353-3409