When people need to find services locally, they turn to Google search to get the information they need. With the help of Google local data, people can search for 'air conditioner repair services near me' and get information about the closest local HVAC repair services. Is your business showing up for local Google search results?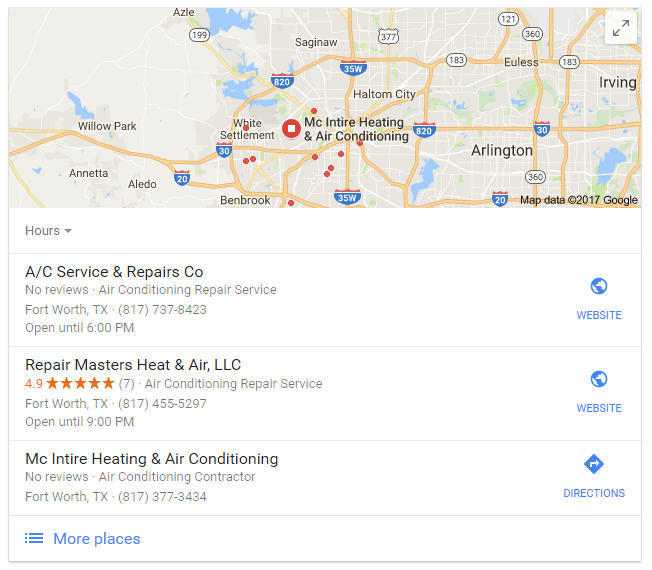 Getting to the top of Google's Local information pack means having a well built online presence. There are many factors to making sure your business can make it to the top of search results.
Optimize your site with local data. It's important to integrate your site with local data that Google can understand. The more data you have in your website, Google has a better idea of what you do, what locations you service, and improves the likelihood of being found for search queries related to your services in your area.
Google offers options to integrate company information with their services, including Google Maps and Google+, so that you have more opportunities to present your business and services to potential customers through Google. Keeping your business data up to date through Google, makes it easier for your site to be found in local search results and increases your chances of getting a local knowledge graph.
Getting reviews from your customers through popular channels like Yelp and Google Reviews not only helps to improve your organic rankings but increases your potential click through rate. Take the local pack above as an example. Repair Masters may not be the #1 result of the three, but it has a 4.9 rating where the others have none. When a potential customer is looking for a trusted repairman, which of these companies are they more likely to contact first?
Our goal at HVAC Webmasters is to help local businesses increase their organic ranking in Google through local optimization in their website and online business profiles. If you would like to discuss optimizing your business for Google Local, contact us today at (800) 353-3409.