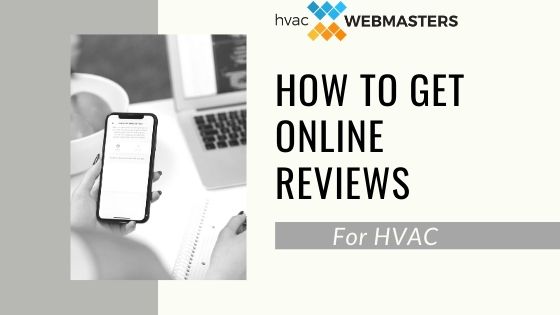 So you want reviews for your HVAC company? You aren't alone. Most HVAC contractors rely on online feedback to drive customers to their business. In fact, reviews are one of the great separators when it comes to converting online traffic into actual leads. At HVAC Webmasters, we use BrandREVU to help our clients achieve success with online reviews on GMB, Facebook, and Yelp.
People rely mightily on online reviews for services like HVAC because reviews are essentially the only thing that allows outsiders to peer into this world and see what your business is all about. In a world where every industry's most valuable assets are online reviews, this stands doubly true for HVAC businesses. 
But how do you get reviews for your HVAC Company? In today's post, we will be outlining some helpful tips for acquiring more reviews for your HVAC Company. We will share tips for companies with some reviews that would like more and for companies that as of yet, have no reviews at all.
Make Yourself Available
Where a lot of HVAC contractors falter is that they do not make their company as accessible to reviews as possible. They create listings on Yelp and Google My Business but these two review platforms aren't the only fish in the sea – as big as they may be. As an HVAC contractor, you should also have listings on Angie's List and HomeAdvisor. These two are especially important because they focus on home services like plumbing, carpentry, flooring, roofing, and HVAC. And if you're wondering just how popular these sites are, in 2018 Angie's List had users from 6 million households and HomeAdvisor has been used by 30 million households. But why stop there? TrustPilot, CitySearch, and the Better Business Bureau are also good to review websites to avail yourself of.
Make Leaving Reviews Easy
Nothing is more annoying to a customer than having to navigate through a complex gauntlet just to leave a review. You will see your review numbers rise significantly if you streamline the process for your customers. Direct email links to your review platforms sent to recently serviced customers is a great way to make the process easy. QR codes on business cards and fliers make it easy for customers who prefer using their mobile devices. Having a positive review template pre-written and handy for customers is another way you can make leaving a review convenient for them. 
Don't Sleep on Reviews
This is a tip for all the HVAC companies out there who have reviews but want to get more. We cannot stress enough the importance of responding to reviews. 96% of all millennial consumers read business's replies to their reviews and 30% of all consumers consider a business's reply to their review valuable. But how does any of that translate to more reviews? It builds trust in your company. This trust signifies that you care about the customer experience and are appreciative of their business. This brings in new customers who already trust that you will reply to them if they leave a review. In turn, these new customers will be more likely to leave a review.
Stress the Value of Customer Reviews
If your HVAC business is just getting off the ground and you're finding it difficult to acquire reviews in the first place, this tip is for you. It works best when you know you have a satisfied customer on your hands. When the services have been rendered and you are settling up, mention how important customer reviews are to your fledgling business. This works extremely well with happy customers who are appreciative of speedy, reliable, honest, and affordable service. More people are willing to reward good service than you probably think so don't be shy about letting customers know how much value their positive reviews hold.
Ensure Accuracy of Listing Information
One of the biggest deterrents for customers willing to write reviews is inaccurate or confusing listing information. It seems simple but it is actually a very common problem. People may see a slight variance in the spelling of your company name between one or two review sites and become unsure of which one is actually yours. They don't want to leave a false review, so they don't leave one at all. Be sure that your company's name is spelled consistently on your business cards, website, and all your review website listings. A simple oversight like spelling your company name "Johnson & Murray HVAC" on your business card and spelling it "Johnson and Murray HVAC" on a review site listing and then spelling it "J&M HVAC" on your website can throw a customer off. Be sure that your business address listings match across all platforms as well.
Don't Be Afraid to Ask
Last but not least on our tips for getting more reviews for your HVAC company is simply asking. According to Search Engine Land, 70% of consumers will leave a review when one is requested. A word of mouth request is still one of the most effective methods for acquiring reviews so make sure you and your team are asking for them when service has been rendered. 
Proven Results From HVAC Webmasters
The reviews that people write for on-site services like plumbing, appliance repair, and HVAC are vastly important. One of the reasons they are so important is because services like HVAC repair and maintenance are private. They occur in the home or on the grounds of a commercial building. The HVAC business isn't like running a car wash or a restaurant where outsiders can readily see the finished product and how many people are frequenting your business.
Online reviews allow leads to see how you treat your customers, deliver your service, how punctual you are, how professional you are and what you are capable of. Reviews are essentially a source of advertising for your company and consumer information for your potential customers at once.
Of course, getting customers and reviews in the first place starts with online visibility. And online visibility is all about effective HVAC SEO. Here at HVAC SEO Webmasters, we utilize proven digital marketing and modern SEO tactics for visible results. You will see a surge in web traffic, leads, conversions, and reviews when you use our services.