When we start working with HVAC companies on their web design, it's not uncommon for new clients to already have a website in place. The problem, then, is that it's simply not serving their business well. The common mistake we observe is that many professionals will try to cut corners a bit on their internet marketing for heating and cooling services. And the chief mistake when it comes to overconfidence in the DIY approach is expecting HVAC keywords to do all the work.
What does this mean? Keywords are commonly recognized as important for Google searches. Most of us by now understand that utilizing the right wording and syntax for a search can yield better results than others. The suggestion feature when searching helps identify common search patterns, which can be helpful for determining strong keywords. But if an HVAC company wants to be successful, it's important that the best keywords are utilized well…not just thrown at a page en masse.
It's the qualitative aspects of keyword usage that I want to focus on today, as just including the best HVAC keywords on the Home Page won't get you to the top of the search results. Focusing your Internet Marketing efforts for 2019 on maximizing keywords throughout your web presence will get you plenty of fireworks!
Let's Start With a Few Big Value HVAC Keywords
Since utilizing the right keywords is half the battle, let's focus on a few: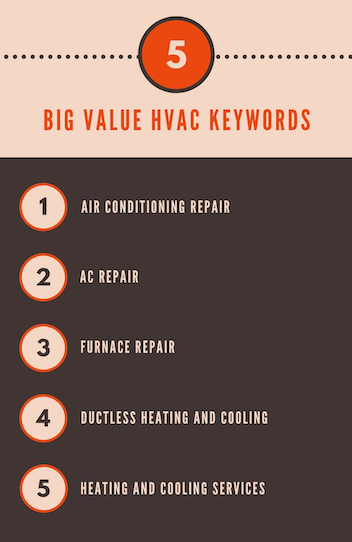 The great news? These are all keyword phrases that you can logically use on your HVAC website (and beyond) without sounding like a crazy person. And that's no surprise. The key to Organic SEO is content that serves the viewer (i.e. potential customers visiting your page). Google puts a major focus on user experience and quality content when it comes to how HVAC websites rank on SERPs (search engine results pages).
If User Experience Matters (And It Does), Then Quality Keyword Content Is Vital
Since the initial release of Google's Penguin Algorithm in 2012, there has been a resurgence in crappy content and keyword stuffing. The Black Hat methods of shady SEO have pivoted with the changing rules, but I would expect another smack down by Google any day now. To this end, creating quality content that respects the spirit of online searches and serves your client base is the single best way to avoid negative repercussions with future algorithm changes.
As Nolen Walker, our chief SEO expert, has said over and over again, the best practices of search engine optimization for HVAC are constantly changing. Google leads the charge on the shifts in organic SEO, but understanding the big picture of how various platforms function and serve up paid or optimized content to users is hugely important.
For example, knowing that social media platforms such as Facebook and Instagram employ an algorithm that is largely based on engagement, you have to make sure that your social media marketing strategy is focused on quality, usefulness, and communication.
HVAC Keywords Should Be Prominent in Tags, Metadata, Coding, and Citations
Whody, whatdy…what?! Let me lead off this section by saying that there is a lot of wisdom in tapping the expertise of web content writers who do all of the above on a regular basis. They are not only going to be quick with the output and able to employ the current best (as those change) HVAC keywords in their web or social media content, but it saves you one more thing on your plate as you steward your heating and cooling business. My motto is do less, well, and this is a golden opportunity to trust the SEO experts for content writing.
If you're like me, I like to understand the basics of something I'm going to hire out so that I have a better sense of what I'm getting (ensuring my dollar is well spent). So let me share with you a basic overview of where keywords should be utilized — outside of the obvious on-page content of your website — to get the most of out keyword marketing.
H1 Tags, H2 Tags, Alt Tags, etc.
Using a site like WordPress to craft web content is a great way to tap into tools that allow you to easily put to work your list of powerful keywords. Yoast is a great third-party WordPress plugin that allows you to enter a focus keyword (or phrase) for a page, and then get feedback in a simple-to-understand list so you can start to "work" the content to optimize better.
One of the factors that Yoast will consider is whether you have keywords for heating and cooling services in your page's header tags (which is where the "H" in H1 comes from). For example, on this blog post, the title of the post is the H1. See how I included "HVAC Keywords" in the title? That's no accident. And then do you notice how the next heading (the H2) includes "HVAC Keywords" as well? Yup, that's also intentional.
But I also want you to pause and consider the H1 and H2 tags for something else. Read the post title and that H2 again. Note that nothing about those tags sound robotic. If I have "stuffed" keywords in those spots, solely in hopes of better optimization, you'd read something like, "HVAC Keywords Best Top Ranking 2019!" That post title is a hot mess, can we agree?
No matter what tools you employ, remember to write first for your audience (potential customers looking for HVAC repairs), and then optimize to help your audience find you on the internet.
Keywords in Metadata and Meta description
The metadata and meta description are the aspects of a website that show in the Google SERPs. Here's a visual example:

Metadata and meta description example from Google SERP
The title shown in blue is the metadata for a page or post, and the sentence you see under the title is the meta description. If you simply published a page or a post, the metadata and description will be auto-generated, usually based on the page name and first sentences, respectively. Configuring these page elements, however, will allow for a better representation on Google for viewers, as well as provide an opportunity to incorporate HVAC keywords to rank better.
Alt Tags and Photo Optimization
Not only should you use a logical keyword as the file name for photos that you're using across any internet marketing — web design, social media, citations, etc. — but you should also set the Alt Tags for these images when you can. Alt Tags basically give a text description to a visual, which is helpful for both search engines and for visually impaired viewers. This allows the image to become part of your content, and is yet another opportunity for SEO!
The Value of Keywords in The Code
There are many customer-facing opportunities to make the most of heating and cooling keywords to improve traffic to your websites, but it would be a huge mistake to overlook the importance of embedding those keywords into the very DNA (or the code) of your webpage.
Schema is a vocabulary, essentially, that was established by some of the major search engines to allow websites to effectively convey the content of their pages. The aspect of web development helps Google, Bing, Yahoo, etc. represent the best matches for a given search, and even to display relevant information for viewers to consider. When you look at the SERPs for heating and cooling companies in your service area, for example, those sites that display star ratings with their meta descriptions are utilizing schema to show that information. So schema serves the search engines, as well as, you guessed it, serving the viewer.
Keyword Consistency Across Citations for Your HVAC Business
Consistency, in general, is a necessity if you want to rank well on Google. (And I can't imagine you'd be here if you didn't, so I'll assume this is something you're after, too.) Citations are a great way for businesses to represent themselves consistently across sites and platforms, all of which help search engines confirm that you're legit and that the information they represent is correct. After all, it doesn't look very good for a search engine to proliferate bad information, which is why your site will be punished if you put them in that position. No one wins in this scenario.
However, if you've claimed and established some of the best citations for your industry — such as Angie's List, BBB, Yelp, Facebook, and Home Advisor — with consistent NAP information, you're going to reap the benefits. To optimize beyond basic business information (which is what NAP represents: "Name, Address, Phone"), implement HVAC keyword usage, focusing on the best (most logical) keywords for your service area.
An Important Rule of Thumb: Keep Keyword Content Evergreen
Especially when establishing good keyword content on citation sites, which are often like secondary websites, make sure that you're creating content that is "evergreen." This means business descriptions that aren't gimmicky or time-sensitive. Don't focus on a season or a sale. (In fact, Google My Business explicitly prohibits this per their guidelines.) Focus on the services you offer year-round, and why your company is best suited to meet their needs. Yes, keyword usage will help you improve in search rankings, but if you're not appealing to humans, your content and keyword usage is useless.