What do website design, HVAC SEO, and freshly baked cookies all have in common? They somehow found their way into this explosive list of 25 HVAC marketing strategies you can try out as we head towards the end of another year. Finding your way through the massive current of lead-hungry businesses can feel overwhelming, but these tips can help you break through.
See which of these ideas could be right for your heating and cooling company, learn how to get HVAC leads online, and open your mind up to a little quirky ingenuity.
Tip #1: Market to Larger Households.
According to the Pew Research Center, the average household size is actually growing for the first time in over 150 years. It may sit at an average of just over two and a half people, but this significant turnabout does represent a shift in our culture too. In a household with a higher number of individuals, there's an opportunity to advertise customized (room by room) temperature control.
That's one potential campaign for your PPC strategy (which we'll talk about later in this list). If you haven't already, you may also consider adding a dedicated service page for split-temperature control to add to your website. This creates more opportunities for your business to rank in organic search.
Tip #2: Advertise Your Maintenance Service Packages.
While many HVAC professionals limit themselves to advertising their maintenance offerings in the pre-winter and pre-summer seasons, there's never a wrong time of year to arrange a tuneup. That means you can advertising your maintenance packages and perks in the middle of the spring or fall too. Why not give your maintenance services some attention and advertise them too?
Your PPC campaigns offer a natural means of showcasing your tuneup solutions. That's one reason why the Google Ads platform is one of the most commonly pursued HVAC lead sources.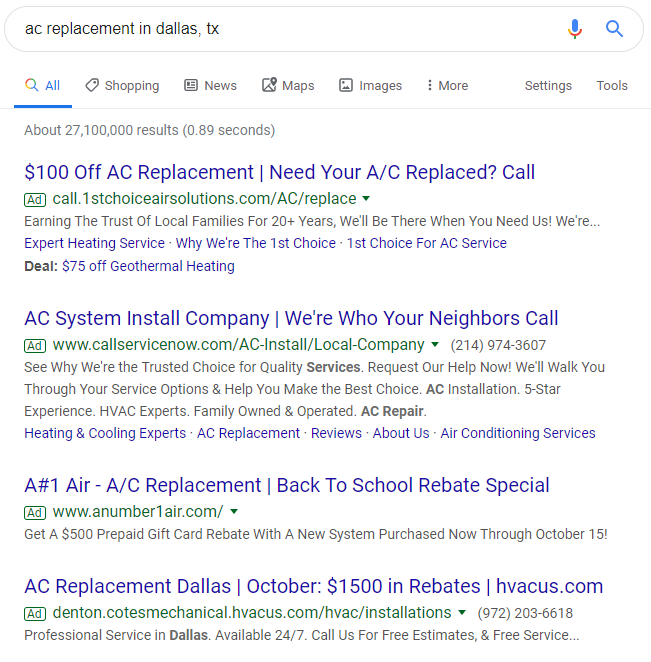 Of course, you can easily adapt your advertising strategy and share your deals on social media too. You may even throw in a free AC unit checkup with each new installation, a promotion that you can exhibit on your air conditioning installation service page. Talk with your HVAC marketing agency (or internal employee) about drafting some copy ideas.
Tip #3: Add More Details to Your Online Service Forms.
While you want to provide thorough and courteous service to your clients, there comes a time when you need your office phone available as much as possible for new clients. That's especially true during heat waves, cold fronts, and power outages. After all, you don't want to lose a potential client because another is holding up the line.
One way you can enhance your customer service experience and simultaneously free up your phone is by expanding your online service forms.
We've already talked about expanding your maintenance advertising to get more HVAC leads. What if you created a unique form just for your maintenance service page? You could fill it out with some of the most common symptoms of disrepair, then arrange automatic messaging to your teams Facebook Messenger account. As long as your employees quickly respond via Messenger or direct text, you could schedule many of your maintenance appointments without ever picking up the phone.
Tip #4: Re-establish Customer Service Expectations for Higher Satisfaction.
It's a subtle but powerful practice for de-escalating problems and improving customer service. You may have experienced it in the past, and not even noticed the soothing influence it had. We're talking about setting customer expectations. This includes everything from describing the typical servicing process, to creating time-requirement expectations.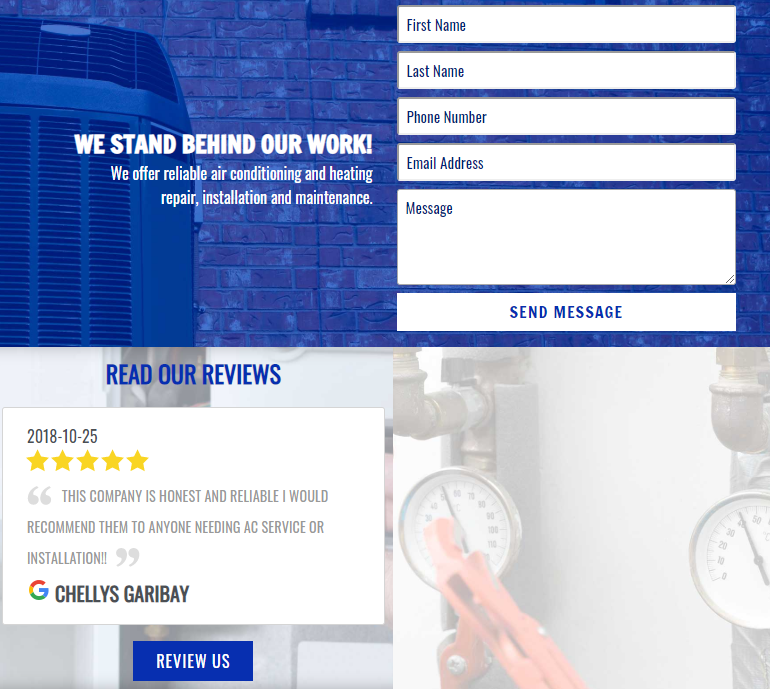 Some industries do an absolutely abysmal job of managing service expectations. We're looking at you, cable companies. Seasoned airline brands, on the other hand, regularly pacify angry crowds in almost impossible situations by tactfully explaining waits and offering unique benefits.
If you're hunting for simple (but profound) HVAC marketing ideas, reexamine how well your team is managing client expectations. Create a new standard for accurate project estimates, waiting times, and customer satisfaction. You'd be amazed how often customers praise their AC repairman for timeliness.
Tip #5: Start Following Up.
Brand loyalty is a powerful thing. Loyalty takes time to craft, and consumers are short on that precious time. That's why your heating and cooling business needs to take the time to follow up with clients and prospective clients.
In our recent post on HVAC advertising, we laid out a pretty detailed plan on how to follow up with a prospect. It incorporated direct mail, phone calls, postcards, and email. After all, a prospect may require five follow-up moments before they ever make the plunge into a purchase.
You can carefully adapt a follow-up strategy to pursue existing clients too. You might take the opportunity to call and ensure a recent AC unit installation is functioning properly, creating some free goodwill with your client. Some businesses might also take advantage to arrange a future maintenance visit, but be careful not to overstep your bounds.
Tip #6: Modify Your Website Around User Intention.
This is a more involved web design strategy, but one that produces powerful results and turns your website into the most productive of HVAC lead sources. User intent refers to the underlying purpose of a consumer or commercial representative's reason for performing a search. In other words, it's the meaning behind those keywords a person types into a Google Search.
If you want more specifics on the concept, be sure to check out our guide on user intent.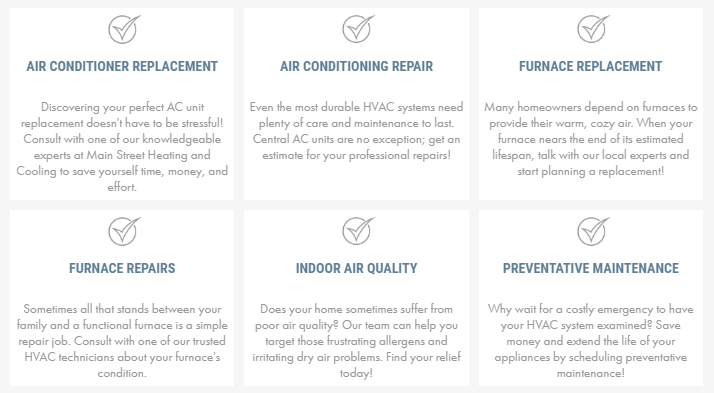 Potential customers come to your website for one of a handful of reasons. Some require immediate service, be repairs, or replacement. These people require very little selling, but they may also give up on finding information and bounce from the website if they get frustrated. To best cater to this type of user intent, make sure you have an emergency service page and AC repair page optimized with transactional keywords and pointed calls to action. Customers should be able to find your contact information, navigate through the menu, and find their desired service in less than 30 seconds.
Many consumers simply browse for information, and you'll want to have pages and HVAC content marketing materials aimed at these people too. This user intent group responds very well to bulleted lists, infographics, and step-by-step guides. We'll talk more about how to create content for this segment in Tip #18.
Tip #7: Revisit Your Keyword Strategy.
Keywords are the lifeblood of your online search strategy. That's because they permeate practically every element of your HVAC marketing. Your website SEO, your PPC campaigns, your social media, your citations, and all your other sources for HVAC leads all rely on key phrases and terms. Few elements have such a profound impact on your overall marketing success.
So if your keyword strategy sucks, it's a serious problem.
Even if you've had success in the past with your current strategy, it pays to frequently revisit your keyword plan. Start by examining your website homepage and assorted service pages. Most companies focus solely on primary words and phrases ("ac repair", for example), but it's hard to rank well for these competitive terms. These professionals end up sinking to the back pages of local search and never grasping why they've failed to garner leads.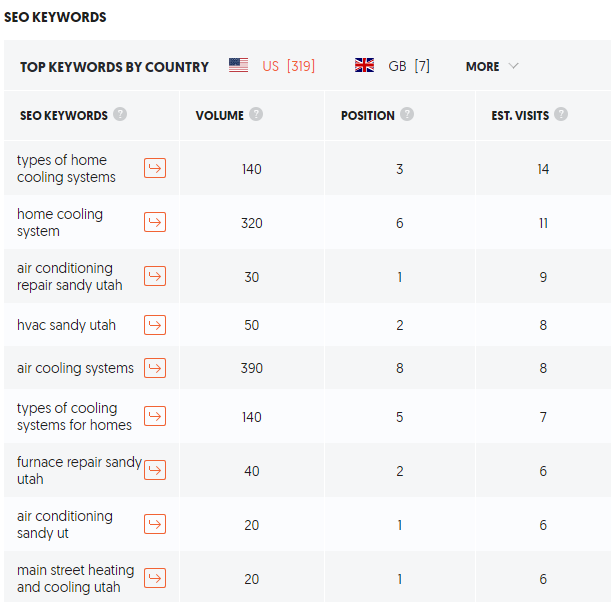 Here's a quick few tips for your HVAC Marketing keyword strategy.
Optimize your primary keywords for your service area. "AC repair in Aledo, TX" narrows your field of competition from national to city-wide.
Sprinkle secondary keywords throughout your pages. These are lower-volume, but low-competition phrases that bring in more lucrative business.
Use keywords in your titles and at least a couple of your header tags.
Add keywords into your captions and image titles.
Don't use the same primary keyword as the focus phrase for multiple pages. This splits attention between those pages in search results.
Want some starting points for your new keyword plan? Check out our huge list of 100 Top HVAC Keywords.
Tip #8: Test Your Call to Action
A call to action (CTA) directs a potential reader to perform a specific action, such as calling a phone number or filling out a service form. Location, wording, and formatting all play a part in the effectiveness of a CTA. Finding your "sweet spot" for higher conversion rates requires some experimentation.
Moz created a wonderful guide that shows how to get HVAC leads by testing and upgrading your call to action. Through some very interesting case studies, they reveal just profound a CTA can be with the right changes.
Here are some helpful guidelines on calls to action.
Make them visibly distinct from the rest of your pages.
Keep forms down to a maximum of five slots, if possible.
Use enticing words like "free" to encourage clicks, calls, and submissions.
Add secondary calls to action in the page text (typically call CTAs).
Explain the value of performing the requested action. Does submitting a form save them time or money?
Tip #9: Test Your User Experience.
Is your website really as convenient as your think it is? Take some time to investigate your user experience (UX). The UX revolves around the simplicity, convenience, and effectiveness of a site. It also focuses on how a potential customer feels when they journey through your pages.
There are some crucial questions you'll need to answer.
Can visitors locate their desired service within a minute or less?
Does the content formatting make it easy for users to digest info?
Do potential customers feel supported or patronized by the copy?
Does your website provide the info your clients are looking for?
What do clients think about your site in terms of appearance & convenience?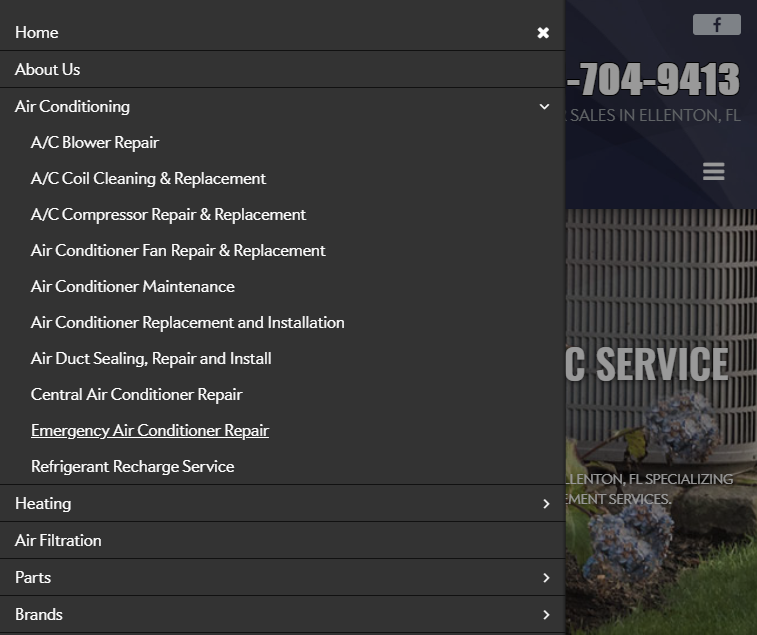 There are a few ways you can go about examining your user experience. First, you can simply ask clients who have recently used the website how their experience was. "Did you find the service you were looking for quickly?" "Was the writing style clear and helpful?" You might also perform a usability test with willing-participants who have never used the site before.
When you identify an area that needs improvement, such as a missing link or a page with multiple grammatical errors, consider it a big win for your company. Your site visitors will have a better user experience, and thus a higher likelihood of becoming customers. Talk with your HVAC digital marketing company about optimizing those pages, or delegate the task within your team.
Tip #10: Try More Google Tools.
If you read the above sentence and though "No thanks. I don't need any more work in my to-do list.", you might be missing out on some time-saving tools. As the leading authority in the search industry, Google knows better than anyone what type of content ranks well. They also understand how to better promote your business in local search, and that knowledge is too valuable to miss out on.
So when Google offers a free tool to improve your HVAC search engine optimization, take it.
While the search giant provides a multitude of tools, services, and resources, there are three that you can't afford to ignore. These are Google My Business (GMB), Analytics, and Search Console.
GMB
Google My Business
"How do I promote my HVAC business with GMB?" Google My Business creates free listings for companies in local search. As a matter of fact, it makes getting noticed and ranked well much, much easier. Simply go to the main GMB website, submit all the required information (address, industry, operating hours, etc.), and claim your free company listing.
Within your GMB account, you can also post pictures, upload videos, create promotions, and other fun activities. While the full impact of these GMB activities has yet to be fully explained, it's clear that your listing is incredibly important for your website's ability to rank in local mapping. Take a little time to explore this free tool. You won't regret it.
Analytics
Google Analytics
Searching for more business ideas and HVAC marketing strategies surrounding your website? Analytics is the perfect place to start. This tool connects directly with your website and collects performance data. This makes it remarkably easy to measure bounce rates, unique visits, and conversion, among other stats.
Think of Google Analytics as your online general practitioner, diagnosing areas of weak performance and highlighting superstar pages. It also dissects the contributions of different HVAC lead sources, such as organic search, PPC, and social media. Find out which areas of your website are under-performing, and discover new opportunities to advertise.
Search Console
Google Search Console
Search Console examines the more technical side of your website performance. For one, it quickly identifies and tracks page errors that could cause some embarrassing malfunctions on your website. These might result in visible error codes propagating across the page, or links redirecting to a non-existent page. This early warning system is perfect for your HVAC marketing agency and/or internal marketing pro.
It also tracks the different keywords your site is listed for in local search, including where they rank. Our team at HVAC Webmasters needs to track hundreds of keywords for our clients, and Search Console makes it refreshingly easy. While the tool's capabilities often overlap with Analytics, there's plenty of reason to experiment with Google Search Console!
Tip #11: Shift Away From Buying Leads.
We hear so many complaints about lead selling companies. "Their leads aren't even good." "They don't stick to the budget." "I have a hard time turning off my account for the month." When we tactfully suggest that companies shift to more independent HVAC lead sources, however, many instinctively panic.
There are several reasons to make the shift from buying leads to earning them yourself.
Producing your own leads is almost always cheaper.
Your company has greater control over the quality of leads.
Your money goes towards marketing your brand, not a seller's.
You don't have to deal with the lead sales customer service rep.
We generally recommend companies invest some money into a mix of local search optimization and PPC campaigns. The first provides a steady stream of low-cost, high-quality leads. PPC then generates a supplemental supply of business while organic SEO efforts start to grow results.
Tip #12: Diversify Your PPC Strategy.
Managing a PPC campaign is fairly simple. Managing dozens of them isn't. There's a real temptation to lay all your eggs in a couple high-dollar baskets (we're talking about primary keywords) and just let the campaigns run themselves. As convenient as that might be, a diversified PPC strategy often yields more results.
In paid search platforms, such as Google Ads, the cost of a keyword is determined by how well your company ad matches the term and how popular/valuable the keyword is in search. The more people search a particular term, the more heavily contested and expensive it is. A single "AC repair in Dallas, TX" campaign could easily run thousands of dollars in a busy winter season.
Remember how we talked about shaking up your keyword strategy with secondary keywords earlier? Those keywords also work in your PPC strategy too. While they may connect with fewer people, you can still create quality leads at a much cheaper cost per click. You can still target those hot primary keywords, but spreading out your budget could net you some excellent HVAC leads.
Tip #13: Start Advertising in Social
Google Ads doesn't have a monopoly on advertising. In fact, there are quite a few amazing platforms for spreading the word on your brand. There's no better place to turn your amazing, keyword-rich content into ads than Facebook and Instagram.
With Facebook Ads, you can transform any popular post into an advertising campaign. What's more, you can take advantage of the social media giant's retargeting platform Pixel to pursue visitors from your website and competitors'. Retargeted ads enjoy a much higher rate of conversion because they focus on consumers who have already shown interest in your particular services.
Facebook also offers a wealth of demographic data, making it easy to hone your advertising sights on people within your target market.
Tip #14: Give Instagram a Go.
With an eye-catching photo and a catchy call to action, there's nothing an Instagram ad can't achieve. Instagram performs well with younger audiences too, making it a fitting place to pursue new homeowners. Instagram marketing is one of the most visual lead sources for HVAC companies because it deals primarily with pictures and videos.
With a little skill or a professional photographer from an HVAC marketing agency, you can quickly generate some very appealing ads. Just remember to keep an appealing, low-risk call to action attached to each offering, and you'll start raking in the leads in no time. Instagram advertising is also often cheaper than other popular PPC platforms too.
Tip #15: Invest in Some Local SEO.
According to Search Engine Land and a study by BrightEdge, 53% of all website traffic is generated by organic search. Compared to a meager 15% created by paid search platforms. Both provide the vast majority of leads to local businesses, but it's clear SEO creates the most between the two.
Yet so many businesses flat out ignore SEO and try to make due with PPC and/or lead sales. When over half of all website traffic comes from organic traffic, it only makes sense to invest (at least) some money into exploring that HVAC leads source. Those funds can go into crafting an optimized website, getting listed in prominent citation sources, and developing high-quality content that ranks in search.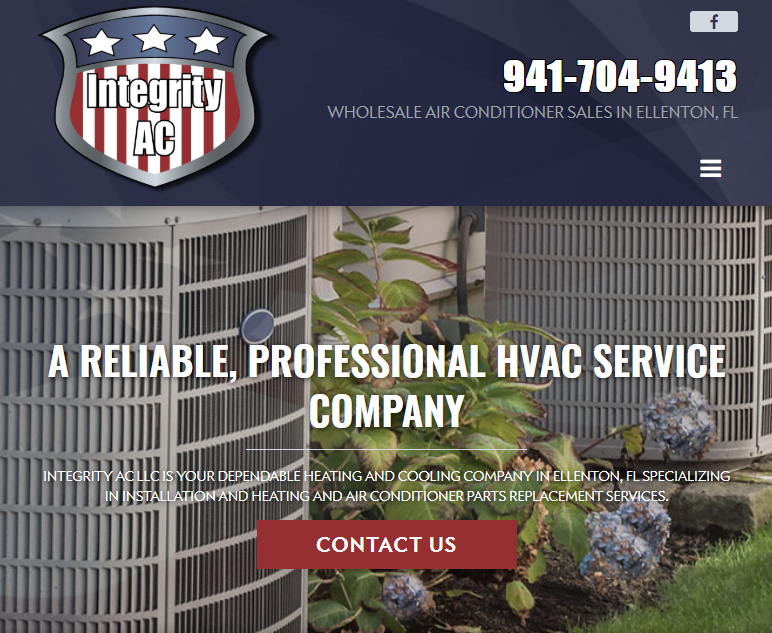 Pretty soon, you could be generating thousands of dollars of leads just by taking these basic steps. You'll also make it easier to collect reviews from happy clients, which further escalates the value of your company brand. You'd be amazed by the results a couple of thousand dollars can create in organic search marketing.
Tip #16: Take Your Own Photos.
If Google can recognize a stock photo, your clients certainly can. While that may not be an issue for most industries, stock photography represents a missed opportunity for your company to connect with site visitors. How so?
First, original photos can be used to showcase your staff and create expectations for your services. Second, original photography also creates deeper trust and a stronger perception of professionalism in your brand. Finally, Google values original content over stock imagery, giving you one more edge in local search results.
Unique images aren't a make-or-break part of your leads strategy, but they do provide clear benefits to HVAC companies.
Tip #17: Take Notes on Common Customer Questions.
Do you ever find yourself answering the same questions time and time again? Grab a pen. These are the questions that potential customers are dying to know the answers to, opening up new opportunities to connect.
One of the most common tools HVAC marketing companies are using these days to rank up their clients is the FAQ page. These pages target frequently asked customer questions in an insightful, easy to digest content format. You can take related keywords and phrases, infuse them into the material, and produce a wonderfully optimized page that both Google and your customers love.
So write those repetitive questions down
Tip #18: Start Writing How-To's.
Have you ever typed in a question into Google Search, then sat back to take in the humongous box that contains a perfect answer? That listing is called a featured snippet, and it's been a powerful new staple of content marketing in recent years.
Look at all that space. Imagine having your brand and unique content featured on the top spot of a popular consumer search. One of the most popular tools for capturing the featured snippet spot is the How-To Guide. Using a frequently searched problem, you can craft a resource dedicated to thoroughly answering that topic and earning a snippet.
How to Find a Snippet-Worthy Topic
Borrow from your list of frequently asked questions (see Tip #17)
Use SEMrush, Answer the Public, or Moz Keyword Planner to find a question-type key phrase.
Find an existing featured snippet and write an even better article.
Take this information and write a lengthy how-to piece on the subject. Be sure to incorporate fitting images, a slew of related keywords and phrases, bullet points, and a step-by-step list. There are a host of schema coding extras that can give your article an edge too.
HVAC professionals may also earn versions of the featured snippet through quality video creations.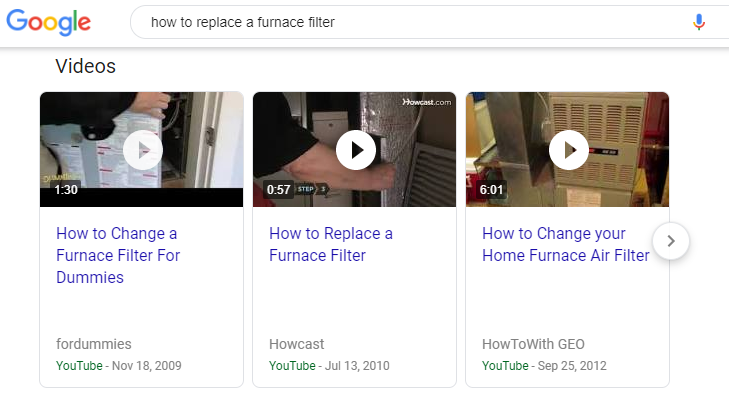 Many consumers prefer video formats when tackling a complicated topic, such as how to clean out a furnace control box. These videos can be embedded in your website content and uploaded to your social media account(s) for extra impact. That's some extra power for your organic SEO and other potential source for HVAC leads!
Tip #19: Re-check Your HVAC Lead Sources.
Sometimes a financial overview of your lead sources paints a clearer picture of your investment returns. After all, these HVAC marketing tools should ultimately provide a profit for your business, right? You'll need a calculator, a spreadsheet, receipts/bills for the year from each of your sources, and any additional notes you deem appropriate (such as notes on lead quality).
If you're like most heating and cooling businesses, your leads come to a variety of services. These may include Google Ad managers, SEO professionals, radio shows, car wrap companies, lead sellers, etc. Now follow these steps to evaluate the value of each lead source.
Calculate the total number of leads provided by each source.
Sum up the total cost of the service/activity during the period.
Divide the source cost by the total number of leads provided.
You may wish to go further by calculating the average value of a lead from each particular source. You'll need some very specific data ahead of time however, such as how often that source's leads converted into sales and what type of service was most common from that lead source.
Tip #20: Double Down on Reviews
Reviews, reviews, reviews! By now, you've probably heard over and over again how essential client reviews are to your business. Not only do reviews showcase your team's reliability, expertise, and trustworthiness to other potential customers, they send the same signals to Google. The search engine wants to connect locals with the most dependable websites.
A lack of reviews could be the deciding factor Google needs to recommend another business.
If you haven't been consistent with collecting reviews from customers, now is the time to start! It's time to re-examine your process for gathering and showcasing your client feedback. Most heating and cooling businesses simply ask customers following a finished job (if the contractor on site remembers). By automating the feedback process, you can greatly increase the chances of collecting glowing reviews from clients.
There are many software options for managing reviews. At HVAC Webmasters, our personal favorite is the Righteous Reviews platform. Using a very simple check-in system, Righteous Reviews creates automatic requests for reviews via text and/or email. The message contains links that connect directly to your Google Reviews, Facebook Reviews, BBB review site, etc. On top of all that, the reviews management software geotags the check-ins and reviews, then links them directly to your related service and city pages.
Very few platforms offer this capability, and Google absolutely loves this data. We find that businesses who consistently use this software earn two to three times the local search power from their reviews, which translates to incredible rank improvements. If you've struggled with managing the reviews process, be sure to check out this software solution, and others like it.
Tip #21: Train Your Crew to Ask Clients for Reviews.
Whether or not you invest in powerful review software, there's always one factor that makes or breaks your feedback collection process: your technicians. No matter how great of service you provide and the amount of HVAC marketing dollars you spend, your technicians play a decisive role in gathering reviews. Some heating and cooling businesses have a better chance of winning the lottery than earning reviews because their team simply neglects the process.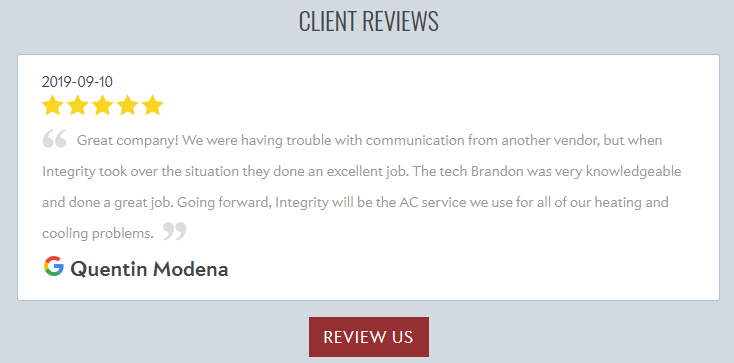 Guess what happens when your happy clients stop providing feedback. Your unhappy clients continue posting three, two, and one star reviews! Without the positive comments of the customer base, many businesses find themselves with ratings in the three star range, or worse. Why should your business suffer the consequences of poor ratings because of a few angry people?
There are a few guidelines to remember when it comes to gathering client feedback.
Ask soon after each successful project. The sooner, the better!
Explain how essential your client's review is to your business.
Always provide direct links to your review site(s).
Gather reviews from multiple sources. Google likes it this way.
Courtesy is everything when it comes to asking. Never be rude!
Take a couple hours and train your technicians on the etiquette, importance, and process of asking for reviews. If reviews still aren't coming in, follow up and make sure your team is completing the task. You might also follow up with clients by calling a few days after the service. Ask how their HVAC equipment is performing. This not only creates goodwill for your brand, but it also puts the client in a positive mood, which is always a good start for a review!
Tip #22: Reformat Your Website Content for Better Digestion.
If you haven't recently, try taking a look at the Google Analytics profile for your website. Analytics contains helpful reports that, among other things, can help you grasp how well your individual pages are performing. For this particular tip, we'll examine the effectiveness of your on-page formatting.
To Analyze Your Page Performance
Log into your Analytics profile with your email and password.
In the top right, expand your time period to the last three months. This creates a better picture of your page performance over time!
Click Behavior > Overview. You should see a list of the top performing pages, which you can expand at the bottom by clicking "View Full Report".
Expand the view to at least 25 or 50 pages. We're particularly interested in the average time spent on each page.
If a page has an average time of less than a minute (plus a high bounce rate), take some time to look over that page on your website. Is the text all clumped together in a huge block? Do your images look cluttered or out of place? It might be time to reformat your content!
Break up those text walls and add some timely bullet lists. Finish with some fresh, keyword-optimized images. Your readers and your website performance will thank you!
Tip #23: Start Checking Your Google and Social Reviews
With great review power comes great responsibility. After putting in all that effort to collect all that client feedback, there's a real temptation to simply leave them alone. However, there are plenty of opportunities to explore in your reviews.
For one, you can take an active role in addressing negative feedback from angry clients. No matter how excellent your customer service is, there's always going to be a handful of people who bash on your brand. Believe it or not, people actually trust websites better if they don't have a perfect five-star rating! That's why consumers tend to trust the harsher ratings in Facebook and Yelp.

How a company responds to feedback, both negative and positive, heavily impacts consumer perception of their brand. When you respond to glowing reviews with an appreciative remark, it shows your brand eager wants to connect with customers. On the other hand, responding tactfully and proactively to an upset customer shows that you're willing to go the extra mile to provide superior service.
You'd be amazed how the right response can turn a one star review into a three (or even a four)! Even if you can't sway the opinion of every naysayer, courteous and thoughtful responses go a long way towards building brand loyalty with other customers. Take some time every week to examine and respond to new reviews.
Tip #24: Create a Pre-Seasonal Campaign Before the Competition.
There's more than one way to get ahead in HVAC marketing! The U.S. heating and cooling marketing enjoyed a projected growth rate of five percent last this year, which means there's more opportunity than ever to improve your seasonal revenues. One simple way to increase your brand exposure is to simply start your advertising early.
We've already mentioned quite a few ways to advertise your business, such as:
Sending your seasonal tuneup promotions to your email base
Writing an article about the importance of furnace maintenance prior to the cold weather shift
Running Google Ads and Facebook Ads with an enticing offer.
Mailing out postcards.
Posting limited-time-only advertisements on Instagram.
You never know how a little pre-season exposure will impact a searching homeowner or business owner!
Tip #25: Get Quirky
This last tip actually comes from an ingenious HVAC company out in Utah. Main Street Heating and Cooling of Sandy, UT developed their own quirky customer service routine. As a matter of fact, it even found its way into one of their glowing customer reviews!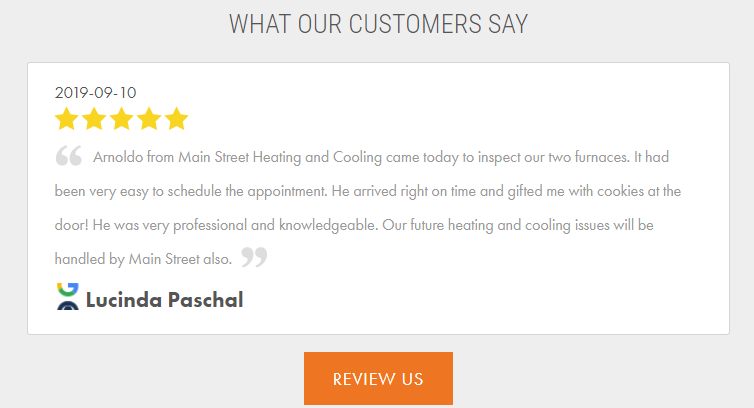 Cookies. Before business even started, this team kicked off their outstanding experience with freshly made cookies. You can bet that the customer – they took the time to leave a review, by the way – was extra impressed by this cute, inexpensive show of gratitude. She even stated that she would be calling Main Street for her future heating and cooling needs.
You don't need sugar to make a quirk work, but finding some way to set your brand apart could make all the difference. By reinforcing a client's perception of your business with something memorable, they'll be that much more likely to call when the time comes for followup service. Find your freshly baked metaphorical (or literal) cookies to top off your outstanding customer service.
Team Up With HVAC Webmasters
Sometimes a seasoned HVAC marketing professional makes all the difference. We hope that these 25 strategies, tips, and ideas have inspired you to go out and rank up in local search. If you need help getting started, our team at HVAC Webmasters would love to partner your business.
Get your free consultation at (800) 353-3409, and see why hundreds of businesses come to us for better rankings, website traffic, and leads.
Podcast: Play in new window | Download