One of the biggest pain points we hear when new clients call us is that they cannot seem to get decent placement on Google Maps. Because of how important this ranking factors into conversation rates for potential clients, this is a big deal. Especially for home service providers like heating and cooling specialists, map placement is vital because the service address is fixed. Proximity is everything, so you need to show up well in your service area. If the logic around performing well on Google Maps for HVAC services has boggled your mind and caused much frustration, you're not alone.
Let's take some time to look at some of the aspects that impact how you show up on map placements, specifically Google Maps, bearing in mind that many of the same steps for better map performance are going to apply to Organic SEO as well!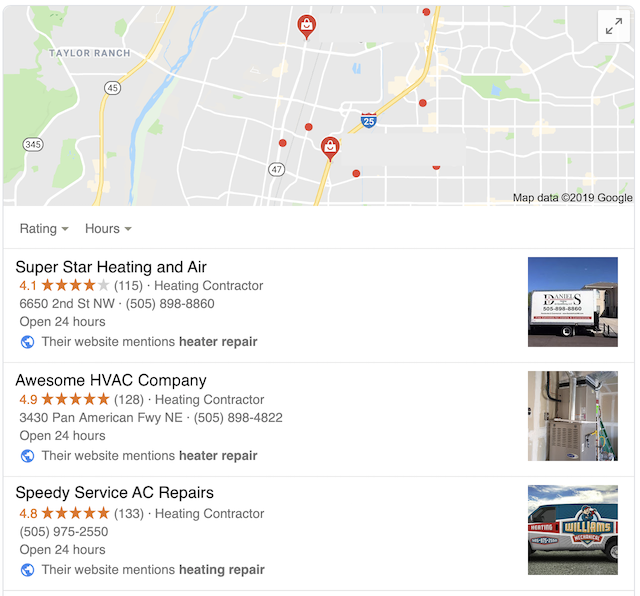 Want to show up in those top Google Maps spots for HVAC services? Read on to learn how! (Google Maps example for heating repair, mock up)
Tough Love Time: Great Map Placement for HVAC Companies Takes WORK
Just like anything worthwhile, you're going to have to put some effort into ranking well. Whether you're trying to maximize your position on Google for mapping, organic searches, or both, you have to put intentional work in to see results. Realistically, most HVAC business owners don't have the time or the insight to put in regular hours on your website and overall internet marketing, which is why it can be really helpful to delegate your SEO strategy and implementation to professional webmasters.
Whether you keep the work in-house or partner with a company like us, the keys are consistency and intentionality. Don't waste time guessing on what will work, or throwing many hours into your website over the course of a few weeks, only to abandon it the rest of the year. While we can't — nor should anyone else — claim to know a perfect recipe for making results happen, we want to share some insight that we've gathered over many years in this space, which has served many customers in increasing their rankings (on all fronts) and growing their businesses when nothing else seemed to work. It's not a perfect science, but it's also not exactly throwing mud at the wall. So let's dig into some practical steps you can take to improve Google Map ranking for your HVAC website.
#1: Great Mapping Starts With A Strong Google My Business Account
If there is one place we recommend investing some really dedicated work outside of your primary website, it's your Google My Business (GMB) account. In fact, these two pillars of your internet marketing strategy play into each other, as your GMB page is rounded out by the great content you (should) have throughout your HVAC website.
By now, you've hopefully claimed or created the GMB listing for your HVAC company. It's important to verify that everything listed about your business is correct, relevant to HVAC, and consistent with how you're represented across the web. We often harp on this fact, but it's worth repeating that Google cares a great deal about seeing consistency when it comes to your business. So don't feel the need to make the GMB page unique from your website; in fact, don't do that. See one as an extension of the other, with perfect agreement in terms of basic business info (such as NAP: name, address, phone number), services provided, and company focus.
We always recommend maxing out the available fields for citations across the web (which we'll talk about in more detail shortly), and GMB is a great place to put it all out there. Don't forget attributes, photos, hours of operation, and service area. You can also add FAQs, which is a great way to add some meaningful content and anticipate your customers' needs.
A Note On Content Quality and Google My Business Company Description
Quality content is a topic we'll dive into deeper in just a moment, but it's important to consider that everything that is typed with words essentially is content. So don't haphazardly input your business attributes. This is a great opportunity to put those strong HVAC keywords to good use, and to offer consistent information (think branding) for Google to eat up!
GMB offers a field for a company description, and as this is a critical place to represent yourself well, don't get too crazy or flashy here. Write evergreen content for your audience. And if you think your audience is Google, you're sort of missing the point. Google wants to deliver relevant websites and business pages in their search results, with the ultimate goal being a satisfied searcher who got the info they wanted. So really, your audience is your potential customer who is looking for heating and cooling repairs in your area. Write for them, and Google will reward you for it.
#2: If You Want To Rank Well On Google Maps, Better Check Your NAPs
That kind of rhymes, right?
Anyway, this point is really important to grasp. If you take nothing else away when it comes to remembering how to rank better for HVAC on Google Maps (or just Google in general), consistency is the name of the game.
Citations are wherever else you show up on the internet for your business, such as Angie's List, Better Business Bureau, Yelp, etc. On any given citation page, you generally have the opportunity to "claim" or manage that listing, ensuring that the correct information is listed for your business. NAP refers to name, address, and phone number, and is the minimum information you need to ensure is ironclad in terms of consistency across the web. There are generally other pieces of data you can include too, such as website, and consistency is clutch there too.
For example, don't use the website field to add a link to the AC repair page of your website in hopes that traffic will boost that page in rankings. In many cases, those citation links are "nofollow" and don't count toward rankings. Not to mention, you know that the user intent is to find your home page and go from there, so serve up what the customer wants.
#3: Get Better HVAC Google Map Ranking With Quality Content
The core of Google's algorithm is finding the most relevant webpages for a given search. Of all the information available on the internet, how do you show up at the top for your area of expertise?
The answer is specificity. You need to focus your website content — as well as content throughout your web presence, including social media and citations — on the heating and cooling system services that you provide, for the service area you're in. If you publish vanilla, generalized content, you're going to fade into the background with the zillions of other vanilla HVAC webpages. We know you can't afford that, and if you're frustrated with subpar Google Map placement, quality content could be an area you need to bolster for better results.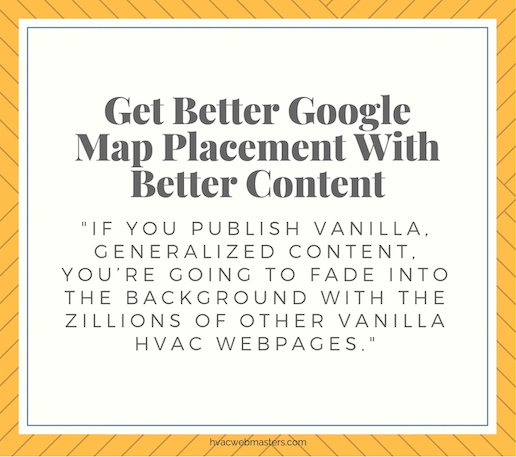 Quality Content And Strong HVAC Keywords Go Hand-In-Hand
You've got to focus any given webpage on a topic to ensure you're providing value on a specific subject. (Remember, specificity is what you're after here.) Keywords are a great way to hone your subject matter, as well as incorporate words and phrases — known as "long-tail keywords" — that will help Google understand what information you're providing.
What does content keywords have to do with Google Map ranking? Well, if your Google My Business listing is associated with your HVAC website (which it is), and if your GMB listing is tied to your Google Map listing (which it is), then all of these areas have to be in sync. If a fellow AC repair specialist in your area has all the same internet marketing elements in place that you do, but their on-page SEO is stronger for more heating and cooling repair keywords, then they are going to show up before you do on maps.
Make Sure Location Is Part Of Your Keyword Content
That's right: treat your location and service area as part of your keyword focus. A great long-tail keyword phrase, for example, may be "furnace repair fort worth tx." This means you should have a distinct webpage — organized under the repair/service section of your site (keep that hierarchy and sitemap clean, folks!) — for furnace repairs in Fort Worth. That doesn't mean you need to use the city name fifteen times in the first paragraph. That looks like spam, and Google will read it as such. But incorporate your service area intentionally and naturally (human-readable) to better optimize for location-based services. This will pay off on Google Map placement for your HVAC company!
A Note About Map Placement Outside Of Your Physical Location
If you're in a small, rural area, you may notice that show up in a larger map view because there are simply fewer HVAC businesses in the vicinity. In this case, capitalizing on quality content and consistent NAP citations is huge to ensure you show toward the top of the few. You can also target some of your website content to the county and nearby cities, but you can't fake your physical location. If you're trying to show up on the map for repairs several cities away, the only way that is going to happen is by paying for a Google Map ad placement.
Another option for trying to rank better on mapping for a city outside of your own is to…well…move to that city. In a manner of speaking, of course. You don't have to move your headquarters just to get better map rankings, but if it's a matter of business survival (and sometimes it really is), then you may consider getting a satellite office or a shared workspace so that you have a physical office in the city you're trying to reach. A P.O. Box won't suffice for Google to verify your location for mapping, and their goal is to provide results that consider proximity to increase the likelihood of relevant results for the searcher.
(We have some specific tips for marketing for multiple HVAC locations on our blog, should you decide to go that route!)
For those who are operating in a large, metropolitan area, competition is fierce, and the map view for HVAC repairs in a given area will be much more concentrated. You have to pull out all the stops when it comes to location marketing, and optimizing with cities as part of your keyword strategy is going to be vital.
#4: Quantity Matters When It Comes To Google Reviews for HVAC Services
We generally stress quality in all things, and there really isn't an exception to that. However, as part of an overall strength in the eyes of Google, getting lots of Google Reviews is important. Notice that I didn't say lots of good Google Reviews. I mean, obviously, that's kind of a given. If you have a thousand one-star reviews, you're probably not going to get many calls. But don't think that getting just a few five-star reviews is going to make you seem more authoritative than another HVAC company who has a hundred reviews with a four-star average.
You Can't Take Shortcuts To Rank Higher
Well, OK, technically you can buy the top spots via PPC and Google Map ads. But that is not a sustainable option for most HVAC companies. We do sometimes recommend going that route for newer companies that are just launching their domain and associated listings as a way to jumpstart things. But if you really want to reap the long-term benefits of organic SEO, you've got to put in the work across the board. All that effort will help you perform better on Google Maps for HVAC services in your area, as well as perform better on all aspects of your internet marketing strategy!