What a strange and curious time we live in! This article was meant to be an invigorating reminder of how crucial Google Reviews are to your heating and cooling business, and why every professional should be zealously collecting them. As of last week however, Google released a community announcement that new Google Reviews, response capabilities for reviews, and FAQs will be suspended until the COVID-19 crisis is over.
However, we at HVAC Webmasters eagerly look forward to the day were society returns to happy, normal life! So, while your current ability to collect client reviews may be temporarily paused, look to this guide as a way to hit the ground running when normal life comes back with a vengeance.
Read (and/or listen) carefully, take notes, and start making your own HVAC Google Reviews plan! And of course…stay safe.
Key Takeaways for HVAC Professionals
Google Reviews are a crucial ranking factor for local SEO.
Reviews serve as a sign of trustworthiness, for Google & people alike.
Reviews also indicate your recent activity in the community.
Continually gathering new reviews protects you from negative ones.
Fake reviews are a non-starter. Avoid them at all costs!
You Need Google Reviews
No "if", "and", or "but" about it. Your business desperately needs reviews. While you should certainly collect them in a variety of online citation platforms – Facebook Recommendations, Yelp, and the BBB are great places to remember – Google Reviews (the platform) is the top priority for HVAC pros. There are a number of reasons why you need Google Reviews. Here's two:
Most Visible Ratings for Clients
While Facebook Business certainly provides a number of prospects for your business, the vast majority come from Google Search. It's the easiest and most prevalent way for locating essential services these days. That means that the most visible ratings / feedback about your services will be on your Google My Business profile.
These Google Reviews show up in two key situations:
When people directly search your company name or similar branded keywords, your GMB profile appears with reviews on the right side of of the search engine results page (SERP).
When your company pops up in a Google Maps listing, also known as the Local Map Pack. This show when you rank very well for localized service keywords.
If you aren't familiar with these SERP features, be sure to watch our short guide on HVAC Search Marketing to get the gist! We explain each feature and what's required to rank for them.
Necessary for Local SEO Results
Search engine optimization (SEO) has a heavy local element these days, especially when it comes to heating and cooling services. As Moz Search Scientist Russ Jones puts it…
"National SERPs are a myth — these days, everything is local."
Every consumer gets their own custom search engine results based on where their query (their entered keywords) originated. Google's localized search algorithm takes note of their location, and seeks to provide them with the most relevant business listings from the community. If you aren't earning reviews within your service area, that indicates a lack of activity to Google.
"Hey! That's not fair!" you might think, but consider it from a Google team's perspective. How else will they know when and where you provide service? Anybody can claim to offer furnace repair in Bismarck, North Dakota, but only a handful of the most trusted services earn top placement. Those businesses optimize locally, and you can bet they collect reviews!
How to Collect Google Reviews
Collecting reviews is the simplest marketing activity you will every have to do. Just ask for them! That's all there is to gather Google Reviews for your business. Now there are a handful of handy tips to rapidly expand your collection:
Ask happy clients for them immediately after providing service.
Emphasize how essential their review is to your company.
Provide a card, text, or email with the appropriate review links.
Consider an automated request and tagging system, like BrandREVU.
Never stop asking for reviews. They're essential for prospective clients and Google alike. They also provide one of the purest representations of your customer service, something you want to keep as untainted as possible. Of course, problems are a natural part of business, which leads us to our next segment…
How to Beat Negative Reviews
Negative reviews suck. Not only do they leave a gross taste in our mouth, they feel very personal when directed at your business. When someone leaves harsh feedback on your Google Reviews profile, it's easy to lash out and/or make excuses. It's also easy to panic!
Here's how to take negative Google Reviews and transform them into branding opportunities.
Cool Down, Then Respond.
First off, don't do anything. Stand up, walk away for a few minutes and try to take the situation into perspective. Once you've cooled off a bit, take a moment to carefully analyze the complaint. Is it a genuine problem submitted by a real client? If not, you might be able to flag it for Google. The same applies if the review has any foul or abusive language.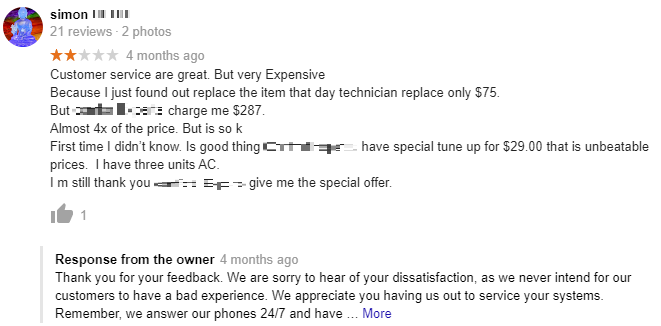 Odds are however, you'll need to address this negative feedback.
In many cases, you can flip a negative review on its head and turn it into an advantage. This is how to respond to negative reviews (successfully). You'll need to carry out the following steps very carefully to achieve this:
First, courteously respond to the client on the review platform.
Explain how quality customer service is important to your business, and that you're very sorry to hear of their poor experience.
Note: even if your technician has done nothing wrong, it's okay to be sorry. After all, you want all your clients to be happy!
Next, offer to listen to more of the situation that lead to their satisfaction.
Take the discussion off the reviews platform, via email or phone call.
You do not want this conversation unfolding on the reviews page. It's not appropriate, and prospective clients don't need to know all the details of the situation. Most clients respond best to a phone call or email.
Once you've gathered the details of the complaint, see if you can provide a solution that satisfies the customer (within reason).
Provide the supplementary service, repair, rebate, etc.
This last step is absolutely crucial. Once you are confident the client feels satisfied (happy is better), you can move onto this next step.
Politely remind the client that their review is important to the success of your business.
Ask the client if they would feel comfortable either changing their review to a higher star rating, or removing it entirely.
If you master this process, you will successfully turn a percentage of negative reviews into higher ratings. More importantly, you will actively prove to existing and future clients that you are 100 percent dedicated to your superior customer service. That's branding gold, and good business.
Continue Providing Superior Service.
Even if you can't resolve every single negative Google Review that falls on your plate, you can lessen their impact on your profitability. Again, gathering positive reviews makes it much easier to protect against the few angry clients who complain. Just continue providing outstanding service and asking for reviews.
Again, reviews do not happen by accident! You must actively request them from all your happy clients. No one else can do it for you.
Self-Destructing With Fake Reviews
Pew Research recently conducted a study that showed most Americans rely on their own personal research most when making important decisions. In our own recent survey project, we discovered that client reviews are one of the most important factors for a consumer considering a new HVAC company. This makes sense! After all, Google Reviews and other feedback platforms show a relatively unbiased picture of your company services.
Or do they? With the rise of fake reviews, consumers face uncertainty whenever they try to learn who's worth their business (and who's worth running away from). Fake reviews don't just hurt consumers though. They hurt your business.
The Cost to Your Business
Reviews are about trust. If people can't trust your reviews, they'll look elsewhere to find their services. Google's analytical tools continue to improve their ability to identify fake reviews. However, prospective clients know how to spot shady-looking entries even better.
If they suspect your business of paying for five star reviews, you'll almost certainly lose out on their patronage. In fact, they may even accuse you in a public forum, like social media, or flag the questionable entries on Google Reviews. The result would be substantial, long-term damage to your brand. If Google catches your business in the act, you might even lose your GMB account and your ability to rank for local search. That's tens of thousands of dollars lost, at minimum. That kind of loss has cost many HVAC professionals their businesses.
In short: don't use fake reviews (paid or otherwise)!
Closing Points to Remember
Are Google Reviews important for business. YES! Consumers rely heavily on them when choosing whether or not to try your services. Google uses them as proof of activity and trustworthiness. You need Google Reviews!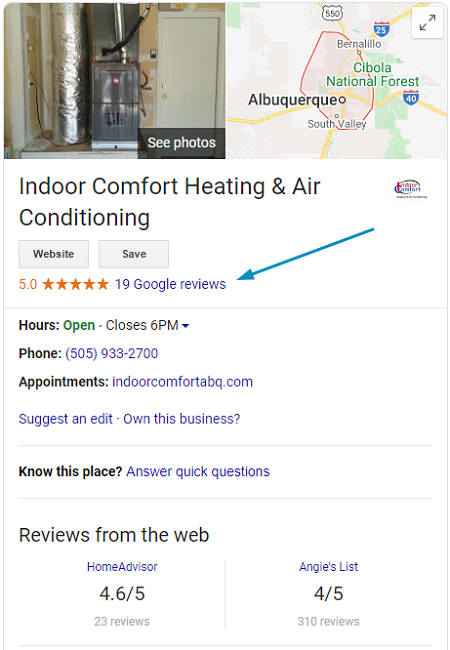 Continue collecting client feedback as often as possible, especially after successful service visits. When possible, try to resolve negative reviews on your GMB account, as this dramatically improves your perceived service quality. Finally, steer clear of fake reviews. They aren't worth the risk to your business.
Our team at HVAC Webmasters makes it so much easier to collect and empower your Google Reviews. Thanks to our BrandREVU tool and custom website design solutions, we've helped numerous HVAC professionals earn substantial growth in local search, even brand new businesses.