What is Website Content?
When managers hear the word "content", they often roll their eyes. That's because many associate the word with content marketing, a passive promotional tool that almost always takes time to show results. While this strategy provides exceptionally low-cost results for businesses, website content goes beyond what you see in blog posts or Facebook stories. Website content also includes copy, images, and videos provided throughout your service pages, homepage, and more!
Today, we're going to talk about the ultimate goal of website content: engaging potential customers. Our version may not look exactly like you've pictured content in the past, but your HVAC business will experience exceptional growth if you follow these principles. Let's get started!
How Do You Write Content?
Practical, value-driving content stems from the industry, your company services/products, and your customers. While there are numerous planning stages that go into crafting material that gets your business ranked on search engines, builds authority, and promotes your business, the actual writing process can be remarkably simple if you remember who you're writing for.
People: eager renters, frustrated business managers, and frantic homeowners looking for answers to their problems. Your content should directly and clearly answer their questions and relieve their situations.
The (Simplified) Content Writing Process
Step #1: Find the right question(s).
Step #2: Research related keywords so that you understand their lingo.
Step #3: Answer their questions and provide a solution.
Step #4: Briefly offer your services at the end.
Website Content Management
Now let's go back and look at the process in a little more detail, from concept development to long-term content enhancement. Below, you'll find some of the essentials that our own seasoned content writers incorporate to build engagement! Keep the basic four steps we've gone over in mind as you read through.
Development
What Makes Good Website Content?
If you really want to develop exceptional material, stop asking what your business is going to get out of it and start asking how your clients will benefit. High performance content offers detail-rich information for the target audience, then presents it in an easy-to-digest format. Google searches – homeowners rely on these more and more for essential services – ultimately represent a quest for information. The best service pages, blogs, tutorial videos, etc. all stem from the needs of consumers and client businesses.
How to Get Website Content From Clients
"Great! Now how do I get that information and turn it into working content?" Perhaps the ideal place to start your topical research is in keyword analytical tools. Ask any website content writer at the HVAC Webmasters what their personal favorite tool is, and there's a good chance they'll direct you towards a service called Answer the Public (seen below).
This analytics company pools reports on the most commonly searched phrases and questions surrounding a given topic (such as "website content"). There are countless other research tools out there to help you develop your topic and keyword strategy!
Management
How to Manage Website Content
All too many businesses make the mistake of posting insightful, carefully-written material and never making any additional use of it. But there are so many ways you can take advantage of the content you've already written. There's…
Ways to Share or Recycle High-Quality Content
Facebook Wall Posts
Facebook Live Adaptations
Linked Tweets
Instagram Stories
Professional Associations
Homeowner Publication Adverts
Revised Guides (HVAC Guide for 2019)
They say that if you love something, you should set it free. Your content takes on a whole new life when it circulates through social media, professional association blogs, and other sharing outlets. Quality website content creation takes a lot of research and effort. If you love a particularly well-crafted blog article, homeowner's guide, or infographic developed by your team, why not share it with others?
Enhancement
How Do You Create Better Content?
One of the healthiest questions your marketing manager can ask is "How can we do better?" Effective content development requires you to examine key performance metrics on your service pages and see which ones aren't generating lead calls (and/or emails). That's something every business should do on an annual basis.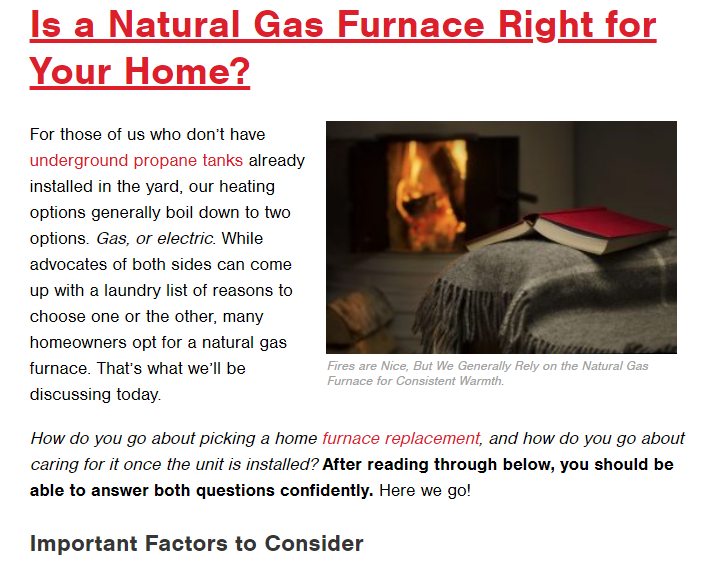 Sometimes, you don't even need to generate brand new content. Remember that wonderful, but slightly aged infographic or video tutorial your team made a few years back. Instead of letting it sit in digital storage, try breathing some new life into it by updating it for this year! When it comes to homeowner heating and cooling guides, conventional industry wisdom may stay relevant for decades. You can still get a fresh take on age-old tips from the pros.
Starting Your Content Journey
One of the advantageous aspects of developing content in the HVAC industry is that your customers have already provided all the conceptual work for you!
"My AC unit isn't blowing cold air anymore."
"Is it worth buying a high-efficiency furnace?"
"Should I switch my heating over to electric?"
Address your customer questions in your service pages, blog, and other writing outlets, and you'll see a noticeable increase in lead calls. That's especially true if you've done quality keyword research!
Want More Professional Insight on Website Content?
Developing a high-performance website takes serious research, a deep understanding of the industry, and knowledge on the world of HVAC SEO. The Nolen Walker team provides growth-driving, lead-generating online marketing services to help your business succeed! To learn more about our solutions, including content development, talk with one of our friendly experts at (800) 353-3409.