Escaping from Paid Leads
While the team at Rocky HVAC provided the superior, customer-centric care we always wish for ourselves, they had a serious problem. Their lead referral companies were not providing them with the same level of care. Despite paying for hundreds of leads from these costly programs, the Rocky HVAC team still wasn't earning the level of revenue they desired. On top of that, their basic company web design left even more to be desired!
In 2017, they reached out to our team at HVAC Webmasters about enhancing their organic web presence. Eager to start earning better leads, Rocky's owner hired us to design a brand new website and overhaul their reviews system. We also agreed to assist with their local citations.
Our Marketing Objectives
We weren't just looking to put up a fancy website. Our goal was to completely wean Rocky HVAC off of its dependency on referred traffic. In our years of talking with heating and cooling professionals, we've rarely spoken with anyone 100% happy living on shared leads. In fact, most complained about poor lead quality, low conversion rates, and expensive monthly bills.
We needed to create a reliable income of organic leads that Rocky could depend on for the long-term. Our plan centered on three key elements:
Website design optimized with handwritten, keyword-optimized content
Citations for reputation management and brand credibility.
Review inflow for stronger brand development.
The Project Begins
First of all, Rocky HVAC didn't have much of a website to speak of. Their current site worked just well enough to convert some of their referred traffic, but it wasn't pretty. More importantly, it barely optimized at all for local Google Search queries.
We started by drastically expanding the number of service pages showcased on the website. As usual, we constructed parent pages with general information about each service category. We then crafted children pages beneath each category to provide additional details about more specific solutions ("Air Conditioner Parts Replacement", for example).
In turn, this expanded Rocky's keyword strategy, allowing the business to start showing up for hundreds of related phrases. While the brand might take some time developing the online authority necessary to score page 1 rankings for their primary phrases, hundreds of low-volume secondary keywords permeated through the website. These secondaries generate a slow trickle of leads and sustained growth as the company ages.
Radical Redesign
Of course, the business' old site style certainly wasn't turning any heads. We introduced a simple, clean style to smooth out the user experience. Ideally, site visitors need to be able to find their desired services in under a minute. The new dropdown menu, service category blocks, and schema lists we introduced ensure that the average user can easily locate what they need.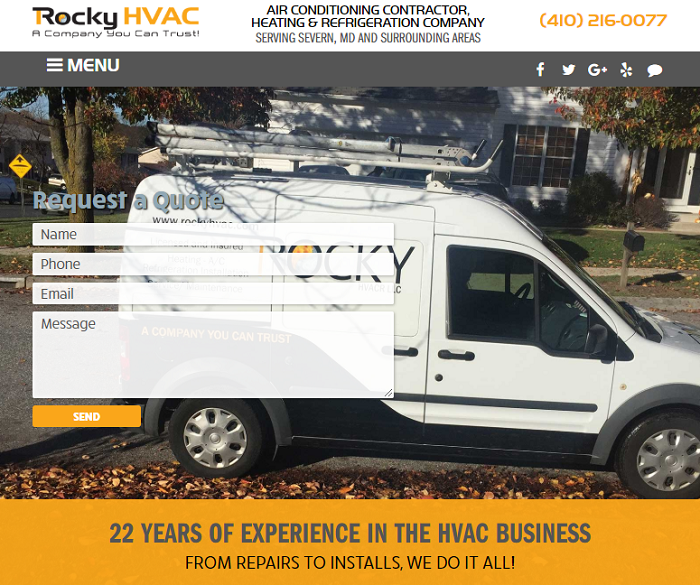 As you can see in the image above, we enhanced the landing area above the page fold for better logo visibility and clearer contact information. We also gave the messaging box a front-and-center space to encourage faster communication. Thankfully, Rocky also offered original photos to enrich the pages!
These images provide a distinct community flair from the local Maryland area, making people feel more comfortable with trying Rocky for the first time.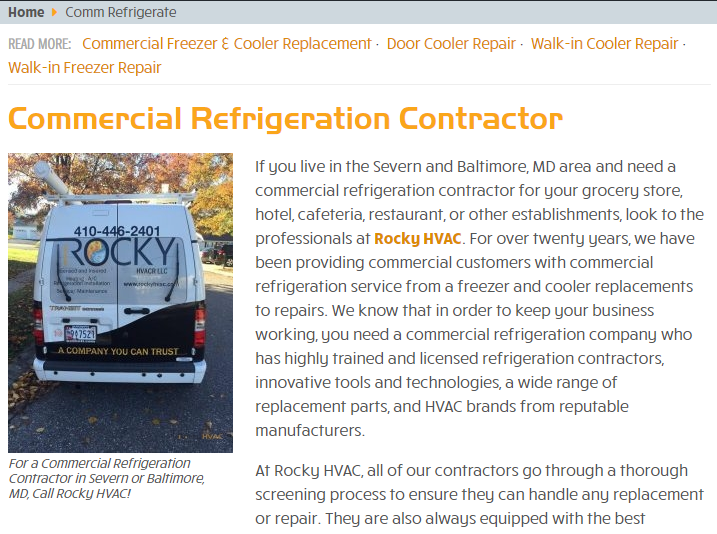 Citations and Reviews
Rocky HVAC's brand, for all the company's years of experience, didn't seem like it was getting the attention it deserved. The company should have been getting a lot more organic traffic if that was the case. So we got to work getting the business lined up with citation sources.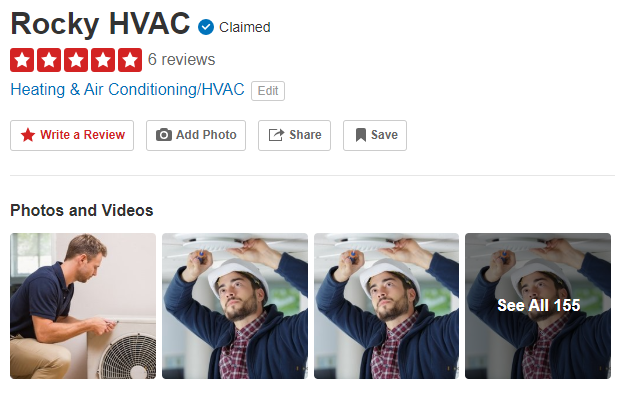 We made sure that Rocky HVAC got listed in as many reputable citation sources as possible. Citation listings offer more than just a hub for reviews. They serve as key indicators of a company's trustworthiness. For potential clients who heavily rely on these sources, a listing represents a vote of confidence.
After working on their citations, we got to work crafting a plan for their client feedback.
As with almost all of our site designs, we integrated Rocky's reviews into the homepage. This creates a powerful sense of confidence and accountability that consumers go nuts for! It also seems to create stronger results in local search, so it was a no-brainer decision for Rocky HVAC.
Our Project Results
The Rocky team was thoroughly pleased with the new style of their website. Equally important, the new optimized design and styling generated an influx of organic traffic from local search results. It started small (as usual), and we encouraged Rocky to hold onto their referral program as long as they wanted. We have nothing against supplementing leads, especially when your organic efforts are just starting out.
Looking at Rocky's amazing organic growth however, we're psyched to see the continuous stream of leads trickling into their business!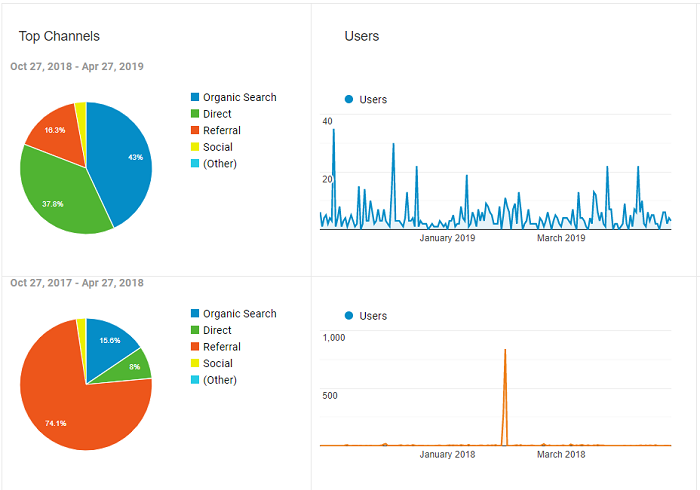 As you can see in the charts above, Rocky HVAC went on pulling in almost 75 percent of its traffic from referral services down to less than 20 percent! As they started enjoy the higher quality, cheaper leads from organic search, their team started cutting back on referral programs. That's a pattern that we see with many of our clients and paid lead sources like Google Ads.
Even more exciting, the volume of people directly searching the company's name also rose! That means the company's brand is growing steadily. We expect to see continued ranking improvements across the board for Rocky's keyword portfolio.
Finally, we're excited to see Rocky HVAC's new commitment to collecting reviews. Our team at HVAC Webmasters can only stress the powerful impact reviews has on brand growth and community trust. It's ultimately up to our clients to gather them.
Closing Thoughts
We look forward to Rocky HVAC's continued growth and prestige. As they earn more business, reviews, and happy word-of-mouth, their revenue will continue to climb. They are certainly enjoying the leads!
Is your business looking to escape from expensive lead sources? Our team at HVAC Webmasters wants to help! Get a free consultation with one of our seasoned industry professionals when you call us at (800) 353-3409.