There's a new and affordable customer acquisition service to hit the HVAC marketplace and it is called Pay Per Lead from HVAC Webmasters. This service allows contractors to acquire exclusive HVAC leads without paying an upfront fee. Today's blog post puts a special focus on furnace repair leads, which you can buy this winter using the Pay Per Lead agreement. Be sure to check out our top 20 furnace repair keywords as well. Because the weather has gotten much colder across the country, and the dead of winter is not even yet upon us, homeowners and commercial building owners will surely see a spike in furnace problems. HVAC contractors must be ready to meet the spike in demand by becoming the most convenient supply. The best way to do that is to appear online, and on Google specifically. Whether it's Google Maps or organic search results, leads come from visibility.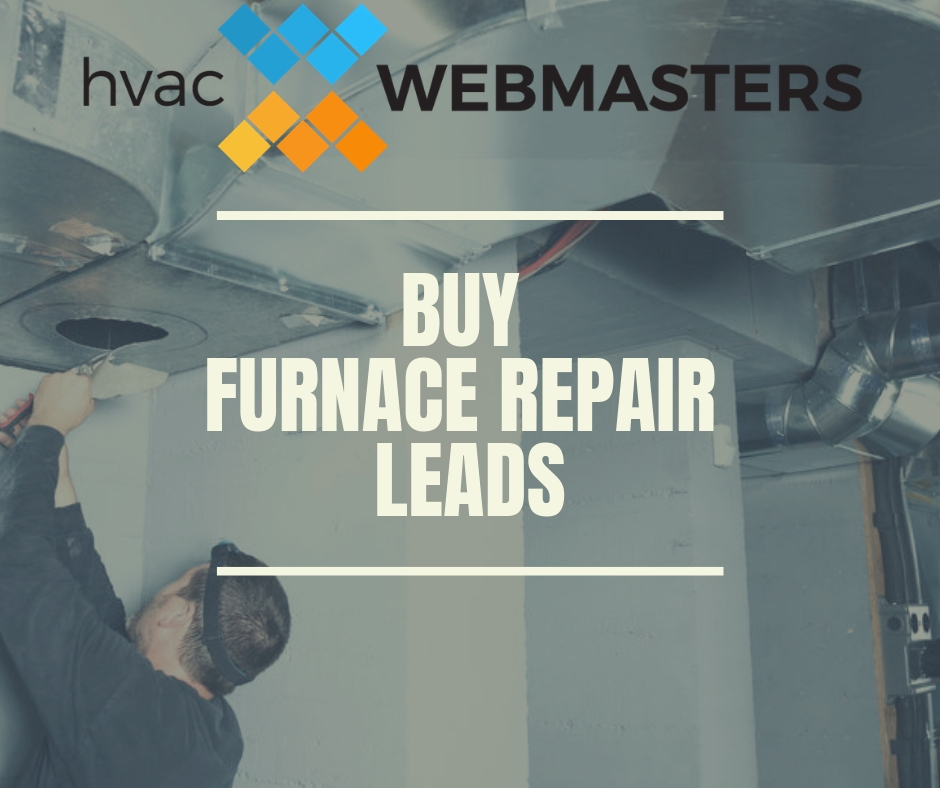 As an HVAC contractor you're usually faced with the choice between a lead generation company and an SEO company. There's upsides and downsides to each, but the negatives can be extremely frustrating for contractors. Lead gen services tend to be less reputable, and the ones that are more legitimate, will sometimes offer what are known as "shared leads." While they are technically leads, contractors are forced to fight with several other competitors in the same market to close the sale. So while it's a lead, its inherent value is minimal, since it's already been exposed to your main competitors. As for SEO companies, they can help you get leads too, but generally charge a major upfront fee for the web work. What happens if all that work fails to produce leads? Well you're out of luck, and out of a lot of money. And who has to answer for it? Your bank account.
Buy Exclusive Furnace Repair Leads
Unlike the lead generation sites we criticized in the opening paragraph, our service is for exclusive leads only. That means you won't be fighting with your local competitor like a wild animal to secure the latest furnace repair lead. Instead, you'll have the prospective customer all to yourself. Yes, you will still have to exercise a level of salesmanship to close the deal, but the probability of doing so is exponentially higher. Because of that increased likelihood, the value of exclusive leads is much greater than their shared counterparts. That's both from a financial standpoint, as well as a difficulty one. The stress saved from dealing with shared leads is nice, but the financial incentive is really the motivating factor for most heating & cooling companies. Here's why exclusive furnace repair leads are superior:
Convenience: Closing an exclusive lead takes far less of a toll from a stress standpoint
Probability: The rate of closing the deal is higher than with shared leads
Value: The financial value of exclusive leads is superior
What Does Pay Per Lead Mean?
Pay Per Lead, shortened as PPL, refers to a digital marketing service agreement that requires payment only AFTER a lead is produced. Contractors who choose this agreement receive all the perks of digital marketing. That's everything from a custom HVAC website, search engine optimization, Google Maps placement and more. The difference in this case is that you aren't paying for those tasks, but instead for the result of them. Any SEO company can promise you what will happen, but very few of them put their money where their mouth is. With HVAC Webmasters, we don't get paid unless you generate leads. It's plain & simple. Here are some of the primary advantages to PPL for HVAC companies:
Affordability: Since you only pay once you get a lead, you don't worry about not having the funds
Low-Risk: Avoid the risk of losing money on non-productive SEO services
Results-Driven: Pay only for results, not the process
Screening Furnace Repair Lead Calls
The question most contractors ask about this service is; how do you know where the lead is coming from? In other words, how do you decipher lead sources? It's a fair question because if we were able to claim that any call that came into your office was the result of our services, that would be dishonest. Instead we use call screening, so that we can track the exact source of your lead. If it came from the work we provide for you, you are charged for the lead. If it came from something completely irrelevant (word of mouth, etc.) than you aren't charged. It's a win-win situation for you as a contractor. Here's why screening lead calls is best for contractors:
Attribution: Only leads attributed to our service will require payment
Convenience: You don't have to worry about policing our services
Tracking: Since we screen all lead calls, we can clarify or explain their source
Why HVAC Webmasters?
There's other companies out there that provide some aspects of our PPL services. But few, if any, provide the combination we offer. We are a full service digital marketing company and nationally renowned HVAC SEO experts. We are also known as one of the top website design companies for HVAC contractors. With PPL from HVAC Webmasters, you enjoy all the benefits of our strongest skills, but don't risk negative ROI. By integrating a Per Lead agreement, contractors can now get what they pay for, both literally and figuratively. Traditional lead companies don't generally offer our range of marketing services, including SEO and design.
As for SEO companies, there's always a risk with upfront payments. You can see all the reports and numbers from your agency of choice, but the reality of SEO is that every campaign is different, and nothing is certain. So why would you pay for the process of MAYBE getting leads, when you could pay for the leads themselves? We've heard countless stories from our clients about their previous SEO firm doing them wrong. They end up not delivering what was promised. Our PPL plan ensures that results are incentivized, and that the customer comes first. If you would like to learn more about how to buy furnace repair leads, give us a call today at (800) 353-3409.