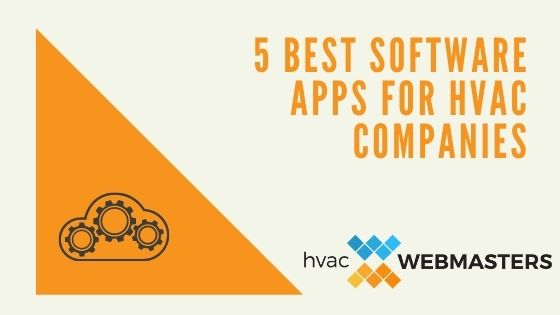 HVAC software apps can help you streamline your business processes and deliver more efficient results. That's good news because 2023 is a great time to be in the HVACR industry, with over 400,000 U.S. jobs and projected growth of over 12% over the next several years.
The construction of commercial and residential properties lends itself to a need for HVAC services.
As your heating and cooling company grows, it is critical to hire competent technicians to get the job done. In addition, as a company owner, it is your job to empower your customers with the best possible HVAC software and applications to maximize performance.
With this in mind, HVAC Webmasters presents the best HVAC software list for 2023:
1) Jobber
Jobber is a powerful app for HVAC technicians in 2023 and caters more to smaller businesses than Service Titan. As a result, pricing is lower with this app, and for small to medium-sized operations, it's all you'll need.
Most of its features empower technicians and managers to maximize performance, such as invoice organization and an included mobile app. The app even supports timesheets so that businesses can track their employees' hours.
Pricing: $29/month (1 user), $200/month (>30 users)
2) DataPins
DataPins is a powerful Local SEO tool for HVAC companies. This app performs pin drops using schema markup to validate service and service areas to Google. Furthermore, the app optimizes conversion rates by showcasing local jobs to prospective customers. The app even has built-in reputation management that automates review requests via text and email.
While you might not think of DataPins as field service management software, it includes field service features. For example, customers receive a bio of their technician via text, and employers can track their technicians and dispatch jobs. As a result, DataPins is the most robust HVAC software on the market.
Pricing: Contact for Pricing
3) Housecall Pro
Housecall Pro presents field service management software to more than 15,000 businesses in the home service industry (including HVAC) and is full of features required to run a competent organization. For example, admins can assign and edit jobs for technicians and utilize drag-and-drop scheduling.
Perhaps most impressively, Housecall Pro automates various tasks, including digital forms, based on pre-existing information so that dispatchers and HVAC business owners can focus on growth and ROI.
Pricing: $49/month (1 user), $199/month (9 users), $30 per additional user
4) Service Titan
When it comes to field management software, few apps match the performance of Service Titan. While the software itself is expensive, it provides technicians with all the tools they need to maximize their performance. Perhaps most importantly, the app helps business owners streamline their operations and track daily progress.
The mobile app presents vital ease of use and superior user experience, making it noticeably better than other mobile apps in the industry. For example, the drag-and-drop capability allows dispatchers to provide technicians or anyone else with customer info immediately. Still, some have grown frustrated with the high price.
Pricing: (Contact for Pricing) (Estimated $245/month per seat)
5) Workiz
Workiz serves more industries beyond HVAC, but it certainly works well for HVAC companies, particularly those focused on residential jobs. In many circles, Workiz is considered the preferred field management software choice. Its feature list is vast, and its UX is intriguing.
Workiz offers scheduling, dispatching, leads management, Quickbooks integration, and online booking + checkout. The Workiz mobile app is available on Apple App Store and Google Play, so it works on any kind of mobile device.
Pricing: $45/month (5 user minimum)
Is HVAC Software Free?
The closest thing you'll get to free HVAC software is ReachOut Suite, which offers three users a free trial. Unfortunately, none of the software listed in our top five provides free services, so you will have to pay a monthly fee to utilize them for your heating and cooling business.
What's The Best Commercial HVAC Software?
The best commercial HVAC software is DataPins. While most of the apps above support commercial heating and cooling businesses, DataPins lends itself most to the commercial industry by allowing companies to showcase jobs and drop pins at various locations.
Why Should my HVACR Business Use Software?
Modern software makes your job easier as an HVAC contractor. Mobile apps are beneficial if you manage a team of three or more technicians, as they empower you to streamline your field management operation. Investing in software typically yields a positive ROI for HVAC businesses since it helps provide a better service to customers and allows companies to run more efficiently.