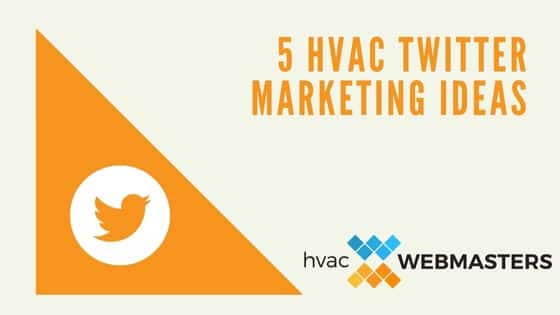 Twitter is one of the most popular social media networks for HVAC companies. The network is documented to have 325 million active monthly users. But how can HVAC companies take advantage of that? Sometimes we hear about a lack of results from Twitter social media campaigns.
So what is separating mediocre HVAC Twitter marketing campaigns from the best ones? Here are 5 Twitter tips for HVAC contractors to enhance their social presence:
1) Define a Brand
Before you can start regularly tweeting or sharing content, you have to define your brand as an HVAC company. Once you do that, you can begin to make consistent posts that fit within the context of that brand. These will include:
Blog Posts: Tweets of your blog posts from your internal blog
Content Curation: Re-tweets of other relevant, HVAC-related content
Mentions / Customer Interaction: Get your profile mentioned with the @ sign by interacting with customers
Original Tweets: Original Tweet thoughts within the context of the HVAC industry and your brand
2) Complete Your Profile
Some HVAC contractors, or the marketing companies advising them, think it's enough to sign up for a Twitter account. It isn't. It would be best if you had your profile 100% complete. How do we mean this? Your profile must have:
Company Logo: Display your logo as your main image
Header Image: Upload a header image that usually has landscape-type dimensions
Location: Map your address and zip code to your profile
Profile Description: Give a thorough description of your company
A complete Twitter profile demonstrates professional services and invites consumers to contact your business.
3) Follow Relevant Accounts
Who you associate with online reflects on your company and its values. Consider following authority accounts both inside and outside the heating and cooling industry. Think about suppliers, vendors, other HVAC companies, home improvement institutions, etc. Make sure everyone you follow is:
Affiliated: Partner companies, franchise extensions, etc
Credible: Seen as ethical within the HVAC industry
Impactful: Accounts that rate HVAC companies or something similar
Verified: You should only follow verified accounts (outside of extenuating circumstances)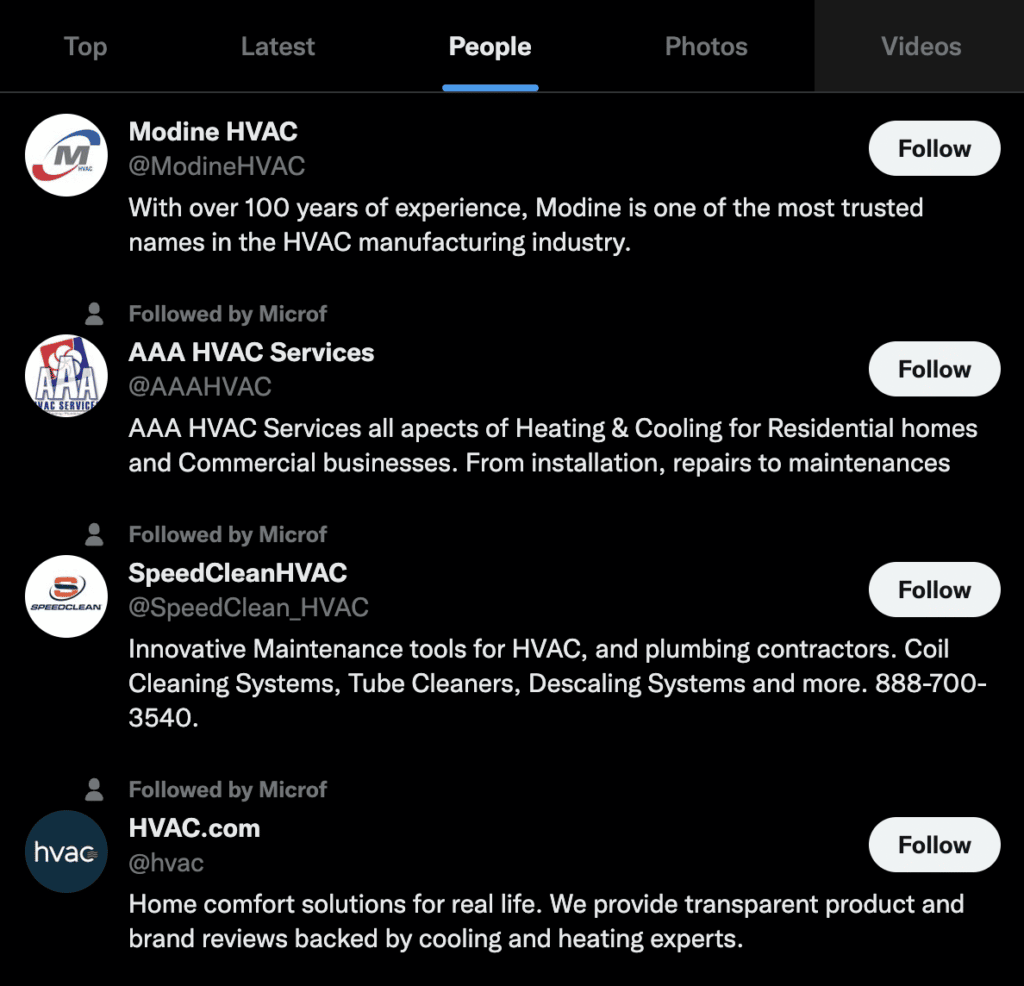 Following industry-related accounts is a great way to network and build authority within the industry.
4) Avoid Automation
Not every one of your tweets should be an auto-posting of your blog. Twitter users are much more likely to engage with tweets written in a conversational tone and address fundamental topics. Non-automated tweets make use of:
Hashtags: #hashtags are a Twitter mechanism that allows all users to follow a common subject
Trending Topics: Twitter lists trending topics both locally, nationally, and globally
Informal Tone: Try using more day-to-day language to make customers feel connected to you
Original Thought: Unique thoughts and perspectives are always good
5) Measure Performance
With Twitter Analytics, HVAC companies can measure every aspect of their social performance, which is critical for consistency and improvement. Knowing what you are doing right helps you keep doing it. Knowing what you're doing wrong enables you to avoid it and change it into something more helpful. Metrics to look at on Twitter analytics include:
Impressions: The number of times your tweets are seen
Engagement: The percentage of a tweet that is being interacted with based on its number of views
Lost / Gained Followers: Measure the number of followers you lose or gain over a set period
Mentions: The number of times your company or profile name is mentioned on Twitter
The #1 Twitter Marketing Company for HVAC Contractors
HVAC Webmasters is a Twitter marketing company specializing in the heating and cooling industry. We know precisely how to influence HVAC consumers to convert them into leads and, eventually, customers for your company. We have years of experience working with companies just like yours. So get started with social media marketing or advertising today.